Notes from the Arts section editors:
When we were preparing for this issue, especially in anticipation of our new readership from the class of 2023, we discussed the arts experiences at Swarthmore that moved us deeply, and what we can do to (re)introduce this campus and the larger Philadelphia region to first years and upperclassmen.
Recruiting the veteran writers in the Arts section cohort, we present to you two compilations: one, "Swarthmore Arts Secrets," contains Swarthmore artistic locations and events that our writers consider meaningful or underappreciated; the other, "Philadelphia Arts Resources," includes some of our writers' favorite museum spaces in the Philadelphia area as well as the benefits they offer to students. 
— Rachel and Nicole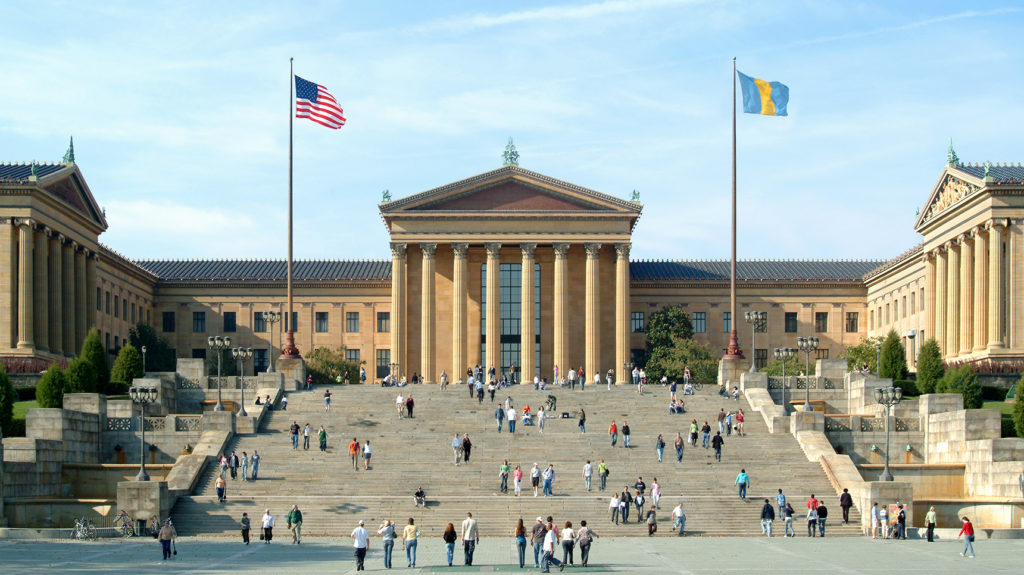 Philadelphia Museum of Art
By Emmie Wolf

The most robust and diverse collection in Philadelphia is the Philadelphia Museum of Art. Luckily for Swatties, the PMA has a lot of resources for students.
The PMA has a large collection of works by Marcel Duchamp, including the famous Bride Stripped Bare, as well as many Impressionist works, which they recently compiled in their exhibition "The Impressionist's Eye" Some of my personal favorite works are Morning by Raphael Collin and A Multitude of Mountains and Accumulated Snow by Jin Jie.
The museum has their collection online in a database, which can be used to gather inspiration for artwork, classes, and free-drawing. The database is completely free, and one does not need to visit the museum to explore the works; however, I always recommend viewing works in person. Additionally, the database makes it easier to plan your visit to the museum. While we all wish that we could spend an entire day getting lost in the vast collection and architecture of the museum, Swatties are often busy and on the go, and being able to plan what you want to see in advance always helps.
The PMA also has a library, which is open to the public. Their library contains over 280,000 print and electronic resources dating as far back as the 16th century, as well as a collection of over 190,000 digital images. It's a great option if you are tired of studying under the bright fluorescent lights of Cornell.
Although the $20 entrance fee can seem daunting, there are actually several ways to visit the 240,000-work collection for a very small fee.The museum offers a discounted student ticket for $14, and every Wednesday from 5:00 p.m. to 8:45 p.m. and the first Sunday of every month is pay what you wish. Also, if you ever visit the PMA, or any museum or collection, for a class, the department at Swarthmore will reimburse you.
Barnes Foundation
By Lijia Liu

The Barnes Foundation is a sleek glass and concrete building that intimidated me when I first approached it. I entered expecting some strange, sterile, postmodern pieces that fully reflected its contemporary facade, but I was pleasantly surprised.
Each room exudes a warm glow from its orange light and walls. Beautiful impressionist paintings in golden frames of varying sizes cover the walls. Interestingly, the Barnes Foundation is an art collection, so it displays its paintings differently from a typical art museum. Instead of hanging paintings side by side on every wall, the Barnes Foundation groups similar paintings together, and fills up every wall from top to bottom and from side to side.
The entire museum felt cozy and welcoming, with plenty of benches in every room for weary visitors to sit and admire the paintings. An afternoon strolling through the Barnes Foundation is a meditative experience, best enjoyed solo or with a few close friends. Come with an open mind and imagine yourself in Renoir's sunny meadows or Matisse's colorful mansions.
On the first Sunday of each month, the Barnes Foundation offers free entry to all visitors with priority given to those with children under 18 years old. Alternatively, to beat the crowd, Swatties can visit anytime and present their OneCard for a $5 student ticket, which is much cheaper than the regular $25 adult ticket.
The Barnes Foundation is a great starting point for those hoping to explore Philly's rich art scene. Its intimate setup and extensive collection are sure to impress even picky art connoisseurs.
Foundry at Fillmore
By Maddie Palden

If you're a fan of seeing up-and-coming musicians perform in an intimate, modern setting, then the Foundry at the Fillmore Philadelphia is the place for you. The industrial chic aesthetic of the venue, originally a metal factory, perfectly balances its small 450-person cap. With lofty ceilings, a blasting air conditioner, and large bar in the back, the Foundry evades the claustrophobic and sometimes sweaty experience typical of smaller venues. And with arguably the best sound system of any venue in Philly, the Foundry boasts a first-rate concert experience with big indie names like Tom Misch and Half-Alive.
If you end up going to a show, make sure you bring layers — that AC can be brutal — and take advantage of the Foundry's highly trendy (read: highly gentrified) Fishtown setting by grabbing dinner at one of the excellent local restaurants beforehand.
Acts I'm looking forward to this season include Amber Run, a British indie rock band (Nov. 1st) and Braxton Cook, a Juilliard-trained progressive jazz saxophonist and vocalist (Oct. 28th).

PAFA
By James Sutton

Located on Broad Street between Arch and Race, the Pennsylvania Academy of Fine Art's collection contains an amazingly diverse assortment of American painting, focusing on Philadelphian art of the Revolutionary period, American Realists and Impressionists from the late 19th century, and contemporary regional artists. The building itself is incredible: all marble columns and vaulted, colorful ceilings. There's a painting there for everyone: from the terrifying and monumental neoclassical work "Death on a Pale Horse" by Benjamin West (of Swarthmore fame), to presidential portraits by Charles Willson and Rembrandt Peale that you'll recognize from history books, to my personal favorite: the stark, Darwinian "Fox Hunt" by Winslow Homer. PAFA is a short walk from Jefferson Station, and free to Swarthmore students.

Philadelphia's Magic Gardens
By Nicole Liu

Across the street from a gigantic Whole Foods Market and a CVS, concealed in the shade of a PNC Bank, the Magic Gardens is quite literally a hidden gem in Philadelphia's historic South Street neighborhood. The Gardens, located on 1020 South St., used to be the living quarters of its creator Isaiah Zagar and his family. While the two galleries were converted from Zagar's house, the other-worldly outdoor sculpture garden was originally a parking lot Zagar did not own but obtained permission to decorate. Using broken pottery, glass, wine bottles, weathervanes, mirrors, and even bicycle wheels, Zagar lovingly adorned the dilapidated walls and rough concrete floors. On the fractured, assembled tiles, one can see bold brush strokes tracing human faces and bodies, large and small, unabashedly staring at the passers-by; poems by Mallarmé and Appolinaire are juxtaposed next to statuettes of sly, urinating boys; in the outdoor corridors, stray glass flowers swim with blue mermaids. Out of the rubble, Zagar conjures beauty.
The indoor galleries, equally decorated in kaleidoscopic colors, provide unusual exhibition spaces for burgeoning artists. Swarthmore's own Tasha Lewis '12, whose swarming inky-blue butterflies can be found in the corridors of Beardsley, recently exhibited her works from a series titled "Ebb Tide" there. Lewis' sculptures, inspired by Shakespeare's "The Tempest" and the deteriorating classical sculptures found on the ocean floors of the Aegean Sea, were submerged in wall-to-wall mosaics whose glossy colors frequently shift with the changing sunlight.
Over two hundred of Zagar's mosaics can be found across Philadelphia and especially in the South Street neighborhood. Student tickets to the Gardens are $8.