Walking into the Ebb Tide exhibit, currently on view in the Magic Gardens of Philadelphia, the audience is submerged in images of the sea. The ocean-tide-colored sculptures of the exhibit, displayed against seafoam-green mosaic walls, echo the scattering messages and assorted cut glass that embody the essence of the Magic Gardens. The tiles bounce light off the matte sculptures, creating an ocean-like ambiance.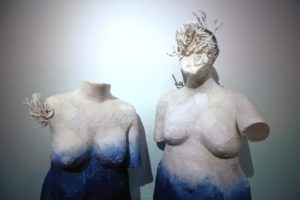 This gallery showcases Swarthmore alumna Tasha Lewis '12, a sculptor based in New York City. Since her graduation, Lewis has been the creator of projects such as Swarm the World —  a global street project that incorporates blue butterflies and their travels throughout various countries. One of her works from this project can be seen hanging on the second floor of Beardsley. On her Swarthmore experience, Lewis said, "Originally, I thought I was going to major in history, sociology, or anthropology. I lived in Mertz, and a senior down the hall who was an art major in Beardsley brought me into her studio, and I got inspired. Part of my practice deals with articulating what I want to do visually, contextualizing my work, and presenting it at different levels of discourse. Swarthmore really helped me think critically about how I wanted to present my work to different audiences."
Lewis graduated as an English literature and art double major. These two disciplines merge to inspire some of her sculptures, including the ones in the Ebb Tide exhibit. The first three statues one sees at the entrance are some of the first pieces that Lewis made for Ebb Tide, which are directly inspired by a passage in Shakespeare's "The Tempest."
   "Our father lies five whole fathoms below,
 His bones have turned to coral now.
 His eyes have turned to pearls.
 There's nothing left of him,
 He's undergone a complete sea change
 And become something rich and strange.
 Sea nymphs ring his death bell every hour."
These are not the smooth, pale Greek sculptures that can be seen in the Philadelphia Museum of Art, but pieces very much about the imperfections and strength of womanhood. None of the busts are full sculptures — either from the neck up, just the torso, or just the legs. With their broken limbs and dull features, Lewis is mimicking eroded ancient artifacts found on the ocean floor. The unusual sculptures, covered with cloth stitched together, have muted colors and surfaces. Some of the busts, though representing women's heads, have indistinct facial features, with soft slopes for noses and smooth sockets for eyes. Stitching and layering together pieces of hardened cloth, Lewis gave her sculptures 'armors' of stitched skin to show the trials and tribulations of powerful women, creating a symbol of strength to the outerworld.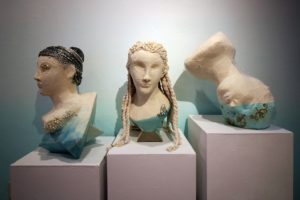 The sculptures are also meant to invoke the image of "Goddesses of the Sea," combining power with awe-inspiring beauty. Made with varying blue hues blending into pale 'skin,' the sculptures are also heavily embellished. Pearls, engaging with the softness of the skin, tumble out of eye sockets; corals, likewise, sprout from shoulders and skulls. These gems, seamlessly emerging from and representing the women's features, almost become a basic, natural part of a woman's body. As direct allusions to "The Tempest," they are also an ode to Shakespeare. Representing such a wide range of different topics, from  the environmental acknowledgement of tides through her color use to the idea of powerful womanhood, Lewis says she "leaves it up to interpretation to her audience" in which specific idea resonates more.
These statues are a call to end the "constant erosion of women in our culture." In an art sculpting world so dominated by men creating the bosoms of women as lovers, victims, and figureheads, Lewis has recreated her own version to reclaim the classical Greek statues. As they are fragmented and not a perfect whole, the statues also resist modern society's standards of a perfect body, "I did not want my female forms to surrender to these incursions. They may be partially ground down, but they are resilient."
(Tasha Lewis, an alumna from the Swarthmore Class of 2012, has her current exhibit up from August 31st to Nov 4th in Philadelphia's Magic Gardens, 1020 South Street. A Conversation with Tasha Lewis on Friday, October 19, 2018; 6:00 – 8:00 PM with free but limited tickets can be reserved on https://www.phillymagicgardens.org/event/ebb-tide-sculptures-tasha-lewis/ . Her other works and more information can be found on https://www.tashalewis.info/Studio.html ).
Images courtesy of the artist, Tasha Lewis