On Friday, Feb. 8, HUEY, Bathe, and Ivy Sole performed to a packed crowd at the first Olde Club concert of the semester. According to Shayla Smith '20, who is employed by the Office of Student Engagement and organized the show with Gabe Meyer-Lee '19 in coordination with Residential Communities Coordinator Asraa Jaber, the show was the most well-attended of the 2018-19 school year.
"It was the perfect mix of hype and chill energy," Smith said.
All three were local artists with close connections to the college. HUEY is a Haverford student who identified his best friend as a Swarthmore student to the crowd. Ivy Sole is a queer black artist and Wharton grad who has become a rising star in the Philly music scene. And one member of the Bathe duo is the brother of Byron Smith '19, who told Shayla Smith about the group.
"Mainly, we try to seek out local artists so that if students really like the show they can see the artists perform again in Philly," Shayla said. "We've also seen that local artists really appreciate Olde Club as a venue because of its cozy and intimate vibe, they can easily interact with the crowd and meet students after the show."
HUEY brought energy to the show early in the night as the opener. He can only be found online on Instagram @mulattocosmonaut and on SoundCloud (https://soundcloud.com/mulattocosmonaut). He encouraged the crowd to sing along with him and spoke with ease between "emo jazz-rap" songs that tackled topics such as police brutality and the importance of hip-hop.
Bathe, made up of college friends Corey Smith-West and Devin "Dev" Hobdy, performed next. Bathe aims to take on the issue of toxic masculinity, often using indie rock as a forum for black expression and personal life. This informs their style of music and what Smith-West calls "Surf R&B." Bathe's reminiscent beach music is "partly an attempt to redefine who gets to enjoy the sun and sand," he says. The duo plays with the line between real and make-believe, using vacation imagery that addresses structural racism.

Interestingly, Smith-West and Hobdy went to school with Taylor McLendon, better known as Ivy Sole. While at University of Pennsylvania together, the three shortly worked together in a musical trio that would later result in the creation of Bathe and Ivy Sole.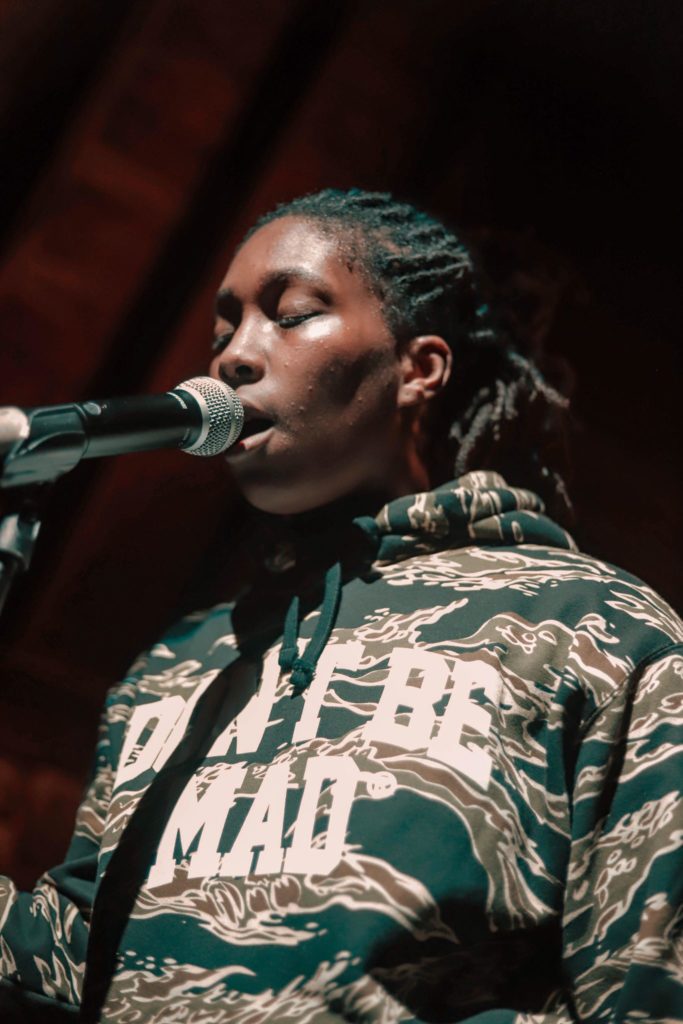 The night ended with an incredible performance from Ivy Sole. Ivy Sole is a Charlotte-born, Philly-based rapper. Ivy Sole has a slew of influences that come out in her music that include combining southern rap, indie rock, soul, spoken word, and gospel. Sole lists Anderson Paak as a huge influence and traces her love of music to her childhood. Her music addresses topics including inner spirituality and home.

"We decided to book Ivy Sole because she's a queer black artist making dope music for the soul. Her music is honest and relatable and we heard from other Swatties how they wanted her to come to Swat," Smith said. "We're trying to bring different sounds to campus and book artists whose music you probably wouldn't hear at a Swat party. Olde Club is a diverse space so we're trying to match that with diverse artists."

A rainbow spotlight flickered on Ivy's face as she performed. R&B jam "Rollercoaster" showed off her vocals–smooth is an understatement–while the tempo of "All Mine" and "My Way" kept the crowd energetic. And it was clear that she connected with the crowd. She stopped her set often to talk, remarking that she had never had a crowd sing the lyrics of certain songs back to her before; she said she loved the energy, she loved Swarthmore. At one point, she said, "Where my West Africans at?" to some cheers.

The show was what Olde Club concerts can and always should be. Reflect if you want to reflect, get deep if you want to get deep, jump if you want to jump, sing if you want to sing. Do it together or alone, with your hips or with your head, and come away feeling like you're part of something you weren't before.

Featured Image courtesy of evensi.us