Roundtable explores impacts of trigger warnings in academia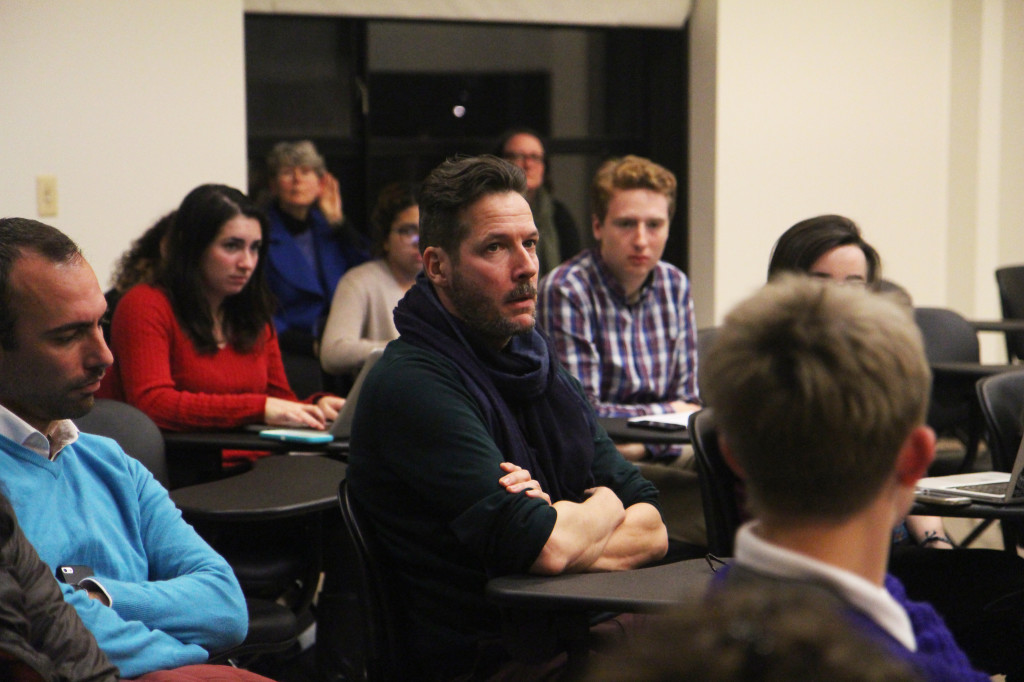 This past Tuesday, students, professors, and faculty gathered for a round table discussion about the application of trigger warnings in college settings. The event, Trigger Warnings in the Classroom, featured panelists from a variety of backgrounds delivering their stances on whether and how to use trigger warnings.
In an academic setting, trigger warnings inform students of course material that has the potential to evoke a stressful physiological or emotional response related to past trauma.
Avni Fatehpuria '18 created the event, sponsored by the Department of Gender and Sexuality Studies, SwatFems, and SQU. Professor Ute Bettray, affiliated with German studies and gender and sexuality studies, was the first the to address the room of approximately 70 people. Fatehpuria first welcomed the room before having each panelist present their experiences and opinions. Questions from the audience and further group discussion ensued.
"I thought that it went really well in terms of providing a diversity of perspectives on the issue," said Sarah Caitlin Dobbs '18.
For the most part, participants shared the attitude that trigger warnings are not a plea from hypersensitive youths to sanitize campuses of threatening ideas, but that they serve legitimate health purposes for survivors of trauma.
Jasper Rendich-Millis, who works at the Women's Resource Center, described trigger warnings as helping to solve what is primarily an accessibility issue for people with post-traumatic stress disorder.
"It's not about coddling… it's about creating a space about people who are already hypervigilant do not have to always be on edge," he said.
Panelist Jodie Goodman'16 explained that trigger warnings help include students recovering from trauma.
"[They] ensure survivors can still participate in class to the greatest extent possible," she said.
Panelist Philip Decker '18 suggested exposure therapy, which aims to help a person dissociate an item from feelings of anxiety through its gradual exposure, as a means of helping survivors of trauma, specifically those in later stages of recovery. He believed trigger warnings may interfere with exposure therapy.
Goodman disagreed with this notion, saying the classroom is not the setting for determining how a survivor should be recovering, and only a professional psychologist is certified to lead an individual through therapy. She said that as a survivor of sexual violence, she has personally benefitted from trigger warnings at college.
Goodman proposed that schools treat trigger warnings as an accommodation for students with PTSD, in which the trigger is solicited anonymously through an administrator and given to professors each semester.
Rendich-Millis and Goodman stressed that trigger warnings are not censorship. Goodman finds this misconception to be the most common counter-argument amongst opponents.
"With enough preparation you can generate really good material about these uncomfortable topics without producing the de facto chilling effect of not having trigger warning outlined at all, and everybody being uncertain as to where they stand," she said.
Much conversation revolved around how professors and faculty would have to adjust to a new standard as opposed to what survivors already endure from a status quo classroom without trigger warnings. Of course, professors present would reasonably want to inquire about how to face and reduce the challenges that may arise from opening the door to trigger warnings.
The discussion turned to what people think could go wrong from implementing trigger warnings.
Nora Johnson, department chair of English, and several other faculty members voiced concerns over trigger warnings imposing constraints on course materials.  They said that especially works by marginalized peoples, such as those who are women, queer, transgender, belong to ethnic, religious, or racial minorities, or are from low socioeconomic backgrounds, may more likely be flagged as triggering for their brutally honest depictions of traumatic events. Some expressed distress over the struggle of fighting to include these works in higher education and trigger warnings potentially regressing on the progress made.
But concerns about diverse representation apply to the students body as well as literary canon. Fatehpuria mentioned that marginalized voices belong precisely to the people most likely to be affected by trauma. A school aiming to include the groups of people that have struggled, and continue to struggle, to make their way into the world of academia must adapt their environment into one that is considerate of everyone.
"A community [should] encourage productive and safe learning environments for everyone and that is the priority of an educational institution," Dobbs said in agreement. "And instituting trigger warnings are a major part of achieving that goal."
In the experiences of Goodman, trigger warnings have neither diminished class discussions nor rid the syllabus of certain materials. They merely allow her and other recovering students to better handle certain content and function at school, since being triggered may result in long-term health consequences and worsen PTSD symptoms.
Panelist Timothy Burke, professor and chair of the history department, supported trigger warnings overall but warned of the risk of professors facing repercussions in their professional lives due to upsetting students by not providing adequate warnings about course material. Johnson cited this as a danger particularly for professors without tenure.
"There are times when [undesirable] behavior… does happen," Goodman said. "But we can't say that the entire system of trigger warnings is defunct because it didn't work once or even it didn't work a bunch of times."
Several people believed schools should accommodate people with PTSD as seriously as they would people with physical handicaps.
Burke described how the school could be more conscientious of the students' mental health in general.
"I think we can create a softer boundary around our expectations for attendance, for the production or work, or presence in class, that allow students who are seeking self-care to do exactly that… I don't believe that I need to chase down students to know why they weren't in a class."
Literature Professor Jean-Vincent Blanchard attended the discussion and is still unsure about using trigger warnings for his subject material, explaining that the point of literature is to dissect the different way students interpret a work. He said some readers may analyze a section as traumatic while others do not, and he did not want to have to determine what a section must mean before class .
"I care very much about the wellbeing of students, but I have many questions as to how trigger warnings could be used in my class because I don't know what will represent the thing that can trigger [a student,]" Blanchard said. "Art is subject to interpretation."
Goodman said during the panel that she did not believe professors should be held accountable for discussions moving into a direction they had not anticipated.
Panelist Gwynn Kessler, associate professor of religion and program director of gender and sexuality studies, said she was on board with trigger warnings. She will be teaching a new course next semester entitled "Rape, Slavery, and Genocide in Bible and Culture," and she entered the panel to hear ideas from the room on how to most effectively use trigger warnings from a pedagogical standpoint. She was not concerned about trigger warnings acting as a form of censorship.
"[The debate of censorship] seems to be an overreaction on behalf of faculty and a distraction from what is really important about this debate," Kessler said.
Caitlin Dobbs also expressed how the discussion made her feel professors should proceed with trigger warnings.
"I think that the key… is empathy and admitting ignorance [about a particular trauma]," said Dobbs. "And also I think trust plays a big role, because when you don't know what someone else is experiencing, you cannot assume… 'they're so weak.' If someone says they've suffered trauma and they need a trigger warning… you have to trust them."
"I was impressed by how students eloquently made the case for trigger warnings," Blanchard reflected. "It made me more sympathetic to their goal but still I can't make up my mind about it. I have many questions."
Bettray hoped the event could be the beginning of a meaningful and honest conversation about trigger warnings.