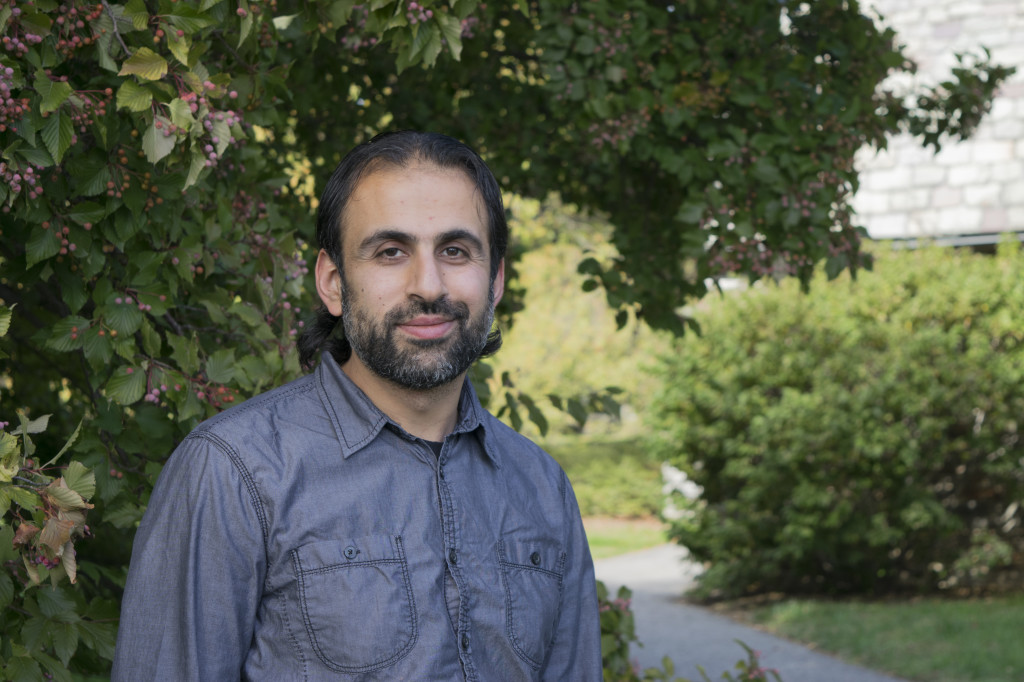 Interim Muslim Student Advisor Ailya Vajid left at the end of last semester after serving for a year and a half. Umar Abdul Rahman, a former attorney in Philadelphia, was hired prior to this school year to fill the role. Despite the growing presence of interfaith life on campus, the Swarthmore Muslim community has not yet found permanent funding to support a Muslim Student Advisor. Part of Rahman's new role will be searching for long-term financial sustainability, as well as facilitating and organizing Islamic religious life on campus.
The college's religious advisors are not paid staff members, in part because of the school's non-sectarian position. advisors often jointly serve at nearby schools; for example, Father Jaehwa Lee, the Catholic student advisor, also works at Bryn Mawr and Haverford. Religious advisors are considered part-time positions and are all funded by outside, non-Swarthmore-affiliated groups. These include the Archdiocese of Philadelphia, Hillel International, the Intervarsity Christian Fellowship, and Partners in Ministry. An equivalent organization does not currently exist for Muslim life, and no permanent source of funding has been found yet. Joyce Tompkins, head of religious and spiritual life at the college, said in an email that the Muslim position is currently funded by the discretionary budget of the president, as they have been in past years. Funding for the Muslim advisor role has been ad-hoc and temporary, with advisors working on semester-long and yearlong contracts.
In recent years, the presence of religious student advisors have been expanding. "The role of religious advisors at Swarthmore has grown over the 12 years I've been on campus," Tompkins said.
"Besides adding a Muslim advisor, my own position has expanded to include work with other traditions as well as more interfaith work. We work with many other areas of campus life, including the IC, BCC, WRC, dining, Admissions, Wellness, CAPS, HR, the Lang Center, the Friends Meeting, and with a number of outside community organizations and congregations," she added.
The college formed a search committee to hire the new Muslim Student Advisor, composed of three students from the Muslim Student Association and representatives from the Office of Religious and Spiritual Life and the college administration. All students from the Muslim Students Association, however, were invited to take part in interviews and give feedback throughout the search. Representatives from the Muslim Student Association declined to comment for this article.
The final selection, Rahman was born in the United States and grew up in the greater Philadelphia area. His family is Pakistani-American and are practicing Muslims. After graduating from Lehigh University with a degree in economics and international relations, Rahman spent a year in Yemen as a Fulbright Scholar, studying the impact of Marxism on Islamic thought in the capital city of Sanaa. Rahman attended Temple University Beasley School of Law and went on to practice law at Hogan & Vandenberg, an immigration and human rights private law practice. Rahman mostly represented immigrants who had come to the United States seeking asylum to escape persecution or conflict.
During this time, Rahman also began working for the Council on American-Islamic Relations, a Muslim advocacy group. After working on cases for the group in Michigan, Rahman returned to Philadelphia and helped found the local Philadelphia chapter of the group. To fulfill a lifelong interest in religion, Rahman decided to change career paths. While he thought at first about completing a PhD in religion and pursuing a career in academia, Rahman changed his mind after finding himself more compelled by chaplaincy. In addition to holding the position at Swarthmore, Rahman is pursuing a master's degree in Islam and American-Islamic relations at the Hartford Seminary in Connecticut.
Rahman sees a significant part of his role as Muslim Student Advisor as expanding interfaith cooperation and dialogue, as well as administering to Muslim students' religious needs.
"In general, all of us [religious advisors] are concerned with spiritual well being in all students. A big part of my role is working with the other religious communities on campus," he said.
Rahman also says he is open to talking with any student, Muslim or not, about Islam. He has begun working with the Muslim Student Association to hold regular activities like Friday prayers and celebrations of Islamic holidays.
Rahman joins Tompkins as well as Muslim students on campus in trying to establish permanent funding for the student advisor solution. Rahman is examining peer schools' solutions to the problem of funding muslim student advisors. Rahman specifically mentioned Wellesley College in Massachusetts, which created a school-funded position for a Muslim Religious Advisor. Rahman said that ideally the school would fund the position, but this would require a change in college policy as none of the other religious advisors, including Tompkins, receive funding from the college.
Rahman also thinks that it might be possible to create an endowment to support the position through alumni donations. He said this approach has worked well at larger schools, so he thinks that, to succeed, Bryn Mawr and Haverford — which also do not have permanent positions — would have to pool their resources and share an advisor with Swarthmore. Tompkins also suggested that foundations and other outside organizations might be identified to support the position, as other religious groups have.
"It is very difficult to do that much in one year," he said. "I would like to stay around for at least a few years to try to accomplish some of our goals."