Friday, September 17, 8 p.m. The relief of the weekend arriving was palpable in the air. Soft peals of laughter and low conversation could be heard all across campus as students finally relaxed, untensed their shoulders, and fell into the comfort of the weekend. As each student made their way to the events of their Friday, I walked down to the Kitao Gallery to enjoy the First-Year Art Show.
After a year without in-person art events, the joy and warmth at the Kitao Gallery was a breath of fresh air. The entrance beckoned with hanging lights reaching from the door to the small spread of snacks and refreshments outside. Both art students and non-art students alike gathered outside with glasses of cider and plates of cheese and crackers.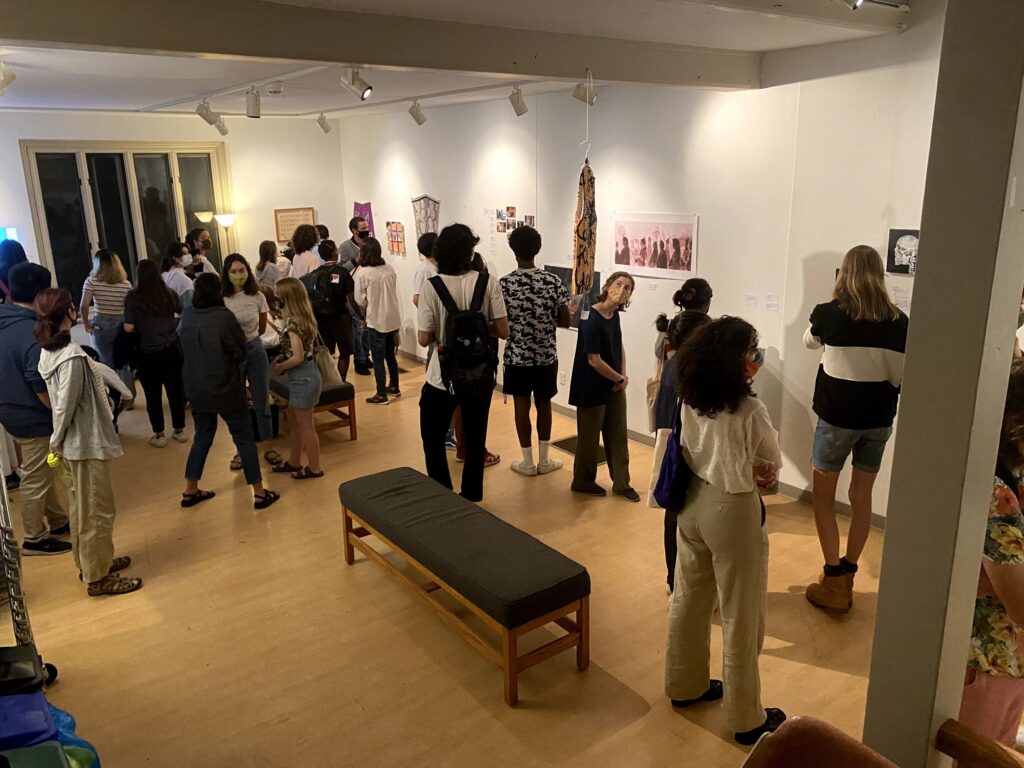 Walking into the gallery, I was pleasantly surprised to see so many students gathered. First years and seniors alike walked around surveying the works on display. Soft warm lights and chatter set a mellow and soothing mood.
The works themselves spanned a wide variety of media. On the right side of the room, the graphics of Minwoo Han '25 illustrated peaceful scenes of isolation. Each image utilized dramatic contrast, highlighting the lone figure depicted. Two of the images showed a dark silhouetted figure upon a light blue or white background, while the third image contrasted a cold blue scene with a warm orange scene.
Meanwhile, towards the center of the room, Aja Washington '25 used completely different media in "Fireplace": washable markers, ballpoint pen, and colored pencil. This piece, too, utilized dramatic contrast, but with a greater variety of colors. Though Washington used many bright colors, every color had a depth and richness to it, a depth which pervaded the entire piece, lending a more serious and brooding tone to it.
In a note accompanying the art, Washington wrote, "I started doing art as a way of exploring my identity. For a few years now I've done portraits of Black people, and using different colors to convey emotion, experiences, and the many intricacies that make up what it means to have Black skin."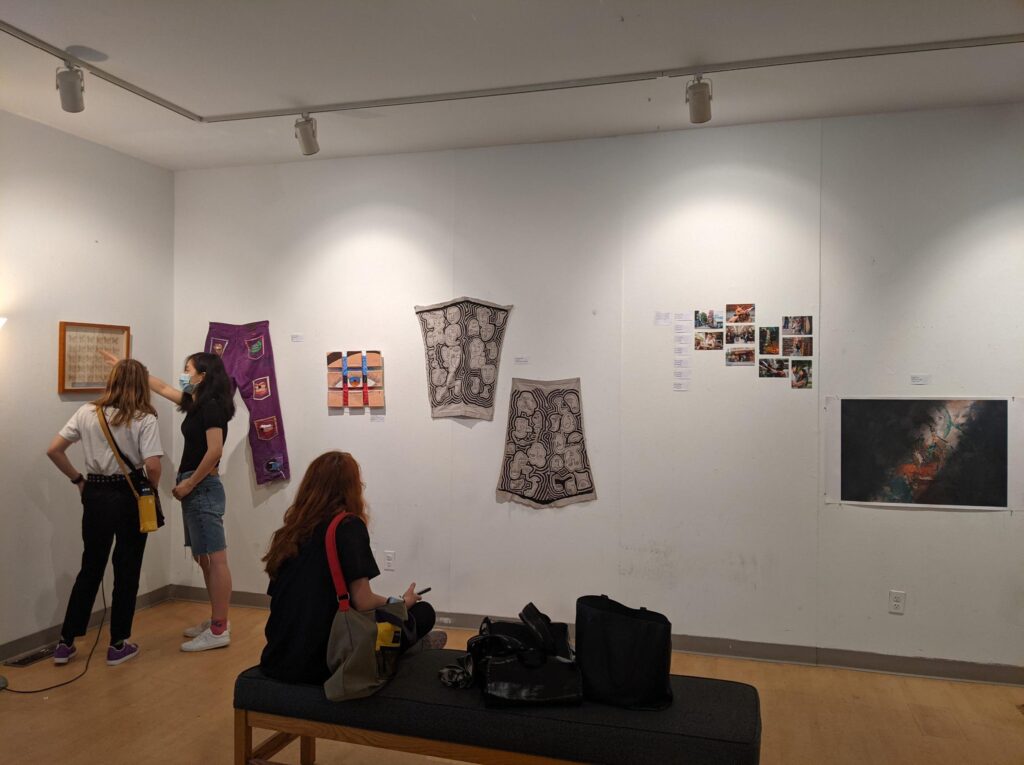 Further down in the gallery, Sarah Reyes '25's pieces "Skulls No. 1 & No. 2" invited the viewer to look upon a portrait reduced to its literal bare bones. More than just an anatomical study, the pieces represent Reyes's desire to explore the act of painting portraits.
Reyes explains, "As an artist, I am drawn to the relationships built through painting or drawing portraits. In this piece, I wanted to experience creating a 'portrait' without that relationship."
Several students chose to display work that reflected their time in quarantine. Siri Lokensgard '25's piece, two photographs displayed via projector, showed empty public spaces during April 2020. Abby Chang '25's pieces, too, were photographs, these printed and spread over the walls, capturing candid moments, including a particularly striking photo of a train compartment filled with masked individuals.
More abstract work by Carolina Lopez '25, whose works utilized a great deal of bold lines, was exhibited nearby. One untitled piece of textile art and acrylic paint focused on line drawings of faces, many with facial features distorted or disproportionate. Despite this distortion, Lopez's many painted faces expressed a variety of emotion and intent. Each face was emboldened by the dark black lines which surrounded them.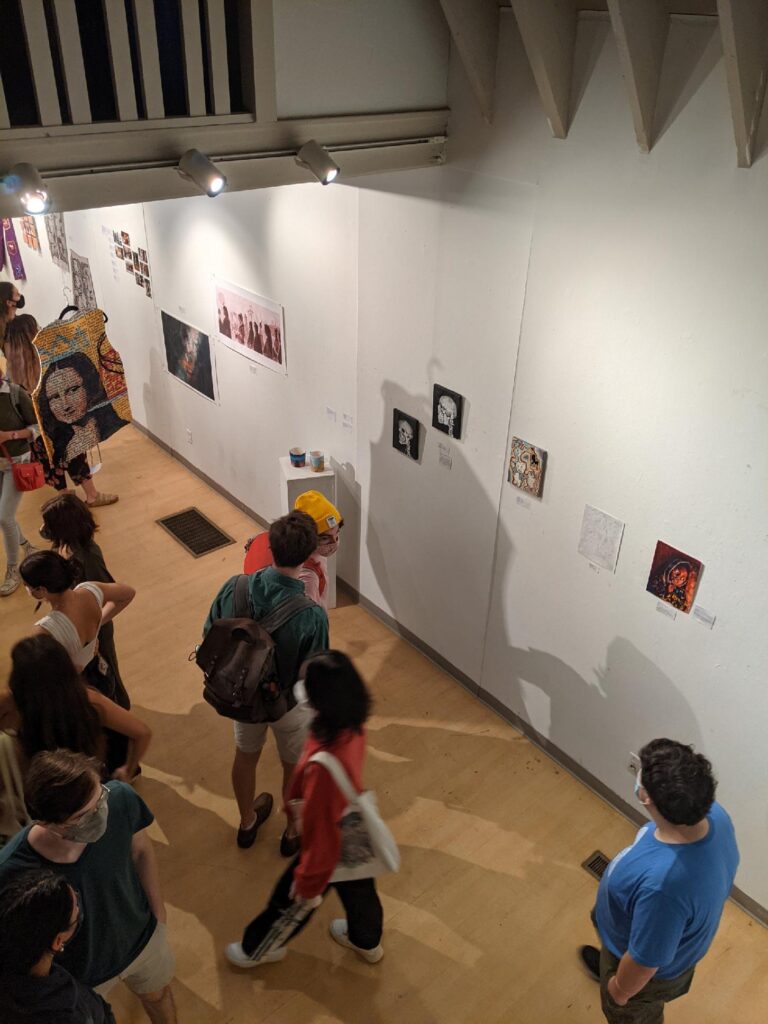 The display was a wonderful reminder that despite all, art perseveres. The works of the first years showed a dedication to art as both a form of expression and as a bearer of witness. Each student bravely gave us a glance into their world during quarantine and their perspective as artists. The exhibit was no doubt the first of many great exhibits to be expected at Kitao in the upcoming year.