You have probably seen Sarah Weinshel '22 marching to the Science Center with her signature pom-pom earrings and big red boots on her way for a long study session in Cornell Library. But what may surprise you about the biology major is that when she isn't studying for her STEM classes or doing research, she spends her free time making art and building a campus artist community through Kitao. According to Weinshel, her interests in the sciences and in the arts are not mutually exclusive or opposed. As she says, "You can't compartmentalize two different aspects of yourself. They overlap."
Weinshel's favorite medium is photography, but she also works with pen, watercolor, embroidery, and even clothing.
"Yeah, I may have made some jeans," she revealed bashfully, gesturing to a leg in two-toned denim. "The ones I'm wearing right now, basically I took some old jeans that were in my basement that used to be my mom's and put together dark jeans and light jeans, to add an interesting shape."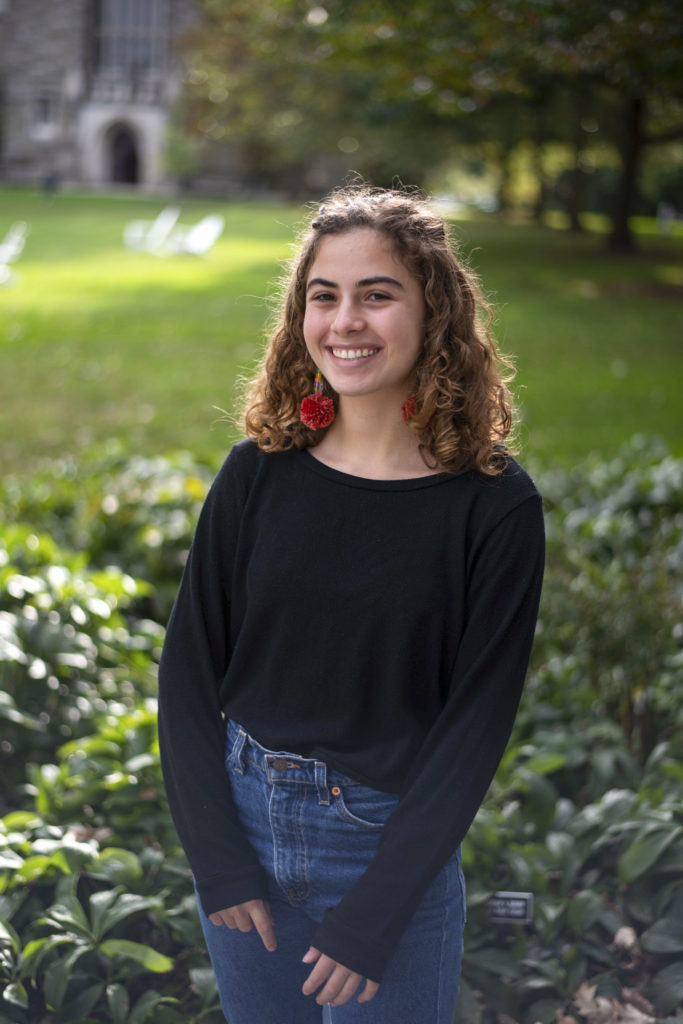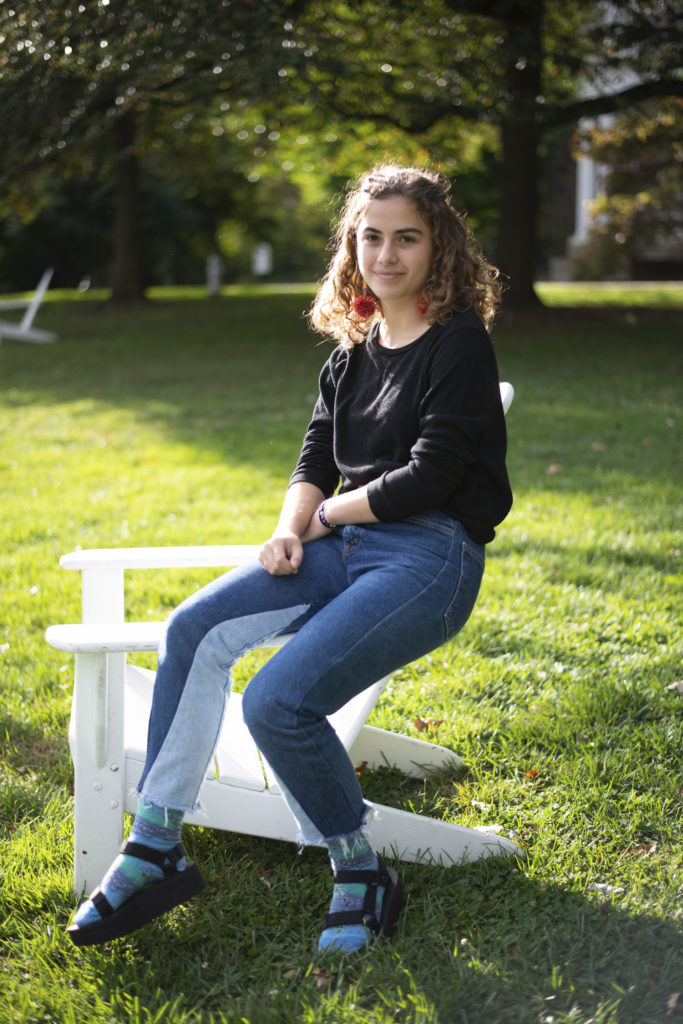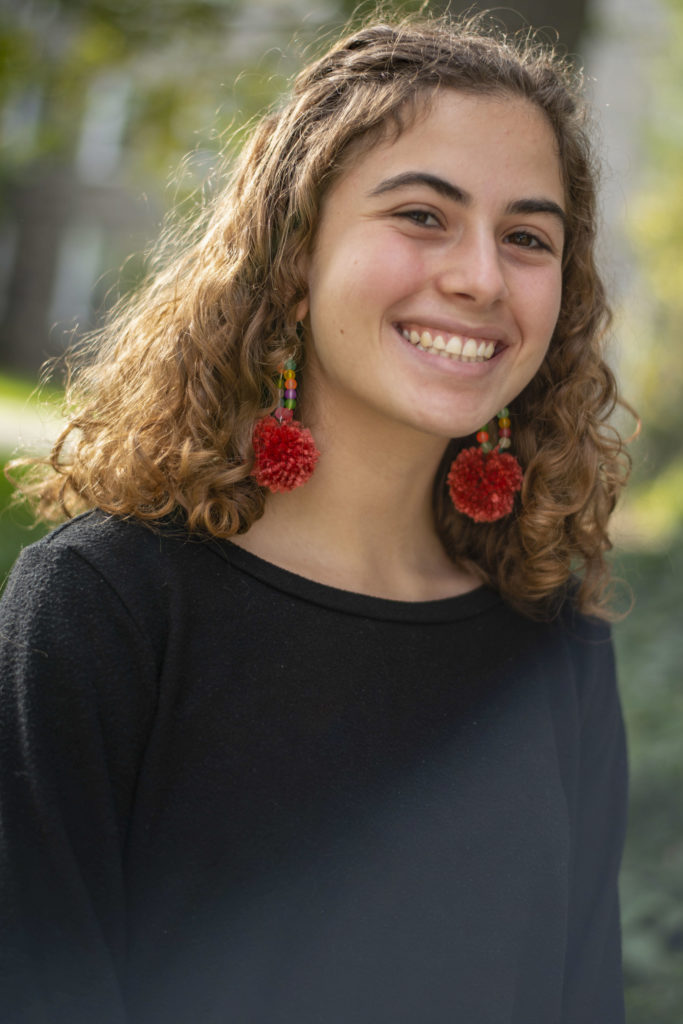 Weinshel's craftsmanship doesn't stop with jeans.
"I bought a flannel from Urban Outfitters that was Urban Renewal that was two types of flannel done down the middle. And I thought that was really cool and I'm like, why would I buy this when I can make it? So I took some trips to Goodwill and have made a variety of bi-colored flannels."
To complete the handmade look, Weinshel has also constructed many earrings from a variety of materials, such as tassels or wire. Last Friday, Weinshel put her jewelry-making skills to good use in leading Kitao's earring workshop as part of the Kitao board. Last Friday, Oct. 4, in a cozy room packed with students playing with glue and beads, Weinshel was in her element. She walked around the room, armed with wire and advice, and the firm, expansive knowledge she takes to all her activities. Weinshel's love for art is not just about making her own, but helping others to create as well.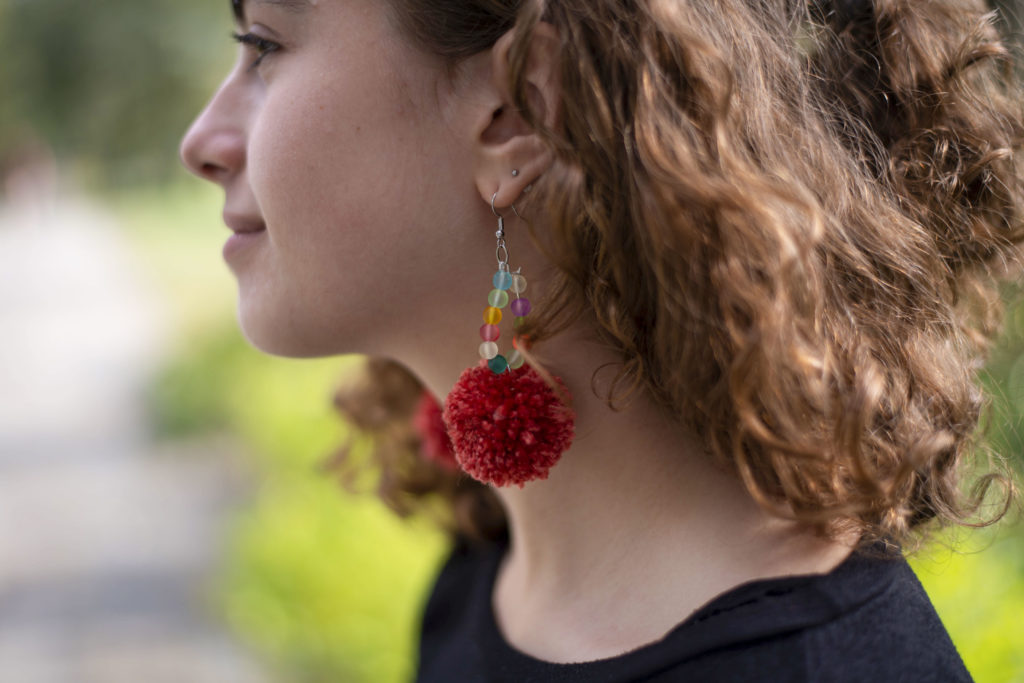 "Kitao is really that place where I can not only make art but also organize other artists on campus to give other people that space to make art. With studio hours, [people can] just come and enjoy art. I helped put together the instructions in the spring and then we decided we should definitely bring it back this fall, since it was very popular. And you always see people around with their pom-pom earrings." Crafts are a completely different world. It's just following instructions but you can still instill your own creativity into that and I think that's really important as a break from the academic world and for those who can't fit Foundations into their schedules."

Surprisingly, Weinshel has never taken any art classes at Swarthmore. As a biology major on the pre-med track, she's found that the timing of art classes is impossible to fit in with labs and other requirements. Still, she makes time for art outside of class.
"Kitao is my main entry point into art at Swarthmore because I haven't been able to fit Foundation Drawing into my schedule. Especially as someone who is studying sciences and has a lot of labs, it's just not feasible to do it."
With her busy schedule, she utilizes school breaks as prime creative time. This past summer, Weinshel worked on campus as part of a research project on plant biology, but spent much of her free time making art.
"I definitely had more time to do drawing. I was doing research during the day but then every evening I was available. Another thing I love about college is having access to all of the art supplies and resources. This summer I was able to go in to Kitao and use the cyanotype [a type of photographic printing] materials, so I made a ton of cyanotypes."
Weinshel's work researching biology during the day may seem at odds with her artistic endeavors in the evening.
"People don't think of the sciences as being something that's visual," she observed. "I'm in cell biology right now — and looking at the textbooks, it's all diagrams and visual representations of things, and then organic chemistry is hexagons and lines. I enjoy thinking about the people who designed the textbooks that were drawing those figures and trying to find that balance between visual representations of things but also something scientifically significant."
Even though Weinshel works with plants on a molecular level, she finds that being surrounded with nature inspires her art.
"I love just looking at plants and having access to the greenhouse. I think that has made me more focused on the details when I'm drawing plants and taking photographs and looking at these small miniscule things that are what makes something visually different."
Weinshel has created her own personal galleries in her dorm room and the rooms of her friends, many of whom have a treasured Weinshel piece pinned up on the wall.
"I find that surrounding myself with art, going in and seeing the wall with my art and other people's and posters and all that makes me very happy," Weinshel remarked. That's my main place of display. I give a lot, whenever I give birthday cards or anything. I enjoy having that outlet. It's a release — it makes me feel calm and creative. When you're making a drawing it's something that's never existed before. That's the way it is."