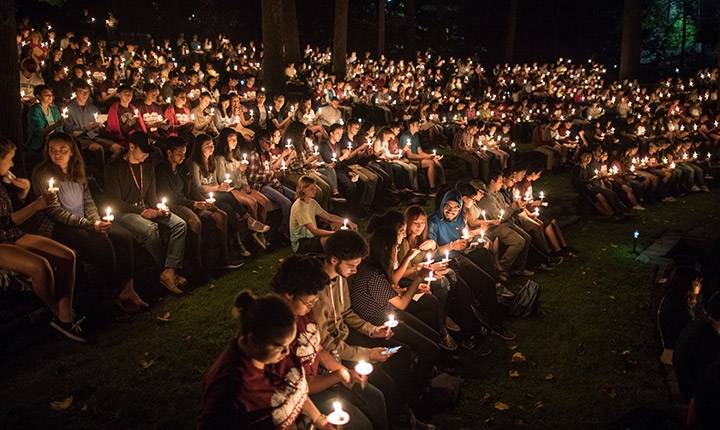 Freshman fall is almost over for the incoming Class of 2021, and initial anxieties have dwindled as students have acclimated to the Swarthmore campus; as they've been able to get a first-hand experience of what Swat is really like. Months after the blitz of admissions and orientation, freshmen are now assessing their experiences and asking: Is Swat the right place for me?
I had the pleasure of meeting with Matthew Lucker '21 once again, after my first interview with him about his state of mind when hurricane Irma hit his home town.
"The transition into freshman year went far better than I assumed it would go. With numerous resources from students and faculty, I felt like every question I needed to have answered was answered, every time I needed help I received it, and every day went by with me breathing a little better because I knew if I did mess up a little, the pass/fail semester would save my skin. Sometimes more than I'd like to admit." Lucker said.
Faith Booker '21, sitting on the McCabe library floor, admitted, "Swarthmore has exceeded my expectations in terms of the workload." After a hearty laugh, Booker added,
"It's been on and off with the administration. I find some people very cooperative, some people very infuriating, and overall very slow to respond to student desires and needs. Even cooperative administration is usually stuck in the bureaucracy. I love the people, though, and I love the friendships that I have formed. Aside from misery poker and stress, I think we have a good culture."
Booker's concerns are echoed by many, as recent actions of administration have left many — especially Native students — feeling unsafe and unwelcome on Swarthmore's campus. This comes in addition to student-initiated controversy, with the Daily Gazette being boycotted by many affinity groups on campus, which has had an effect on the freshman class. As a first year student, it can easily become disorienting to find such intense and rampant discourse occurring between newspapers on campus, especially if you had intentions of being a part of the journalistic community.
Jack McManus '21 disagrees about the intensity of the workload, writing, "I do feel that the workload is blown out of proportion by everyone playing misery poker; I know that for me at least, if I could get my act together and portion my work with discipline, I'd be fine. That said, I have terrible discipline and I'm suffering just as much as anyone else," said McManus.
I had the immense pleasure of working with McManus on the Senior Company production of HIR by Taylor Mac, about which he said, "I was spending so much time with my [cast] that it was unsurprising that they became some of my closest friends this semester…The rigorous rehearsal process also kept me on my toes, because I had to make time to get all of my other school work done around the time I spent working on plays. However, I do not regret any of the time I spent with like-minded artists who helped me to grow as an actor and as a person."
In this regard, I'd have to agree with him wholeheartedly. Little did I expect in my first semester of college to be involved with such a large and time-consuming production. Overall, though, the process of being involved in the theater department at Swarthmore as an actor has made me seriously reconsider the major I'd like to take for my succeeding 3.5 years.
Otherwise, McManus wrote that he came into Swarthmore with few expectations,
"I knew the stereotypes: super smart peers, huge workload, and a very socially and politically aware population. For the most part, I was not disappointed. I am surrounded by incredibly smart and talented people who motivate me to be my best, and I love being challenged to shift my perspective on different subjects."
Lucker relays this sentiment, writing,
"Swat far surpassed what I ever could have imagined life would be like on campus. I've been able to participate in so many activities to be able to see what kind of person I am and who I want to work alongside with."
As it stands, it seems many students (including myself) were well aware of the rigor of Swarthmore, alongside some of the increasingly prevalent social aspects of living on campus and being part of the community. Personally, realizing the intimate nature of the relationships built here at Swat — that is to say, the tightknit friendships found here — was almost a complete surprise, despite the small size of the school. Like Booker, I have come to love the social culture of Swarthmore, despite its flaws.
As a final question, I managed to ask if the interviewees felt they had made the right choice in coming to Swarthmore.
For Lucker, it's a yes.
For Booker, yes.
For McManus, yes.
For me, definitely.