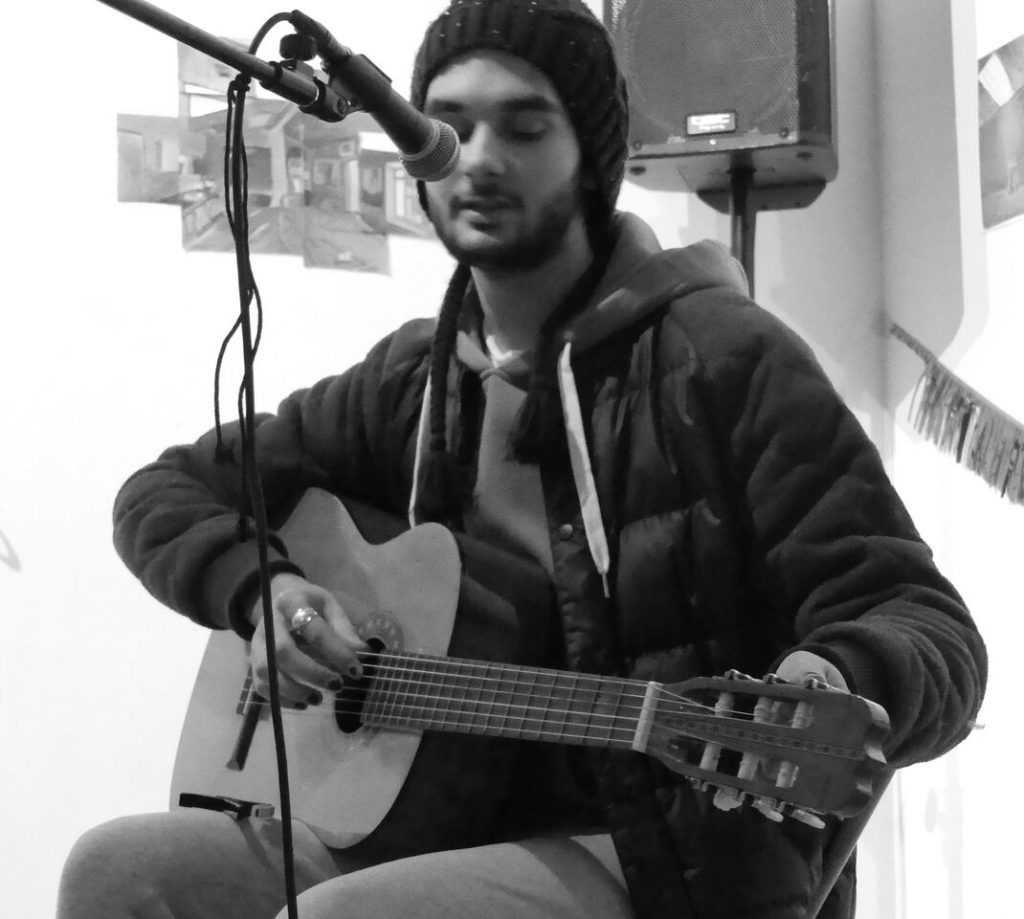 Since October, the Pride Month Committee has been holding a variety of events including panels, Paces parties, music and art shows. Last Friday the committee organized a number of events, including inviting Juliana Huxtable, a queer artist based in New York, to give a talk and perform at Olde Club. Also this past Friday the committee held the "Closed Place, Open Space" open mic in the Kitao Art Gallery to feature the work of queer students. Pride Month committee members Ian Ortiz '20 and Cindy Lopez '20 organized the show. Ortiz says that Lopez originally came up with the idea of an open mic, and they worked together to get artists to come to the show.
"It was Cindy who proposed the idea of having a queer open mic night and art exhibition, when we were all brainstorming all of the pride events… I knew a poet who frequently participates in open mic nights from Widener University that could help us in finding talented people from the greater Philadelphia area," said Ortiz.
After that, Ortiz said it was just "a matter of finding people who might want to share their art and story with other people in the queer community."
The event was meant to not only feature the work of artist who wanted to perform but also to create a space where people who attended the event would not feel inhibited to participate as artists themselves.
"We wanted to have a space that was free for people to express themselves openly with others who might understand their struggles with self-expression and their identity. It was unknown what the turnout would be like, but having our community come together in the way that they did, by feeling inspired to go on stage and share a piece of themselves, was phenomenal to experience," Ortiz said.
That night Kitao was somewhere over the rainbow flags that lined the walkway that leads to the entrance. All the chairs in Kitao were occupied, and people were sitting close together facing a microphone in front of them. People read poems off of their phones or from scrap paper, including ones they admitted were unfinished. I was transfixed by the poems I heard, and it seemed like the rest of the audience was too. This was some of the most compelling poetry I had heard at Swarthmore, or even in my life. People seemed to open up to the sense of community that appeared to me to exist in the room.
Despite all of their preparation, Ortiz and Lopez did not know exactly how the was going to unfold. An open mic, is by its very nature, loosely structured, and it was unclear how many people would take the opportunity to perform when they had not been planning to.
"We could not have predicted how, or in what ways, the artists chose to present their work. Some people told us directly what they wanted bring on stage and some people, who originally came just to observe, felt compelled to find some of their work to share it with us all. I suppose the turnout was just by happenstance," Ortiz said.
The audience participation was indicative of the overall success of the event in the eyes of those who organized it.
"I don't think we could have had a more satisfying turnout. The room was rich with emotion and creativity. We had a room full of people who took time out of their day to attend our event. It was truly incredible, and we would like to thank them all," Ortiz said.
Audience members seemed similarly impressed with the quality and quantity of work shared by students at the open mic. Despite the frigid temperatures that night, the atmosphere in Kitao was extremely warm.
"That night was an especially cold night, but I opened the door into Kitao a little bit before the open mic started, and it was really nice just to see everyone sitting together and talking in a group in the warm room, with a big rainbow flag hanging one one side and many snacks [on the other]," said Liv Elmore '20, who attended the event.
The poetry was pleasing to Elmore, but she also noted her appreciation of the space itself.
"The art was great, but mostly I loved just being in the space. I really appreciated how comfortable and warm and welcoming Cindy and Ian and whoever else worked to make it. Some of my favorite poetry of the night came from Widener students who came to read and to support their friends," said Elmore.
The Pride Month committee plans to hold another event this Saturday night. The Committee will host a drag show called "Parrish is Burning," featuring Miss Gay Philadelphia Aida S. Stratton beginning at 8 p.m.