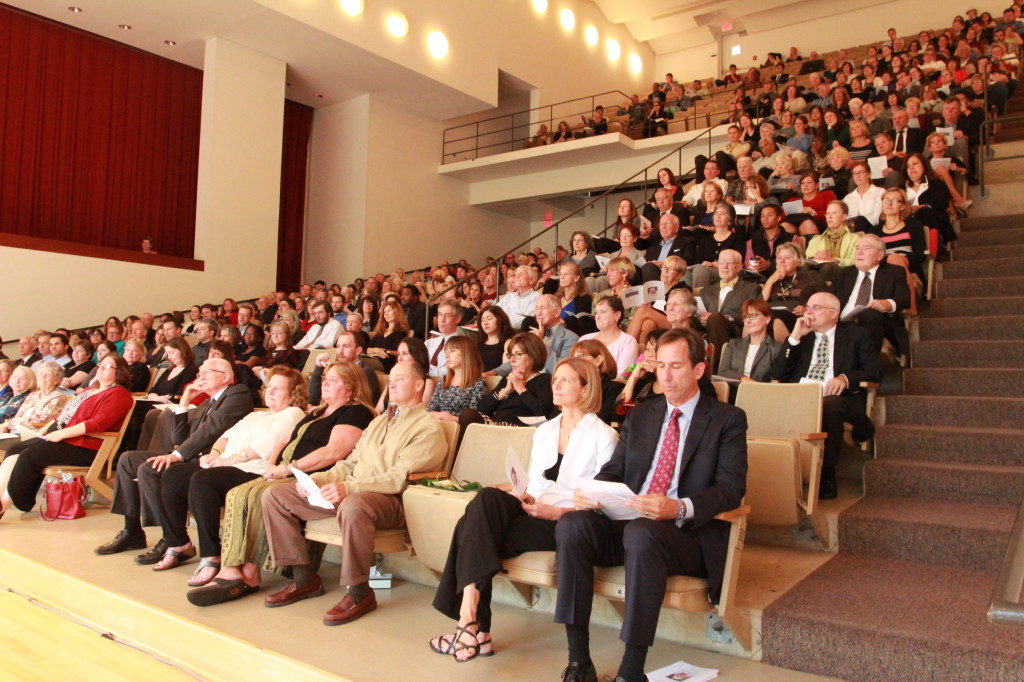 On September 24th, Meg Spencer, the Cornell Science Librarian died in a car accident. She was 55, and had worked at Swarthmore in some capacity continuously for 34 years.
A memorial service was held for Spencer on Wednesday in Lang Concert Hall where Spencer had performed many times in the College Chorus. Many faculty, students, staff, were in attendance as well as Spencer's family and friends. In addition to members of Spencer's family, College Librarian Peggy Seifen, Professor of Chemistry and Provost of the College Tom Stevenson, and Chair of the Biology Department Amy Vollmer led in the service. At the service, Scott Spencer, Spencer's cousin, said she gained her lifelong love of books from her mother, whom he remembers as a woman who loved reading and talking about books well into her old age. Spencer, he said, "passed on her love of books on to this community."
A Delaware County native, Spencer graduated from the University of Richmond with a B.A. in Sociology. She also studied at the University of Sorbonne in Paris. Originally working as a psychology research assistant, she later started working for the Library System here at Swarthmore and in 1999 she was promoted to head Science Librarian after a nationwide search for a candidate to fill that role.
Over the course of the time Spencer worked at the library, the system was converted from an analog to digital and the tripod system, which connects the Library Systems of Bryn Mawr, Haverford, and Swarthmore, was created. During Spencer's tenure, the Cornell Science Library, formally a standalone building, was connected to the new Science Center. Throughout all these changes Spencer was both indispensable to implementing changes which made the library more accessible and useful to students and faculty and a defender of the traditional role of libraries and their usefulness on a modern College Campus. In a letter President Valerie Smith wrote to the College community published last Thursday, Head of Research and Information Pam Harris said that "Spencer didn't teach about the tasks or work of a library; she taught her students to love the feel and the smell of books and the dignity of their place in our lives."
Spencer's work at Swarthmore extended beyond the library system. This summer a new program called "Summer Scholars" was created which is meant to help students from low-income backgrounds, or those who are first generation and those who are part of underrepresented groups, a chance to gain skills in the STEM fields over the summer, Spencer organized  a scavenger hunt for participating students to help get them used to and feel at home at Cornell. For more than 10 years Spencer administered an internship program designed to spark interest in undergraduates and underrepresented groups of people in pursuing careers in library science. Spencer was particularly dedicated to this internship program, and felt it was one of the most important parts of her work on campus.
Spencer was also involved in work off-campus. She worked in the Spectrum Scholar Mentor Program, which is a program where academic and research librarians mentor library school students. In this program she tried to share her passion of books and learning with students who she hoped would be compelled to pursue a career in a library system as she did.
Spencer was also generally interested in promoting the interest in books on campus. She was constantly lending faculty, students, and staff books she thought they would enjoy and giving books as gifts. During the most recent Staff Development Week (a program held during winter break for all College Staff to participate in workshops which develop skills) she organized events for staff to bring books they were reading and discuss them.
The memorial service opened with a Lament led by Spencer's cousin Stuart Spencer:
Why Lord, did Spencer have to leave us so suddenly?
We weren't ready. We are shattered.
Why must we feel the sting of death?
Come near, and do not leave us alone.
At the end of the lament, Stuart, speaking not just about Spencer's passing but about grieving in general, said: "Sorrow and suffering are enormous, but they are not infinite…they are not infinite."