Lang project helps children affected by violence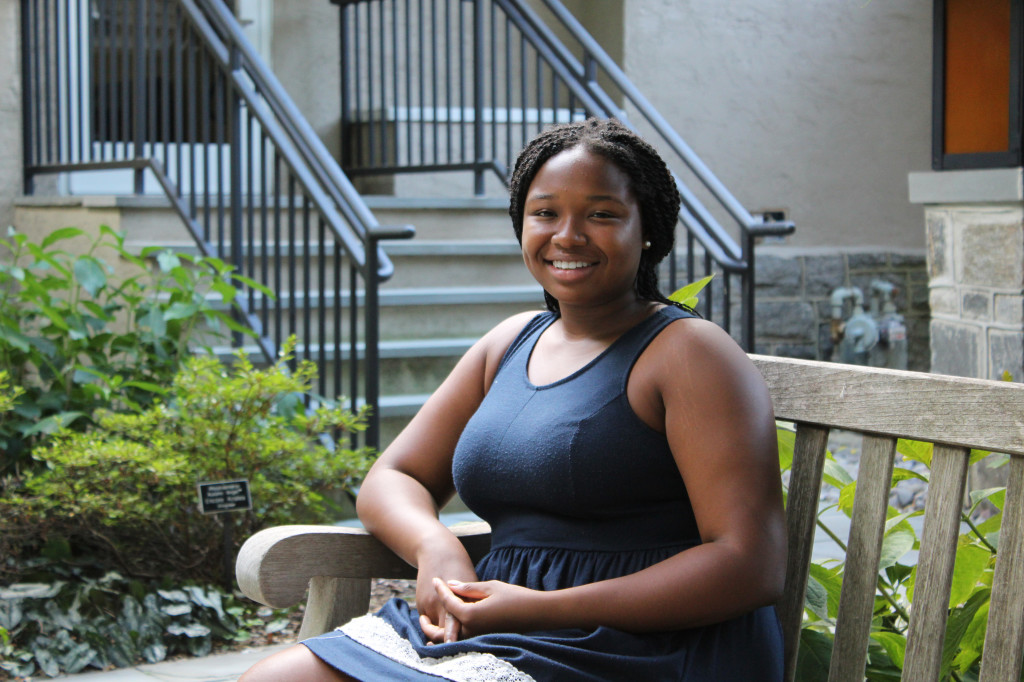 A'Dorian Murray-Thomas '16 founded and launched "SheWins" this summer, a program to support young girls affected by the violent loss of a loved one.
SheWins is based in Murray-Thomas's hometown of Newark, New Jersey, a city she said experiences high rates of poverty and violence. As a Newark native who has personally lost a loved one to violence, she believes she can act as a role model and provide opportunities to adolescent girls with similar experiences. At the age of seven, her father was killed in a random act of violence.
All of the program's 12 to 15 participants, aged between 11 and 16, said they had been affected by violence in some way, and most had lost a close relative.
"'If you come from this city, you're affected by this,'" Murray-Thomas recalled one student saying about her exposure to violence.
"I'm passionate about education," Murray-Thomas said. "[I]n urban inner-city communities, schools cannot always to do what they need to do [for] administrative or financial reasons."
She explained that schools within these urban communities earn higher scores, however, when they work closely with outside programs, such as churches or recreational centers. She cited the opportunity to create one of these programs through the Lang Center as the main reason for applying to Swarthmore.
Murray-Thomas was surprised at how quickly her program caught the attention of media outlets. Over the summer, writers from the Star-Ledger and USA Today College interviewed her and the girls, most of whom had never been in the news before.
Originally, Murray-Thomas applied for the Lang Scholarship with the intention of forming a mentorship program for girls. The Lang Center for Civic and Social Responsibility at the college gives out six scholarships annually to high-achieving students for projects geared at improving society. But the week before sending in her final proposal, she heard about a particularly gruesome killing spree in Newark, during which ten people were killed in ten days. She then decided to tailor the program to reach out to girls affected by homicide.
Murray-Thomas stressed how harmful such traumas can be, particularly for those coming of age. She explains that adolescents in areas like Newark have to overcome stressors related to violence and class, complicating the process of adolescence.
Murray-Thomas recognized that many young people experiencing these stressors from her hometown need a space designated for supporting one another. A week into her program, she realized that this community aspect was missing from the group, and the girls were tentative when talking to each other. Participants appeared unsure of themselves and of what they wanted to say. She then made fostering an environment of trust and support a main goal of SheWins.
"A challenge was to create a community," she said. "[The girls] had to learn to give each other compliments… how to be sisters. [It] took a little bit of time, but then it became second nature."
Murray-Thomas worked on encouraging active and enthusiastic participation. The girls gradually began to talk more and in greater depth about their identity. She watched discussions become more lively and personal, and the girls ultimately grew more confident, turning into individual members with unique opinions and experiences to offer.
Being able to comfortably immerse oneself in a new social setting, she acknowledged, is itself a skill that requires practice. These situations are rarely afforded to many students in Newark, who may not have the means of attending summer camps or joining extracurricular activities.
Murray-Thomas attributed a great deal of her success to her mother bringing her to a variety of different social work projects, where she could meet new people and explore her passion for helping others. Her mother, one of the few college graduates in her town, also stressed the importance of education. Murray-Thomas believes this upbringing improved her leadership and networking skills.
She has seen that many children in Newark do not get this type of exposure, and tried to bring it to the girls in SheWins as much as possible. They took multiple field trips, including one to Washington, D.C. at Girls Up, a United Nations-sponsored girls' advocacy program.
The trip to DC was the first time many of Murray-Thomas's students experienced being a racial minority. All of her students are black, and the majority of other children at Girls Up were white.
"I don't feel comfortable. I don't know if I belong here," one girl told her on the first day in D.C. That night, the group had a long discussion during which Murray-Thomas reiterated that they were worthy of partaking in such a program.
Murray-Thomas's program also brought the girls to a Children's Health Summit, where they were the only youth in the room.
"[You] have to put them in spaces where they will be leaders," Murray-Thomas said. "Take them out of their comfort zone."
She finds this experience especially important for black girls, who belong to a demographic largely underrepresented among positions of power in myriad fields.
"[It] takes time to be comfortable as a woman, as a person of color, as someone from a different socioeconomic background," she said.
In order to encourage the girls as much as possible to feel confident in following their passion, Murray-Thomas had the program's participants pick a topic they cared about based on personal experiences. They then had to act as an advocate for their cause, and research and present their topic to the group. Many subjects covered were related to education, as well as sexual abuse and other forms of violence.
Murray-Thomas wants the girls to continue to learn more about their research topics, as well as see their identity represented in their fields of interest. She is currently working to pair them with professional women to act as mentors in their chosen area of focus.
She intends to continue engaging in SheWins and hopes to extend the Lang Scholarship funding as far as possible. She has scheduled to meet with the girls in Newark every month this upcoming year.
"[The] only way it can have substantive impact…[is] if there's long-term additional engagement," she says. "I'm not giving [the girls] any talents or skills they did not have, I'm just giving them a platform to be able to develop their skills."