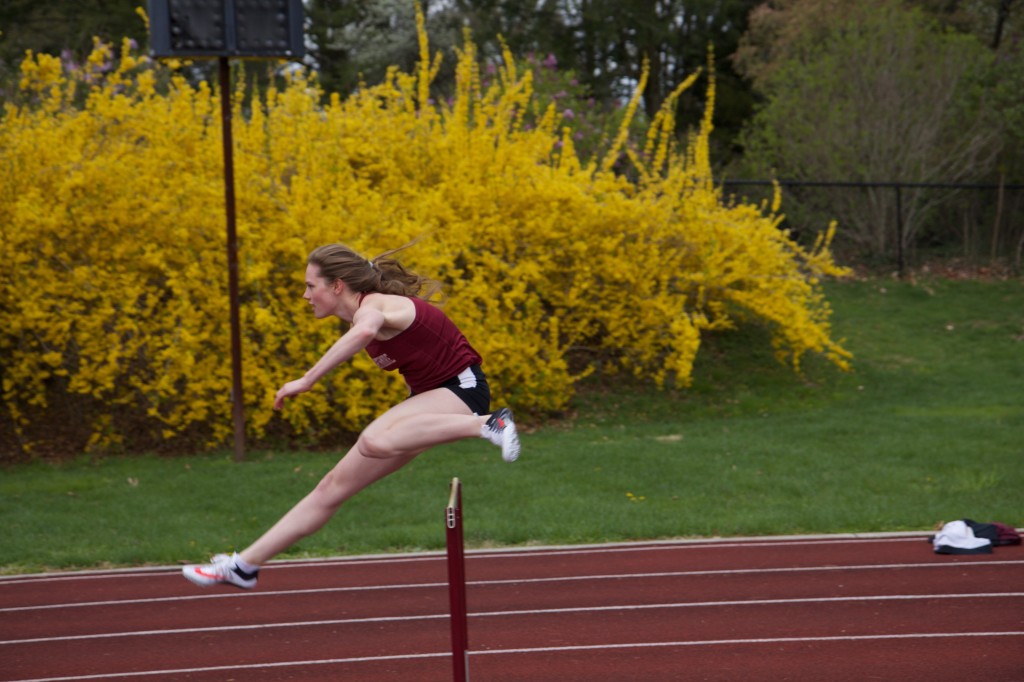 This weekend marks the beginning of the end as some of our spring season athletes compete in the competition their regular seasons have all been leading up to: The Centennial Conference Championships. One of these athletes, Lulu Allen-Waller '17 of the women's track and field team, has destroyed her competition this season and has reigned as a force to be reckoned with in both the 100-meter and 400-meter hurdles. With a combined total of five first-place wins in her very first season of outdoor track, Allen-Waller has served as one of the most talented members of the track and field team.
Allen-Waller's career as an athlete began on the humble track of her middle school track and field P.E. unit. Although she had played soccer beforehand, Allen-Waller always knew her talent lay in running. "They would always put me in midfield because I could run. I wasn't great with footwork but running was something I could always do."
With this ability to sprint short distances, she and her friend decided to try out the old, forgotten hurdles that stood at the corner of the track just for the fun of it. "The first time I tried hurdles, it felt like I was flying," she said, "I remember afterward I said 'I want to do this all the time!'"
Her love for competing in hurdles continued into high school where she competed in both the 100-meter and 300-meter hurdles. She went on to qualify for states during her junior and senior year and also graduated holding the school record with a time of 15.5 seconds in the 100 meter hurdles. "Breaking that record was a little weird for me because I had always considered myself more competitive in the longer hurdle races, which is definitely true for me right now as well," Allen-Waller explained. "I think it's because the 100 is a terrifying race. I always get to the start line and think 'Am I still going to be able to do this?'"
Whether she believes it at the start of the race or not, Allen-Waller consistently performs with commanding times in both of her hurdle events and has done so ever since her high school career. Upon entering the collegiate sphere of track and field, Allen-Waller has only continued to improve.
"She has had an outstanding season," Senior-captain Jason Heo of the men's track and field team commented on her performance this spring. "She's improved so much since last outdoor season and even a lot just this year," he said.
In contrast to this year, Allen-Waller was unable to compete in last year's outdoor season as she suffered an injury that occurred right at the end of her indoor track season, prior to what would have been her first season competing outdoors.
"I had a pretty good indoor season," Allen-Waller reflected. "I was happy with my times, but I remember I woke up the day after indoor conferences with very localized shin pain. It was a stress fracture and it took me out for outdoor," she said.
"She was fast last year," Senior-captain Julia Nee commented, "but ending the season on an injury didn't really reflect all the work she put in over the indoor and outdoor season in her conference performances," she said.
However, Allen-Waller has not only successfully healed from her injury from last spring's season this year, but has continued to improve her times in her main events — the 100-meter and 400-meter hurdles. With two first-place wins in the 100 and three first-place wins in the 400, Allen-Waller has shown that her drive was unfazed by an injury that could have affected her both physically and mentally.
"Lulu is an amazing competitor, athlete, and teammate," Nee said. "She works so hard in practice and is so internally motivated. There are other hurdlers, but I think she pushes herself more than they push her." Heo echoed Nee's sentiments saying, "I think her drive and motivation really speak for themselves."
Allen-Waller has beaten her own personal record twice this year in the 400, which currently stands at 1 minute and 3.76 seconds. Her first PR was set at the Danny Curran Invitational a month ago back in March where she placed first with a time of 1:06.78. To give her performance a little more context, the race served as only her second 400 hurdle race ever.
Her next PR was even more impressive when she competed in the Johns Hopkins Invitational near the beginning of April. She came home from the meet with two first place wins, a PR of 1:03.76 in the 400 which beat her last PR by a whopping three seconds and earned the second place title on the program's all time 400-meter record list. Her time narrowly missed edging out Kenyetta Givans '12 record of 1:02.72.
The Johns Hopkins Invitational served as Allen-Waller's favorite meet of the season as the three second drop in her 400-meter time was a phenomenal accomplishment. "It was definitely a breakthrough moment where I realized, wow, I really can run these kinds of times."
However, Allen-Waller kept in mind that these drops in PR's aren't something a runner gets the chance to experience often.
"It's the kind of thing you can only do when you're just starting to run a race," Allen-Waller explained. "So I'm savoring this season while I can because I know as I become more consistent it's going to be less exciting because I'll have fewer of those breakthrough moments."
Her final two first-place wins were both won at the Widener Invitational where she earned yet another PR, but this time in the 100-meter hurdles, with a time of 15.17. Ironically, she matched her 400-meter hurdle PR to the hundredth of a second and ran the exact same race with a time of 1:03.76 again.
"I generally do tend to be more competitive in the 400 hurdles, but there's something really fun about the explosiveness of the 100," Allen-Waller said. "You don't think, you just give it everything you have and you get a nice adrenaline surge."
But her own races aren't her only priority as a member of the team. Despite being her own biggest motivator, Allen-Waller also serves as a motivating force to the rest of her teammates. "Lulu is such a great contribution to the team," Nee said. "She has such a positive presence, even when we're doing a difficult workout and we all want to die … She's always there to encourage everyone else and provide some humor or biology fact to make people laugh"
"She has already evidenced quite a bit of leadership and modeled good work ethic as a sophomore," Heo added. "So I'm excited to see where she can go in the next two years."
Despite training nearly every day of the week to maintain her first-place times, the biology major, French minor has also balanced working as a Writing Associate for the biology department. She plans to utilize her knowledge and interests in population biology when she studies abroad next semester in Madagascar where she will simultaneously study environmental studies, biodiversity, French, and Malagasy, the national language of Madagascar.
Although she won't return to Swarthmore until her next outdoor season of track begins, Allen-Waller's next competition lies with the Centennial Conference Championships this Saturday where she hopes to continue defeating her competition and earn a qualifying time to compete in nationals.