Athlete of the Month: Karl Barkley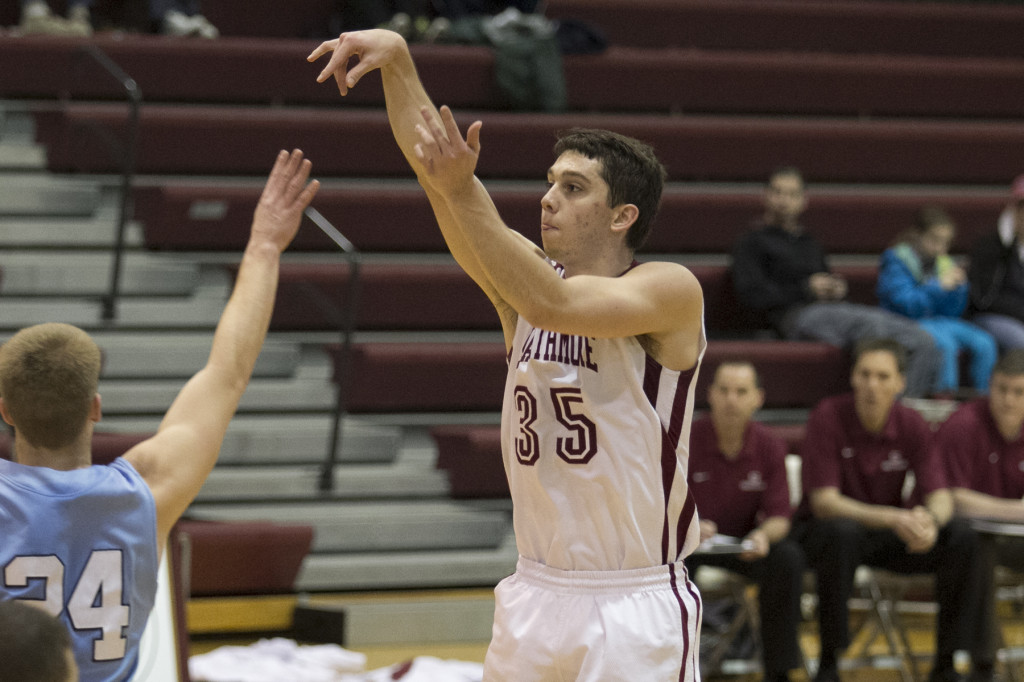 If you saw a guy wearing a goofy cowboy hat at last week's winter formal, then you saw January's esteemed athlete of the month, Karl Barkley '15. The 6"3' guard from North Carolina has been a talented member of the men's basketball team since his freshman year and has moved his way up the ranks, becoming the only senior and captain on the team. His steady stream of threes aside, Barkley's involvement with numerous community service projects and sustainability efforts earned him the nomination for the 2015 Allstate NABC and WBCA Good Works Teams back in December. This semester marks Barkley's final season on the team and final semester at Swarthmore. In his four years,  he has established a career on-and-off the court that has garnered respect from teammates and friends combined.
"On the court, Karl is a pure shooter," fellow teammate Luke McCartin '17 explained. "As a senior, everyone in the conference knows he can shoot lights out, but every team still finds it very difficult to shut him down."
This year, half of all the games Barkley has played have seen three-point field goal attempts above or around .400, illustrating that his strengths are found in long range shooting. Last week during his team's match against Franklin and Marshall, Barkley scored 19 points, 18 of which were from behind the three-point line. Although the halftime deficit was too high to overcome, Barkley's three-point field goal percentage was still 55% against the #20 ranked team in Division III basketball.
However, making it rain has not always been a part of Barkley's career. His freshman year saw him average a total of four points per game as most of his time was spent on the bench. "As a freshman, Karl did not play much," teammate Sean Thaxter '16 explained. "But instead of resigning himself to being a bench player for his career, he kept working and has blossomed under Coach [Landry] Kosmalski."
Coach Landry Kosmalski replaced former coach Lee Wimberly in 2011, a transition which marked a huge change for the men's basketball team program as a whole. "There's definitely been a big change in culture over the four years," Barkley commented. "I started out with a program that was accustomed to losing and honestly seemed somewhat okay with it. Then Coach Kosmalski came in during my sophomore year and began the long process toward changing that," he said.
From bringing in huge classes of freshmen to taking their places on the team much more seriously, the men, with Kosmalski's help, have completely transformed their team dynamic compared to years past. "During my freshman year, everyone was just kind of hanging out. It was fun to be on the team and have friends but we weren't really concerned with basketball so much," Barkely explained.
For the past three years, the men have seen a steady increase in performance as their conference win/loss ratio has increased from Barkley's freshman year in which they were only 3-15 in conference. The team's current conference record is 4-8. "In my senior year it's a lot better. Everyone on the team is committed to being there every day and working hard in practice," he said.
This year the team is on track to continue improving their performance as Barkley's younger teammates look up to him as an experienced member of the team. "Karl isn't the type of leader who is going to bark out orders and curse out teammates, but rather the type of guy who leads as a friend," Thaxter said. "Even though he's the only senior on the team, he will never pull rank on someone or take his position on the team for granted." Affectionately known as "Dad" by his freshman teammates, Barkley has "All the qualities of a cool dad," as Thaxter so adequately put.
Admiration for Barkley's characteristics and dad-like qualities can be found off the court as well. "Karl is very compassionate and loves helping others," Barkley's friend of four years, Luke Alventosa '15, said, "He is probably one of the nicest people I have met at Swarthmore and genuinely cares about other people."
Barkley's community service work in public policy makes his compassion for others apparent. On course to graduate with a major in political science and a minor in art history, Barkley's love for the culture that surrounds Washington D.C. has shaped his public policy interests. His interest stems from his love for history in middle school and high school. Barkley explained, "I liked the stories in history class but I wanted a different side too… I wanted applications and the ability to create things on my own."
For his class on environmental justice, Barkley worked with close friend and classmate, Ellen Bachmanhuff '15, to create four business plans for CCIP (Chester Community Improvement Project) to generate more revenue to fund other projects in the community. Using incomprehensible terms about "biofuel subsidiary solar retrofitting" and "weatherizing," Barkley toned down the vocabulary to explain, "Our job was to do what CCIP staff couldn't because they were so short-handed."
Relying on Bachmanhuff, an economics major who "held his hand" through the complex terminology, Barkley proved to be a capable and reliable partner in their work with CCIP. "We undertook a huge project with little direction and with many choices to make… Karl was always responsive, dedicated and helpful with every roadblock we faced," Bachmanhuff said. "He was invested in the project on a personal level, which made him an amazing partner because he was always looking for ways to be better." Although the class ended last semester, Barkley is still in contact with the director of CCIP and is planning to continue working with the program this spring.
However, Barkley's community involvement isn't limited to off-campus pursuits. Barkley became involved in sustainability projects last year with his involvement in SAAC (Student-Athlete Advisory Committee) as Vice-President. Part of his duties were to oversee committees which led him to decide to become a part of the on-campus sustainability committee. "I hadn't really heard of any sustainability efforts in the athletic department at all, so I jumped on it," he explained.
With the help of Eric Wagner, head coach of the men's soccer team and chair of the sustainability committee for the entire school, Barkley helped plan their first ever "Zero Waste Game" in which they made their own concessions, used reusable and compostable containers and sold them on game day instead of traditional concession-stand goodies. This led to their involvement at the first ever college greening consortium held at the University of Pennsylvania last spring where Barkley presented what work the sustainability committee had done at Swarthmore.
"I think it's a challenge to see how we can take sports events that people love and turn them into something that can be more efficient and also promote a better message to the greater community who might criticize sports for being a symbol of gluttony or excess," Barkley explained. This year, Barkley is still a member of the committee and is attempting to run a seed fundraiser modeled off of Davidson College's event called "The Next Play" which will fund future sustainability initiatives that won't be limited to athletics.
But CCIP and on-campus sustainability committees are just the start of Barkley's involvement in community service and public policy. Barkley's other community service involves volunteering at soup kitchens with his church, going into Philly to pursue other community service works, as well as teaching gym class to a rowdy group of fourth graders that loved him so much they chanted his name and didn't want him to leave.
"I think Karl's dedication is what I admire most about his interest in community service," Bachmannhoff said. "When we were working on CCIP, Karl's dedication caused the group to take on a new mentality and the project became much more than a grade for all of us. It became a chance for us to really help the community."
Karl is currently in the process of applying to different jobs in the D.C. area, all related to public policy. Before truly transitioning into the real world to begin what will probably become an illustrious career, Karl plans to go on a mission trip to Sweden for five weeks with his church and also plans to travel to China for three weeks with his family where he can practice the Chinese he's learned this past year at Swarthmore.
Describing exactly just how deserving Barkley is of the title of Athlete of the Month, McCartin summed it up perfectly: "Karl Barkley really is just a great guy."