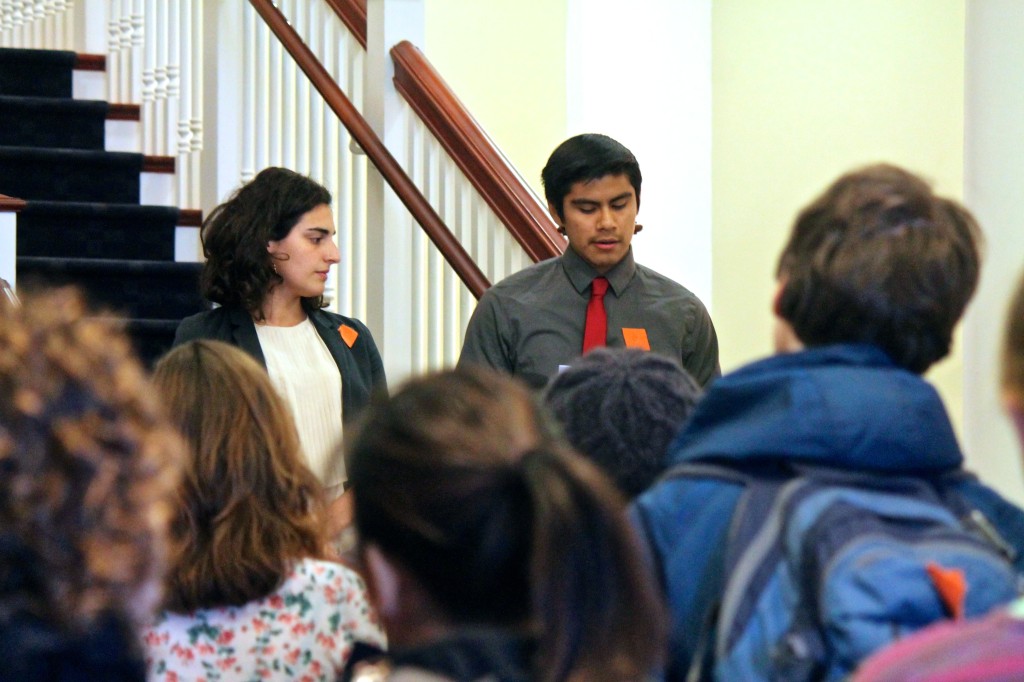 Yesterday, Cambridge Associates, the highest-paid financial advisement firm hired by the college, announced that for the first time it would provide the option of fossil-free portfolios for institutions that wish to divest from fossil fuels. Cambridge advises 71 percent of the largest college and university endowments, and until now, institutions that chose Cambridge as their consulting firm were not provided a way to create fossil-free investment portfolios through the company.
"Climate change is on the minds of many institutional investors, including endowments,"  stated a press release by the climate justice organization 350.org, quoting Cambridge Associates. "Fortunately, there are a number of avenues institutions can elect to pursue to act on their concerns, from a focus on alternative energy and fossil-free investment managers, to various degrees of divestment within a portfolio. Cambridge Associates stands ready to help institutions pursue any of these paths."
Today, Swarthmore Mountain Justice held an action for divestment at 12:30 p.m. in Parrish Hall, where they read a statement calling on the Board of Managers, and in particular its Investment Committee, to divest through Cambridge Associates.
"For years the Board has argued that they cannot divest because our existing fund managers do not offer fossil free options," read Christopher Malafronti '18. "Cambridge's offer means that a plan for divestment is now just a phone call away."
"The Board of Managers cannot refuse this unprecedented opportunity to be a moral leader on climate change by ending our investments in the fossil fuel industry and reinvesting in the just and sustainable future we need," said Sara Blazevic '15.
MJ called on the Board of Managers to work with Cambridge for a fossil-free endowment plan at the December Board of Managers meeting, to collaborate with Swarthmore Mountain Justice and Cambridge Associates over the next month to develop the plan and to vote on the proposal at the February meeting.
Guido Girgenti '15 called Cambridge Associates' decision "groundbreaking."
"In the face of such an unprecedented crisis such as the climate crisis, we have to ask ourselves what is the greatest source of power we have," said Girgenti. "Our endowment is one of the greatest sources of power that we have, and it is perhaps the most powerful thing we can do to take that endowment and say we are no longer going to invest in an industry that is incompatible with a just and sustainable future that perpetuates social and economic injustice across the world."
Members of MJ stressed that although the Board of Managers has responded negatively to calls for divestment in the past, they expected a change following Cambridge's decision.
"The main takeaway from this announcement is that Swarthmore's Board of Managers no longer has any excuse for inaction," said Blazevic. "We fully expect that they will take those steps towards divesting in the coming months because we know how important it is for Swarthmore to demonstrate its leadership on social issues … they cannot continue to refuse divestment for very long before it will discredit their name as a socially responsible institution."
At $1.9 billion, Swarthmore college's endowment is one of the largest per student of any college or university in the country. Swarthmore's endowment increased from $1.6 billion at the end of the 2013 fiscal year to $1.9 billion by June 2014. According to the college's website, 3.5 percent of the endowment was spent in 2014, with the rest reinvested for future generations of Swarthmore students. According to Swarthmore's 2013 financial report, in 2013 Swarthmore generated a 11.9 percent one-year rate of return on its endowment and a 8.9 percent average annual rate of returns over a ten-year period — a period that encompasses the Great Recession. Assuming a 3.5 percent yearly spending rate, over twice the money spent is gained back each year.
Currently, over 100 different firms collectively manage Swarthmore's endowment. In 2011, the college paid Cambridge Associates a consulting fee of $738,084. Cambridge Associates serves as a consultant to provide clients like Swarthmore with a spending policy based on their financial needs, to recommend investment managers who will fulfill these expressed interests and "to provide comparative endowment data," as stated on Swarthmore's website.
Cambridge Associates outlines on their website that they "work with you to create a blueprint for your portfolio that allows you to build or adjust the asset allocation and manager structure to fit your objectives. We also recommend which managers to hire or fire, when to rebalance, and what other portfolio decisions you need to consider to help you best achieve your goals." Based on an individual college's financial intentions, priorities and values, Cambridge Associates recruits the managers whose portfolios will be in line with these goals. "Our fully customized portfolio management approach allows you to implement mission-focused investments that fit your investment strategy and align with your values," says a statement on Cambridge's website.
Swarthmore, and its primary consulting firms, asserts that it can generate higher returns by pooling their money in many separate and diverse investments. Over 60 percent of Swarthmore's investments are currently in companies that have no fossil-free constraints, and so it is possible that many of these funds include money generated from the fossil fuel industry. Girgenti said that although there was no static number, approximately two to three percent of any managed fund contains money from fossil fuels. Until now, divesting would have required that Swarthmore fundamentally changed the way it invests or else invested through a company other than Cambridge. However, now that Cambridge Associates is willing to recruit managers with completely fossil-free portfolios for any institutions it advises, this reason is no longer compelling, said Girgenti and Blazevic.
In addition to stating that Swarthmore would need to completely restructure its investment strategy in order to divest, the Board of Managers argues that divesting from fossil fuels would hurt the endowment. The "Cost of Divestment Q&A," posted on the college's website in May 2013, projects a loss of $203.8 million for the endowment over a ten-year period if the college were to divest. The document was written by Suzanne Welsh, then-vice president for finance and treasurer, and Christopher Niemczewski '74, chair of the Investment Committee and president and founder of Marshfield Associates, the third highest-paid consulting firm hired by the college.
"By our calculation, divestment could risk a loss of approximately $10-15 million a year in endowment income," says an open letter on divestment published in September 2013 by Gil Kemp '72, chair of the Board of Managers. "Divestment's potential success as a moral response is limited — if not completely negated — so long as its advocates continue to turn on the lights, drive cars, and purchase manufactured goods, for it is these activities that constitute the true drivers of fossil fuel companies' economic viability — their profits."
Stanford University divested from coal last May. Like Swarthmore, Stanford employs Cambridge Associates as a consultant. However, their portfolio is not fossil-free — rather, Stanford no longer invests directly in coal extraction companies.
For Sophie Harris, media coordinator of Fossil Free Stanford, an activist group working for fossil fuel divestment at Stanford, Cambridge's announcement did not come as a surprise.
"[Cambridge] work[s] for many clients that have already been asking them to divest from fossil fuels," she said. "It was very clear that they were ready to make this happen and then it was on the institutions themselves to choose whether or not to make this happen." While Harris did not think the announcement would drastically change the situation at Stanford, she said it could tip the balance toward divestment for many institutions.
"I think for many schools Cambridge has been this huge barrier that their administrations have given to them, saying if they can't do it we definitely can't do it," she added. "[This] really puts the ownership back where it belongs, which is on university decision makers."
Stanford, as well as MJ, cite the likelihood of a carbon bubble as motivation to divest, framing the issue as not only a moral one in terms of global warming but also as a financially savvy decision for an institution hoping to grow its endowment. A report published by Fossil Free Stanford cites that four-fifths of available oil reserves must be kept in the ground to avoid surpassing a 2 degrees Celsius warming limit agreed on by the international community. However, the value of fossil fuel companies hinges on these unusable reserves, says the report. The report cites a study by the Carbon Tracker Institute, which recommends that "investors need to respond to this systemic risk to their  portfolios and the threat it poses of a carbon bubble bursting." Additionally, and at odds with the endowment losses projected by Welsh and Niemczewski in their report, the report by Fossil Free Stanford cites a study by S&P Capital IQ projecting economic gains for fossil-free endowments.
"S&P Capital IQ found that over the past ten years, a $1 billion endowment with no fossil fuel investments would have yielded $119 million more than an endowment with typical fossil investments," the study says.
According to Mark Kuperberg, professor of economics, divesting is unlikely to hurt the endowment. Kuperberg disagrees with Niemczewski and Welsh's report on divestment, particularly on the $203.8 million figure, although he is similarly skeptical of studies predicting gains as a result of divestment.
"The whole methodology that the Board used was based on what our managers make versus … the return of some hypothetical fossil free index fund," he said. "That's where the number comes from. So if someone could create a fund that isn't [invested in] fossil fuels and has a return equivalent to what our managers make currently, then that $200 million number goes to zero." Successfully doing this, says Kuperberg, is plausible. While he does not expect that having a completely fossil-free portfolio should hurt average returns, Kuperberg did caution against increased risk to returns as a result of a less diversified portfolio.
"[Fossil fuels are] not a huge part of the economy but [they are] a significant part of the economy … there's just no way to totally compensate for being less diversified," he said. "But the average returns shouldn't change much."