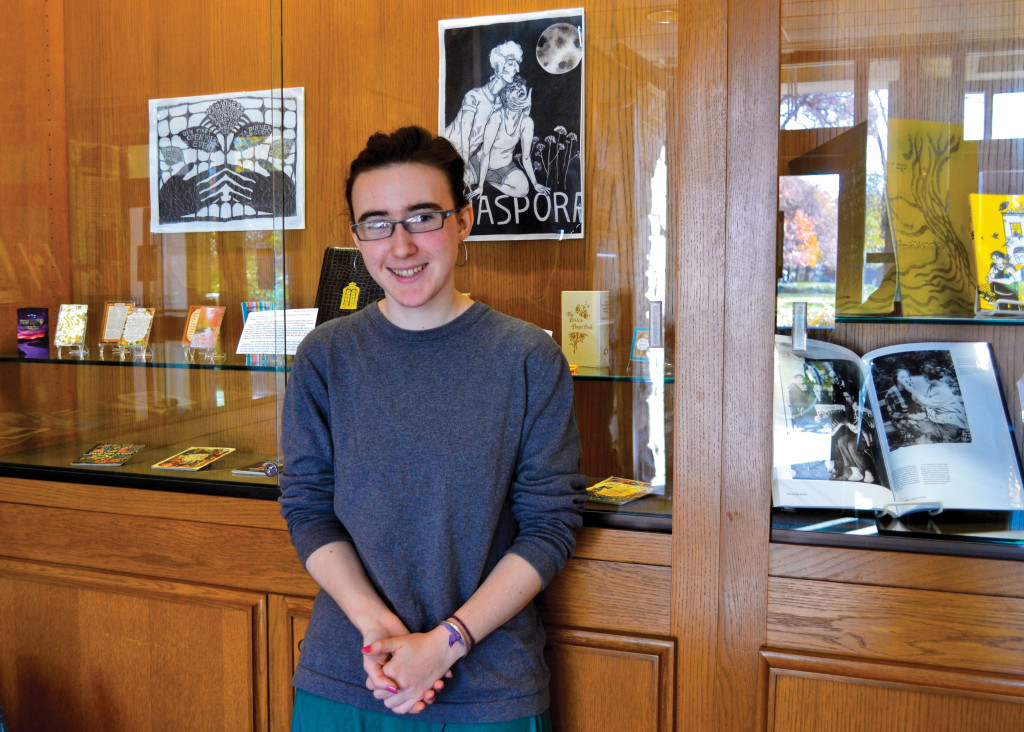 Yesterday, Hanna King '15 presented her award winning book collection, "Plucked from a Holy Book: Ashkenazim on the Margins," to a small crowd in McCabe Atrium. Her collection won the A. Edward Newton Student Book Collection Competition, the oldest book collection prize in the country, and placed second in the National Collegiate Book Collecting Competition. "Plucked from a Holy Book" comprises the works of marginalized Ashkenazi Jews, in a variety of different media.
King's collection takes it title from the opening poem of Kadya Molodovski's "Women-Poems," which is the first poem she read in Yiddish. The experience moved her to learn the language.
The poem ends, "And my life, a page plucked from a holy book, / The first line torn?" King began her talk with a reading of the poem as a whole, first in Yiddish, then the translation by Kathryn Hellerstein. It provided the initial spark for King's collection.
"My collection, inspired by the tensions present in the work of Molodovsky and other Jewish women writing in Eastern Europe during the other 20th century, explores the conversations that marginalized Ashkenazi Jews have had with a tradition that does not fully embrace them," she wrote in the annotated bibliography of her collection.
The kinds of authors included in the collection shift chronologically. Many of the earlier writers are women, as their writing was not normalized in the early 20th century. Later authors are mostly queer, trans or gender non-conforming. These qualifications I use, however, are only limiting given the scope the collections strives for.
"The so-called 'edges' of Ashkenazi culture are debatable at best," she wrote.
The collection features mainly works written in Yiddish, Biblical and Modern Hebrew, English and Polish. Seeing the collection on display, aged books and differing scripts make the collection visually compelling and diverse. Given the broad, transnational scope of the collection, King was keen to emphasize that her theme does not necessarily speak to the individual identities of those featured.
"I'm pretty explicit about the fact that whilst I'm defining this collection as being of Ashkenazi history, not all the people in this collection would identify that way," she said. "I think that a connection to Eastern Europe and Jewish descent constitutes a connection to Ashkenazi history."
Evidently, King's collection has been unanimously well received. Nonetheless, she is not entirely comfortable with this success.
"I feel awkward having posters from my dorm room and my books plastered all around McCabe," she said.
Part of the appeal of King's collection stems from the kinds of books she accrued — all were purchased second hand, and none of them cost more than $10. King saw value in where others did not, accumulating books from free boxes and book sales at Synagogues. For many, book collections are an expensive endeavor, and King prides in having spent less than $75 on the collection as a whole.
"That's not how I did it," she said.
King did not collect books with the aim of forming a book collection. All of them are books she's scoped out to read: given the difficulty of requesting books in a non-latin script on Interlibrary Loan, she has had to work harder than most to access the books of interest to her.
"Most of them were printed in Europe," she said, which added to the difficulty of the endeavor. Many of them are also out of print.
Since they were all second-hand, all of the books had an individual history attached to them, whether it be known or not. Glancing at the collection, you will see dedications, library stamps, and in one case a letter written by the author of the book. Some of the books have histories more personal to King.
"This was my grandmother's prayer book," she said of one small, cream volume. "She gave it to me."
Anecdotes are tied to the artifacts. King has a series of haggadot, prayer books used on Passover, that were given for free with pounds of coffee in the '50s and '60s.
"She probably drank a lot of coffee to have enough prayer books for Passover," King said.
The original collection was expanded for the purpose of the exhibit now on display in McCabe. The added breadth allowed her to include works that did not fit in the original theme, but are part of King's accruing process and relate to her interests and personal narrative. King's gifted copy of "Stone Butch Blues," seminal novel by transgender activist Leslie Feinberg, made its way into the exhibit this way.
King hopes that her win will give more people access to these stories and works, to her collection of marginalized voices that have been silenced by the annals of time.
"The best part of having [the books] out is that people have been asking me about them and asking to borrow them," she said. "They know they have access to them."
"Plucked from a Holy Book: Ashkenazim on the Margins" will be on display on the first floor of McCabe until Friday, December 19.