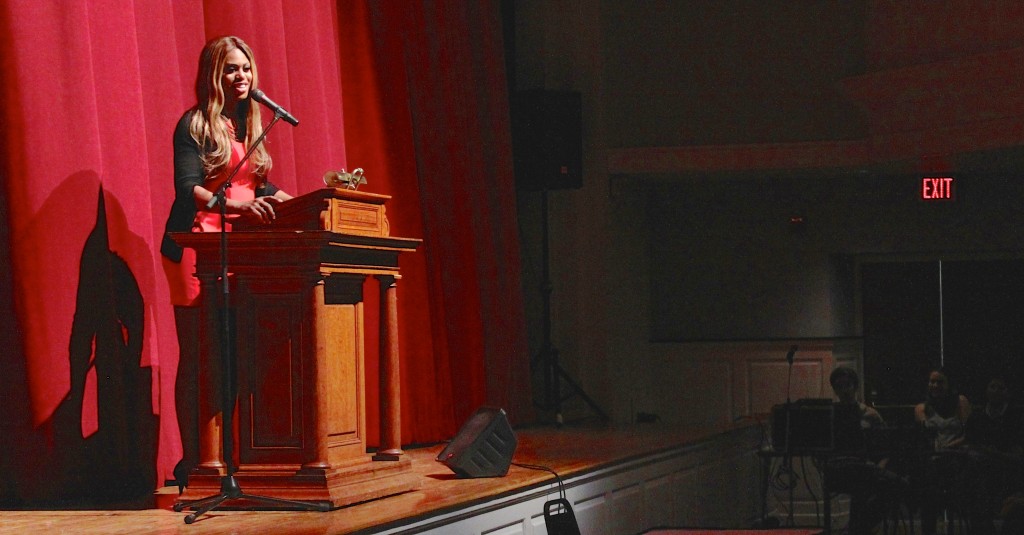 Last Friday, Emmy-nominated actress Laverne Cox made a highly anticipated appearance at Haverford College with an hour-and-a-half long talk about her life as an openly transgender actress.
When Laverne Cox appeared onstage, and was greeted by enthusiastic applause that lasted for several minutes and was unable to speak over the volume of the applause.
"Oh my gosh … oh my … Wow! I should come here more often," Cox remarked as the applause began to die down. She thanked the various groups that made the talk possible, such as the Haverford Speakers' Committee.
"I stand before you this evening a proud, African-American, transgender woman," she began, beaming.
"From a working class background, raised by a single mother, I stand before you an an artist, and an actress, a sister, and a daughter, and I believe it's important to name the various intersecting components of my multiple identities because I'm not just one thing. And neither are you," said Cox.
Cox explained her various intersecting identities to the audience, describing her experiences as a child in Mobile, Ala. She spoke of the emotional and psychological stresses of being gender non-conforming during her formative years. Cox recalled her third grade teacher telling her that she would "end up in New Orleans in a dress" if she continued to act effeminately, as well as the guilt that she felt growing up in a devoutly Christian household while being attracted to men. Cox also highlighted the moving and transformative experiences she had in the New York City transgender nightclub scene while she was a student at Marymount Manhattan College, and noted the powerful effect that gender theorists, such as Judith Butler and Simone de Beauvoir, had on her over the years.
In addition to recounting her own life story, Cox's talk was a call to action in the battle for transgender rights and equality. She called the current state of affairs for transgender and gender-nonconforming people "a state of emergency."
"It is my belief that one of the biggest obstacles facing the transgender community are points of view which disavow our identities, points of view that suggest that no matter what we do, we are always and only the gender we were assigned at birth, points of view that suggest that no matter what I do, I will never be a woman," Cox explained.
"Yet, ain't I a woman?" she asked the audience, which responded with more thunderous applause. Cox told the audience how they could help to further improve the lives of transgender and gender-nonconforming individuals.
"I think if we are serious about ending the bullying of our LGBTQ youth and all of our youth, in fact, we have to begin to create spaces of gender self-determination for all of our kids and for ourselves, as well," she said. Cox also expressed discontent with the current societal norm of the gender binary, where the only two accepted identities are cisgender men and women.
"The flawed logic of the gender binary model conflates [the problem]. It basically states that if you are born with a penis, you should be masculine and attracted to women, and if you are born with a vagina, you should be feminine and attracted to men," Cox explained. She told the audience that the gender binary is enforced through a process she called "gender policing."
"I often imagine what it would be like if each and every one of us decides for a day, a week, a month, that we're not gonna be the gender police —that we're just gonna let people express themselves in an authentic way that's special to them and not judge it, or say that they're not man enough or woman enough," Cox said.
Responses to Cox's talk were generally positive. Niyah Dantzler '18 thought very highly of the event.
"The atmosphere was fun, and if it hadn't been cold, [the wait] would have been ok. I'm very impressed with the amount of people. It's cool that this many people are interested in seeing her speak," said Dantzler.
Some in attendance expressed a desire to get to know Cox better than with just a lecture. Nyasa Hendrix, a freshman at Bryn Mawr College, had hoped for more at the event.
"I loved [the talk], it was amazing. I just wish she had time to spend with us a bit more outside of [the] speech," Hendrix wrote in an e-mail. She also expressed concerns about the impact that the talk would have on the greater Tri-Co community.
"I think, unfortunately, enough people weren't there to really let it reach the Tri-Co community," she wrote.
Despite the possibility of not reaching the Tri-Co community at large, several individual audience members felt that the talk had a profound impact. Barbara Taylor '18 is one of these individuals.
"I thought she was inspiring because her message can touch so many people: Trans people, black people, people who have been bullied, women, queer people, and many others who are marginalized," Taylor wrote in an e-mail.
"She has a way of making the people feel confident and proud of who they are in the midst of any discrimination they may face," she continued. Taylor was not alone in her support of the impact that Cox's presence made. Gabriela Key '18 felt that Cox's impact was substantial.
"She's bringing trans rights and being trans into the public eye, which helps to educate the public about an underrepresented group," Key wrote in an e-mail.
"[Her] most powerful impact was her tenacity and persistence in being herself in the face of all the criticism and hate she's been faced with," she explained.