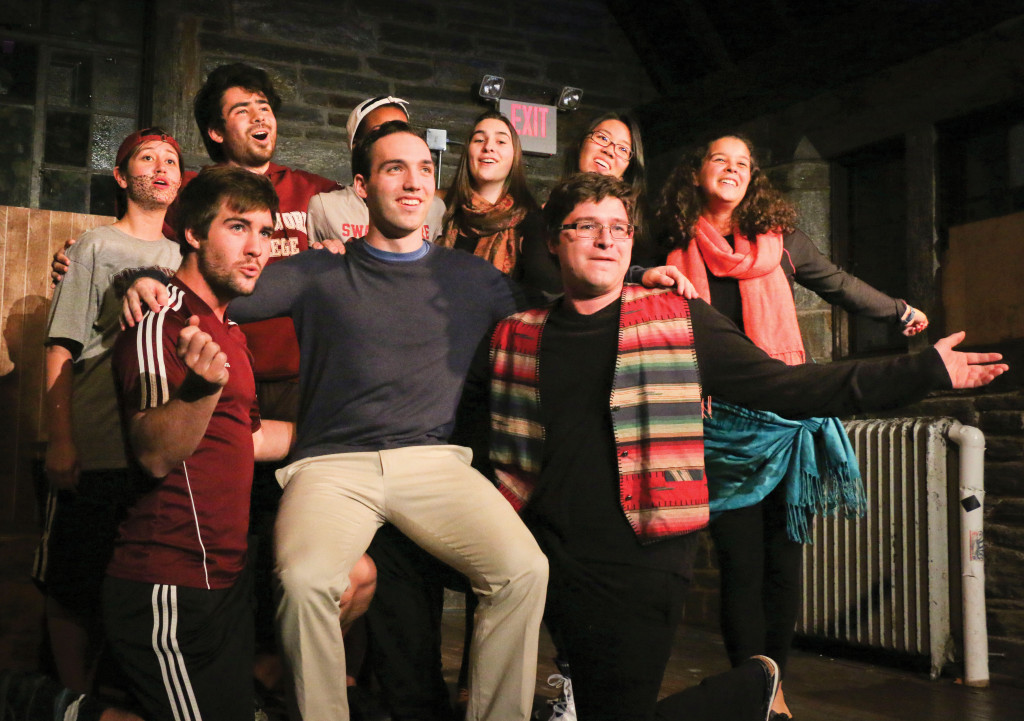 "I think I'm gonna die because it's pasta bar, today, pasta bar, hurray."
This weekend, look forward to the reveal of Swarthmore's very own musical, or more specifically Sharples Dining Hall's. "Sharples: The Musical!" will present us with show unique to our institution, and catered to the people in it.
Sophie Miller '16 wrote most of the script, on a whim of sorts. Director Abigail Henderson '15 puts it down to her friends.
"Sophie has weird friends (not me), and I'd say they come up with seven ideas like this one a day," she said. "This one festered into a thing."
She suggested, however, and I would agree, that the idea taps into a current of the school's subconscious that reaches beyond the limits of Miller's circle of friends.
"The hilarious thing is that as soon as we came out with the idea suggestions started pouring in," she said. "It seemed like a lot of friend groups had had the same idea."
Maybe because of this, one of the main aims of the production is to provide Swarthmore students with a narrative they can relate to in some way.
"[My goal was] to tailor it to the Swat community and give them something they could associate with," Miller said.
Henderson, who contributed to the scriptwriting process, echoed this sentiment, and feels like the show does achieve this.
She said, "There's this whole song titled 'Smaller Than Average School,' which is so Swarthmore."
The play is set in both Sharples and Essie Mae's, and follows a freshman called Stephen Freshman as he woos sophomore Ruby Blue. It toys with school stereotypes, and pokes fun at the eating hall dynamics of our school by taking them to the extreme.
In one of earlier numbers of the play, after a dramatic encounter with a biology study group (gang?), the chorus sings, "Now you've proven yourself because you've got a booth" in a display of institutional realism unparalleled to my knowledge. In another scene, Essie's is introduced to us as a hangout for soccer and theater kids — those who have practice and rehearsals too late for Sharples. Late night chicken fingers, I'm sure, will be a familiar memory to most of my readership.
The play also grapples with the idea of a musical itself, and is very aware of both its medium and the associations people have with it. The show was adorably peppy, and in some moments melodrama at its finest. A highlight of the show was definitely the least enthusiastic set of jazz hand I have seen in a long time.
"I would say that one of my goals was making fun of musicals, and the whole genre of "Blank: The Musical!"  in general," Miller said.
And in making fun, they make us laugh, because the production is in often very fun to the average Swarthmore viewer (if I may call myself that).
Christine Kim '17, who plays Ruby, said: "This musical is meant to be a comedy."
But really, the show isn't to be taken too seriously, and those interviewed set it apart from preexisting musicals as something of its own.
"The name, 'Sharples: The Musical!' sort of says it all," Henderson said. "If we had done some Sweeney Todd type thing, that would have just been weird. Part of what we're going for is something funny and lighthearted."
"This musical isn't like 'Urinetown,' or 'Legally Blond,'" said Kim.
As much as the production is lighthearted and pokes fun at the dining hall, the creators were aware of keeping it respectful.
"We were conscious of not writing an entire musical that hated on dining service and we didn't want to sound like whiny, privileged assholes," said Henderson. "A recognition [of what people say of it] without just hating on Sharples."
In many ways, the play seems to be a new institutional artifact, and this event feels in some ways like the birth of one of those long-haul traditions of the school. The creators echoed this feeling.
"I think that [Sharples: The Musical!] was consciously and unconsciously written in the style of the orientation play," said Miller.
"Sharples: The Musical!" promises to be an intrinsically fun production, rooted in the peculiar dynamics of our school. Overall, I could only urge you to attend what can only be described as a new kind of entertainment at Swarthmore. And why wouldn't you?
"Take an hour out of your weekend," Miller said.
"Sharples: The Musical!" will be performed in Olde Club this coming Friday November 7 through Sunday November 8. On Friday and Saturday, there will be performances at both 7 p.m. and 9 p.m., and on Sunday at 3 p.m. Seating is limited, and doors open half an hour prior to the show.