Volleyball drops heartbreaker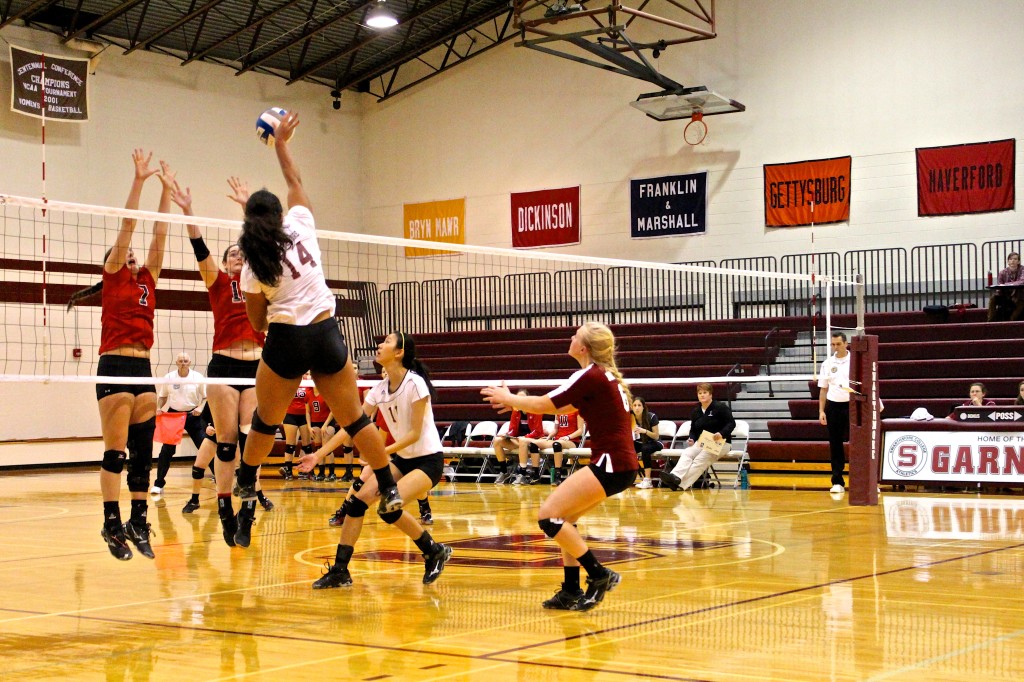 After a heart-breaking Garnet Weekend, the women's volleyball team must look to rebound if they hope to bring home a Centennial Conference title.
The Garnet came into Saturday's match undefeated in conference play, as they hosted a second-place Haverford team with both the regular season title and the honor of hosting the conference tournament on the line. Playing on their own court with 275 people in attendance, there would have been nothing better than to beat Haverford to wrap up a perfect season.
Unfortunately, the team wasn't able to get off on the right foot. While they battled hard, it was clear they didn't have their best stuff and they quickly fell into an 0-2 hole. Even with their self-proclaimed sub-par performance, they kept it very close, dropping both sets 23-25.
Head Coach Harleigh Chwastyk admitted, "We know we didn't collectively play our best … this might have been the case where we felt the pressure and we played like that."
But the Garnet were not about to roll over that easy in front of their home crowd. They hung tough and grinded out a win in the third set. Then, in the fourth set they pulled out a very close 28-26 win to even the match (2-2). Chastity Hopkins '15 and Bridget Scott '18 were instrumental in closing the door in the fourth set as they combined for the last three points.
With the Garnet front line firing on all cylinders the crowd gained life, screaming and cheering for every block and big kill the team had. The Garnet showed enormous resiliency, both mentally and physically, pushing the match into the fifth set.
When asked what changed heading into the third set, Sarah Wallace '18 put it bluntly, "Our team has always been a fighting team, so I think that we simply refused to lose 0-3 in our home gym."
The Garnet would eventually go on to drop the last set, but it was the fight and determination the team showed throughout the match that stood out in the loss.
Playing on what could have been their last game in Tarble Pavilion, Hopkins recorded a career high 21 kills while fellow senior Kate Amodei contributed 11 digs.
Maddison Heppe '16 led the team with 21 digs while Sam DuBois '16 led with 35 assists. Wallace put up a great performance, as is becoming her standard, contributing 20 kills, four aces and two blocks.
Now the team must shift their focus and get ready for the tournament. Even though the team didn't get the result they wanted against Haverford, making the tournament is still a huge success.
"Losing to Haverford was definitely disappointing and not how we wanted to end our regular season, but playoffs are like a brand new season where everyone has a clean slate. Making it to the conference tournament has been our goal from day one, so everyone is really excited for this opportunity," said DuBois.
Perhaps this loss will give the team some extra motivation heading into the tournament as well.
Heppe confirmed this saying, "This weekend we just got to go play hard and get in our groove. We know we can do it. We want to beat those squirrels on their home court!"
Furthermore, the loss may have lifted the pressure of trying to protect a perfect season and the number one seed, allowing the team to play more free and relaxed. A loss now is certainly better than one in the tournament.
Even Chwastyk seemed to recognize this. "The pressure is not on us. We are both 9-1 and we have to go there next weekend. So we are just going to watch some film and find a few little things to tweak," she said.
The Garnet head to Haverford this Saturday as the No. 2 seed, where they will face No. 3 seed Muhlenberg. In their previous meeting earlier this season the Garnet defeated the Mules 3-0, handing them only their second loss of the season. If Haverford wins their game on Saturday, the two teams could meet again in the championship on Sunday for what would most likely be an exceptional rematch.