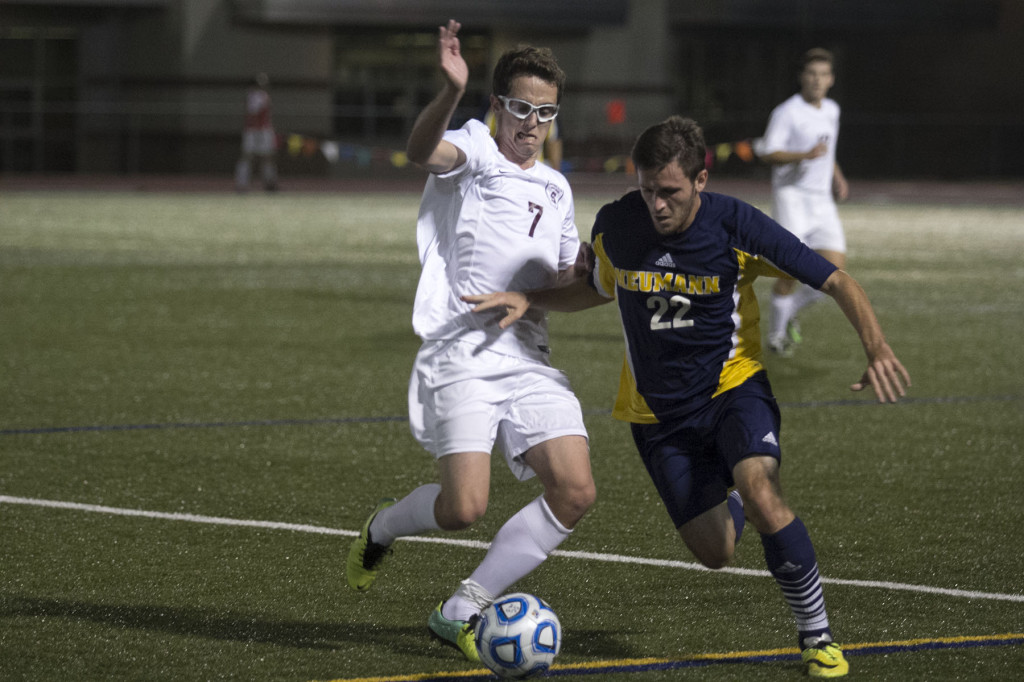 In sports, every second matters. The Swarthmore men's soccer team learned this lesson the hard way.
During Garnet Weekend last Saturday, the team faced off against Haverford. Swarthmore (3-5) entered the day ranked eighth, behind Haverford (4-4), Johns Hopkins (3-4-1) and Ursinus (3-4-1). This meant that the team needed both a win and good fortune to clinch a playoff spot.
By the start of Swarthmore's late 7 p.m. game, much of the playoff picture had resolved itself. Johns Hopkins lost to Washington College and Ursinus was tied in the 60th minute with 19th-ranked Muhlenburg (a game Ursinus was unlikely to win). Simply put, if the Garnet were to defeat Haverford, they would make the conference tournament as the fifth seed.
Swarthmore started out the game strongly. They controlled the time of possession and kept the ball in the Haverford zone. In the 32nd minute, Head Coach Eric Wagner, made a substitution that altered the game. He brought in forward Marc Geschwind '18, who acted as both a player and a courier.
When he was subbed in, Geschwind went straight to Wyatt McCall '16, who had just set up a free kick. As McCall recollects, Geschwind told him, "Coach said to hit it to Alec [McClean '16]. Alec was going to go to the near post every time so just hit it to him." McCall took Geschwind's advice and booted it to McClean, who barely missed.
Just six minutes later, McCall had another free kick and he went right back to McClean. This time, he capitalized.
McCall said, "The timing worked out perfectly, [Alec] broke free from his man at just the right time … It was a great header from him — he steered it right to the near post." McClean, the junior captain, has made a habit of heading in goals.
In fact, McClean remembers, "Every goal [I've scored] at Swarthmore has been off a header." Clearly, even after McClean couldn't put away the first header, it was wise to give him a second chance.
McClean, just as McCall did, humbly acknowledged what a great play the other made. He said, "Wyatt is very good at crossing, so we get a lot of great chances on his set pieces."
By halftime, Swarthmore had dominated play, outshooting Haverford 6-0. To make matters better for the Garnet, by the 60th minute in the Swarthmore game, Muhlenberg had defeated Ursinus. These results dramatically raised the stakes of the game, as a Swarthmore win would clinch the fifth seed, while a tie or a loss would send Haverford to the playoffs.
The second half was a war of attrition, but ultimately, in the 90th minute, with just seconds remaining on the clock, Swarthmore conceded a goal, forcing the game into overtime. In the overtime, Swarthmore's efforts were unsuccessful and their consortium-mates ultimately stole the last playoff spot.
As the 110th and final minute ticked off the clock, the college careers of three integral members of the Swarthmore soccer team, captain Michael Superdock '15, Geoff Stewart '15 and his brother Michael Stewart '15, came to a close. Superdock said of the game, "[It] was upsetting for obvious reasons. However, despite the result, I felt that it was one of our most dominant performances of the year and I was proud of the effort we put forward."
This year was a particularly difficult one for the Garnet because after starting off the year with six straight non-conference wins, they proceeded to drop their first four conference games.
McClean said, "I didn't think we were well-prepared enough at the start of the season. But, when guys are just coming here from high school, how can you put it on them to be prepared? They didn't know what they were coming in for."
McClean was referring to the roster makeup: three seniors, four juniors, four sophomores and thirteen freshmen. McClean went on to say, "When more than half the squad hasn't played college soccer, it's going to be tough to be fully prepared and I think that cost us a bit during the season."
Although Swarthmore's inexperience may have cost them this season, they certainly will have the upper hand next year. They return their three top scorers in both goals and points (Billy Evers '17, McClean and McCall) and six other players who started at least eleven games including goalie Tyler Zon '16. With a deep, experienced team moving forward and a program that has made the Centennial Conference playoffs the previous five years, its seems like the odds are in the 2014-15 Garnet's favor to make a deep run and take home a championship.
McCall said it best; "Our expectations every year are to win the conference and unfortunately, that hasn't happened in my time here yet. But with the group we have returning, I think it's fair to say that we have a chance at winning the conference."