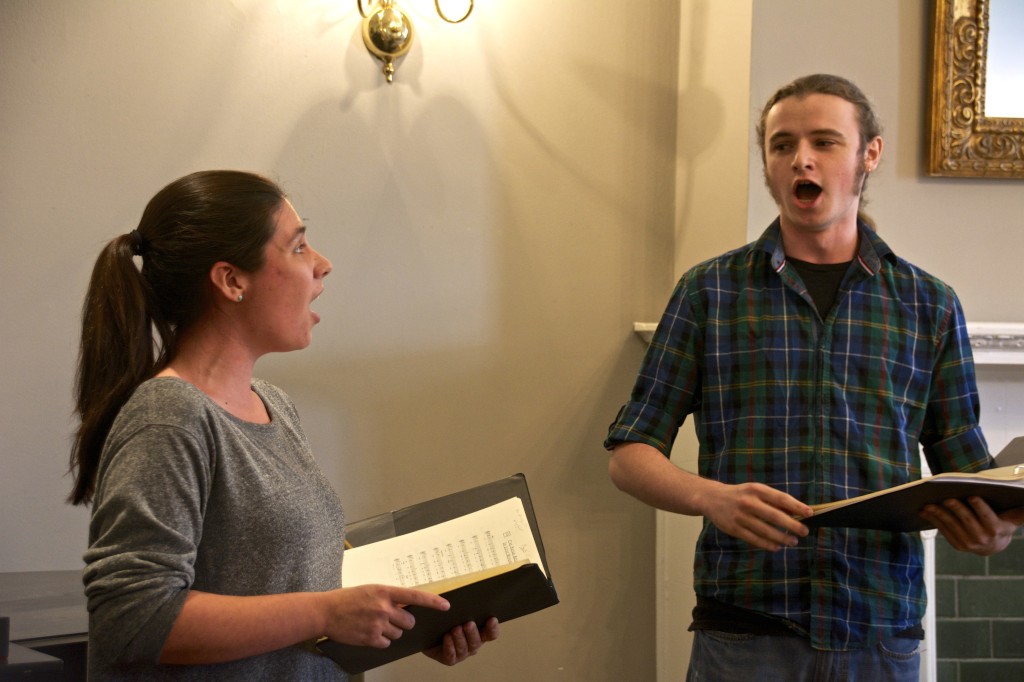 This weekend's production of "Guys and Dolls" will revamp the musical classic whilst trying to recreate its original feel.
This is going to be Swarthmore's second concert-staging of a musical, following "South Pacific" last spring. Many of the cast commented on how musical director Andrew Hauze, who also directed the previous production, has put into practice what he learned with this experience.
"'South Pacific' was [Hauze's] first venture into this kind of thing," said Sarah Tupchong '17, who plays Miss Adelaide. "He really enjoyed it, and that's why he chose to do ["Guys and Dolls"], as a project by himself. He spent his summer working on it. This is way more intense than 'South Pacific'."
This intensity has mostly materialized through musical elements of the production. As a concert musical, "Guys and Dolls" will be performed alongside a 45-piece orchestra, and the cast has appreciated being able to focus on their vocals.
Wesley Han '18, who plays Nathan Detroits, said: "as a musical in concert, the focus is on the musical aspect of it, given the amount of time we had."
"The musical aspect developed really well, and we had a lot of time to work with the orchestra," said Kelley Langhans '16, who plays Sarah Brown. "My character has a lot of lyrical music, and I'm classically trained so I got a lot out of it."
Hauze also re-orchestrated the musical to suit the size of the orchestra, since pre-existing simplified versions lacked musical depth. The aim was really to circumvent the limitations of their resources. As much as the cast was impressed by Hauze's efforts, they were eager to emphasize that this was a communal effort.
Langhans said, "This was just as much [conductor Audrey Edelstein '15]'s thing: she conducts the whole show, which has 50-odd numbers."
Although the show was musically optimized for the space and resources available, the it is trying to recreate s a vibe that follows its initial direction. Many changes that were made in the most famous recording of the musical, the 1992 Broadway revival, have been dismissed in Swarthmore's production, to try and approach what Langhans called "the golden age of musical theater."
This tension between the reinvention and authenticity was echoed in the feelings of some of the cast members.
Bradley Carter '15, who plays Nicely-Nicely Johnson, said: "There's almost a bit of an irony going on: on one hand, there new orchestrations, and on the other authenticity and dedication to the old. Since it's in a concert setting, music was at the forefront."
This does not, however, limit the musical in any way. Like many musicals, humor and comedy interplay with the romantic plotlines, and the age of the musical doesn't seem to take away from these elements. The cast members who are bringing involved characters to life are keen to do this element justice.
Preston Cooper '15, who plays both Benny Southstreet and Arvide Abernathy, said: "the humor is still very relatable."
Carter said: "For my particularly character, comic relief, if I can call it that, doesn't end up contributing to the plot but just proving basic comedic value."
Although the production is a concert musical, and technically the cast can perform entirely on book, there have been attempts to also emphasize the performative aspects of the show.
"I'm a dancer trained in ballet, and it's hard to let that go," said Tupchong. "[Hauze and Edelstein] have been really great in giving me that freedom: all the dancing I do I choreograph myself; I got to use a lot of my own inspiration."
Tupchong assures us that for some of the numbers at least, the cast has established blocking and use of the stage.
She said, "We've put in a lot of physical, comedic aspects. You would normally not get to do that in a concert musical."
To Tupchong, this is a step forward and further places the musical within a progression of musical concerts at Swarthmore.
She said, "I was in 'South Pacific' as a chorus member, and one of my main criticisms is that there was no movement."
For the next concert musical, it is rumored they will hire a stage manager.
And so, I can only urge you to come see this optimized, yet true to the original, production of "Guys and Dolls"  this coming weekend. You will witness the next step in an exciting, growing production form at Swarthmore, and they're ready to blow you away.
"Guys and Dolls" will be playing in the Lang Concert Hall this coming Saturday, November 1, at 8 p.m. and Sunday, November 2, at 7:30 p.m.