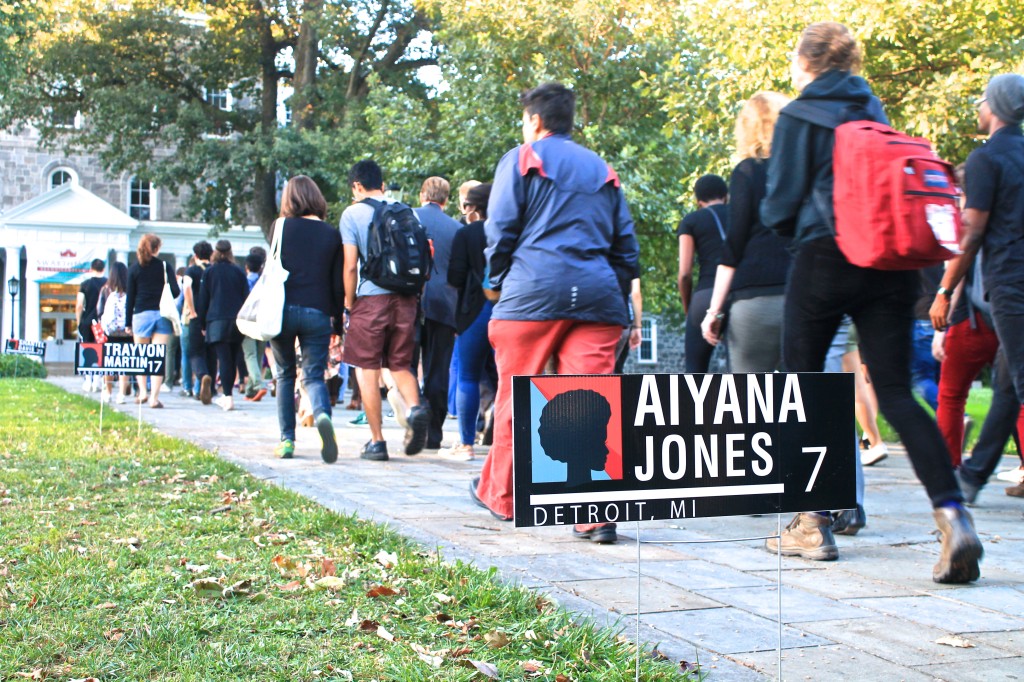 College students, faculty, staff and family filled the Sharples terrace last Friday for a "Race to Action" event about police brutality in light of the Ferguson protests. As the crowd gathered at Sharples, organizers distributed buttons with the event's custom-made logo. Attendees wore black tops in solidarity with the protesters.
The event was organized by Louis Lainé '16, Steve Sekula '17,  Soul Han '15 and Arjun Raghuraman '16, with input from various student organizations and with logistical support from Vice President Maurice Eldridge '69 and Dean of Diversity, Inclusion and Community Development Lili Rodriguez.
"We [Lainé and Eldridge] just talked about how there needs to be more awareness around this issue of race on this campus in general. And Ferguson especially was a catalyst to that being a possibility," said Lainé on the origins of the event.
"It was unfortunate that a lot of schools were doing it, and Swarthmore wasn't doing anything yet. And I just said, 'You know what, we should really take some initiative and get something started.'"
After an introduction by Han and Lainé, Matthew Armstead '08, a Philadelphia-area community organizer, spoke at the terrace about his experience spending the past weeks volunteering in Ferguson. He spoke of the fear, the excessive violence and the systemic oppression that he saw in the Ferguson community. He discussed how quickly he himself internalized the fear he saw in others. But Armstead also described the strength of action in Ferguson, which he saw as a successful defense of community.
"We did show up. And we'll keep showing up." He encouraged a silent crowd to express more emotion during the event.
After Armstead spoke, the crowd marched to the amphitheater for a vigil. Professor Sarah Willie-LeBreton, chair of the sociology department, Amer Ahmed, the new dean of the sophomore class and director of the Intercultural Center, and Eldridge all spoke at the podium. Each speaker touched in their own way on the need for continuous and sustained communication, understanding and engagement going forward from the event.
"When I turned and looked out at the audience in the amphitheater, I had a complete sense of how many people had involved themselves and the diversity of that group … But I also hope that no one thinks that's a sufficient response to the ills of our dear nation," reflected Eldridge after the event. "There's lots of work to be done. We can do some of it here on this campus, among ourselves. Some of the people who spoke after the speakers expressed real pain about aspects of their experiences that I think we need to pay attention to … There are lots of ways we can fit together that are not to be read from the surface."
The event was then opened up to speakers from the crowd, which student organizers traversed with microphones. The voices volunteered were diverse, and they addressed a wider problem of injustice.
"[We wanted to] have an event that includes a march and also a vigil, because I feel as though the march aspect was very consistent with what was going on in Ferguson anyways, and also the vigil was a time for us to really internalize and reflect on what the issue actually was," said Lainé.
Willie-LeBreton agreed with the choice of format.
"I don't have any ideas about what could have been done differently. I appreciate that they asked faculty and staff to participate formally, but left most of the time for Quaker meeting-style reflection so that there was more space, especially for student comment," she said.
Student input at the vigil was from the outset highly diverse in perspective and topic. Agreement with each comment varied from individual to individual within the crowd, but most comments received support from most attendees.
"I think that whenever you have a large event and you leave the table open for, let's say, reflection, there's always going to be certain reflections that are more catered to the speaker themselves as opposed to the entire event … that's the only thing that I would say was an uncontrolled variable," said Lainé.
"You really do hear from a variety of perspectives," said Willie-LeBreton. "There was one young man who got up and said he'd had a difficult interaction in the beginning of the school year and wrote a poem about it. So for me what that emphasizes is that we're still working through how to call each other on things, how to do conflict."
When the open participation ended, the candle lighting began, each attendee lighting the candle of their neighbor. The crowd quietly exited the amphitheater and pooled by the entrance to Clothier Hall.