An inside look at the strong starting women's volleyball team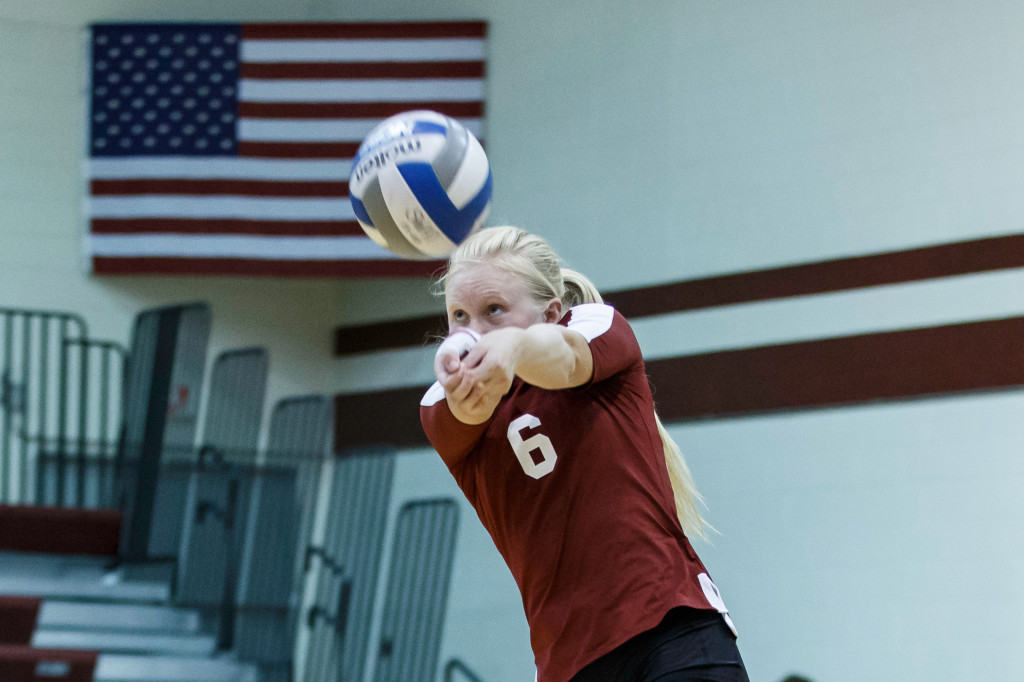 The Swarthmore Women's Volleyball team has proven to be a powerhouse this season. They integrate a unique playing and coaching style, which allowed them to begin the season strongly.
The team returned from Carlisle, Pa Saturday night with a win over Dickinson College, beating the Red Devils in straight sets (3-0) to improve to 2-0 in conference and 9-4 overall. Dickinson is known to be a strong team, but not the strongest in the Centennial Conference. Nevertheless, the Garnet handed Dickinson their eighth loss of the season.
"The beginning was a little bit slow," commented first-year Bridget Scott '18. "It was a solid game. We are 2-0 in the conference now and that is big."
The Garnet attributed their slow start to errors. "We made quite a few errors ourselves, which were giving points to the other team. And then towards the end we made less errors and made the other team earn more of their points," explained Olivia Levanthal '18.
The team recently competed in two tournaments. They had a record of 2-2 in both the Blue Jay classic, which took place at Elizabethtown College, and the SU Opener, which was played at Salisbury University. Most recently, the team defeated Franklin & Marshall College for the first time since 1989. The Garnet is off to a great start this season and intends to keep powering forward.
Aside from strong statistics, there exists a distinct dynamic closely linking the team that contributes to the success so far this season. The team starts every practice with what they call "Dump." This is a time for players to understand each other's lives, and it allows each player to let the rest of the team know if there is something she needs to say.
Leventhal explained, "We will know if someone is having an attitude and we won't get mad at them."
Head Coach Harleigh Chwastyk then uses the whiteboard to go over the drills for that practice, as well as recent stats if the team has played a game within that last day or two. Leventhal said, "She will explain why we do each drill, so we are not just doing [the drills] blindly."
After a pre-practice session, the team goes through dynamic warm-ups and does the drills assigned. Many teams end practice with a wrap-up speech from the coach, but this group ends practice differently.
"At the end of practice we do put-ups where we go around and say a couple of things that each person did well," said Leventhal.
When asked about the "put-ups," first-year Alice Liu explained, "We choose a person and everyone talks about what they did well."
The level of inter-team communication is significant for the success of this squad. Every practice starts and ends on a positive note. The team embraces a method of improvement that goes well beyond simply physical workouts and drills and is unique from many other sports teams.
Practice is not the only distinct portion of the team dynamic. Chwastyk runs a three-middle-offence, which is not operated by many other programs. This offence consists of a setter, three middles, and two outsides.
"I do not know of any other team that does the three-middle-offence," said Bridget Scott.
Liu commented, "It makes us more unpredictable."
From conducting a highly communicative practice to running an atypical offence, Chwastyk's style of coaching also harbors independence and an expectation that each player will understand an area she needs to improve upon.
"She's not the kind of coach that is like a cheerleader coach," explained Malia Scott '18.
"She is not always hovering and saying you need to fix this and this," added Bridget Scott.
Goal setting can be crucial to success, and the players respond well to Chwastyk's style. "She does a really good job of setting goals for us," remarked Sarah Wallace '18.
The first-year players also heavily emphasized their coach's willingness to try new strategies.
"She is really open to trying lots of things other teams would not normally do," mentioned Wallace. "In every game she is always thinking of new things to try for the team." There is no slowing down the Swarthmore Women's Volleyball team. They incorporate a strong, unique style of play and practice that will hopefully continue to accelerate the program into the future.
The team continued to dominate its opposition on Tuesday, beating Washington College in straight sets to improve to 3-0 in Centennial Conference play. The Garnet is set to host both Johns Hopkins and Neumann on Saturday, looking to continue its winning ways.