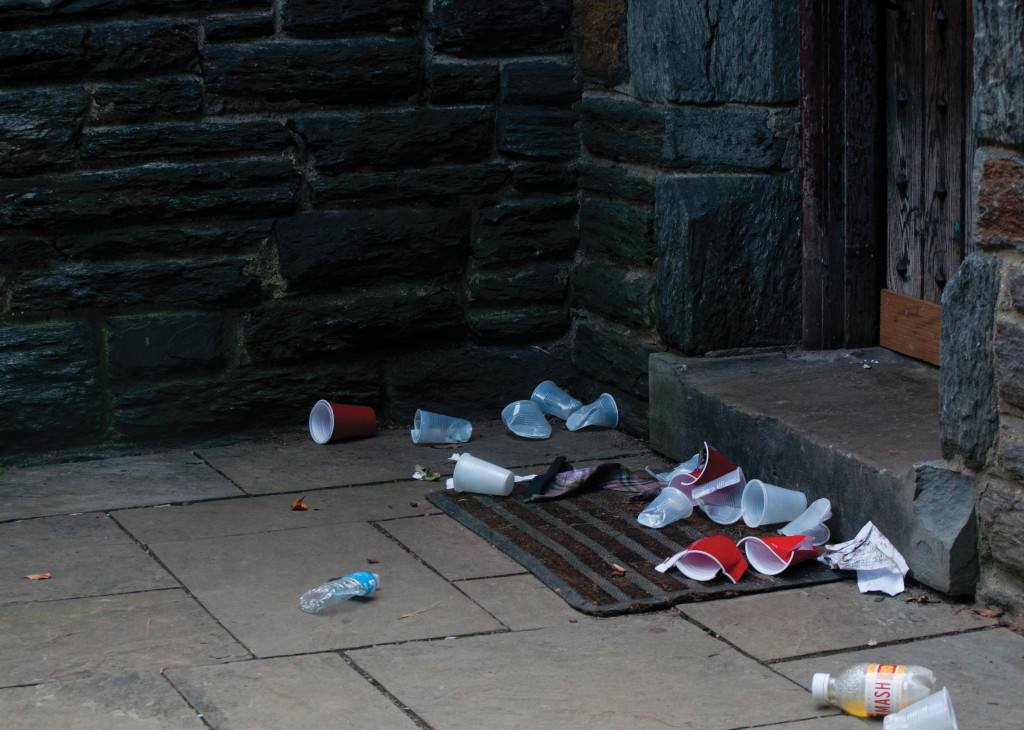 After a week's delay, Phi Psi put on their annual party, "Disorientation" last weekend. Given that the fraternity was the only open space that night, the number of party-goers far exceeded the house's capacity, causing Public Safety's involvement.
Swat Team members were positioned on the patio of the fraternity to swipe guests into the house with their student IDs from the beginning of the night, though Public Safety was absent. In accordance with the new policy, all non-Swarthmore guests were also required to sign into the party with a specific Swarthmore student who was then accountable for them throughout the night. The presence of only one main entryway into the house compounded the issue and emphasized the density of the event.
"I thought the party was a little crazy, actually. I saw a lot of people very drunk or high," Jane Goodwin, a freshman from Haverford, said. "The scene at Haverford is a lot more chill, even on big, famous party nights. I was honestly a little freaked out."
By midnight, several Public Safety officers had appeared alongside the Swat Team members, made a decision to not allow non-fraternity members into the house and who was not, and effectively forming a wall of bodies that divided those inside the house from those still waiting to be swiped in. The amount of guests allowed to be swiped in gradually begin to dwindle until around 1:00 a.m., when it was declared that Phi Psi was officially over capacity and no more guests would be allowed in. The line outside Phi Psi, which had begun to devolve into a crowd, could be heard complaining about the unfairness of the decision to stop letting students into the house. Swat Team members suggested that the guests left standing outside of Phi Psi go to the Delta Upsilon house, which was not over capacity. Even though the suggestion to go to DU had not been made until 1:00 a.m., DU president Trevor Shepherd '15 noted that "[DU events] are always open to the campus on Thursday and Saturday nights. The large crowd at Disorientation had no factor on our decision [to open]."
After DU had been pointed out to students, Phi Psi closed, thus preventing anyone entering the event. However, DU followed suit not long after. Within an hour of the Public Safety officers suggesting students move to DU, the house closed.
"SWAT team was overwhelmed with the higher than expected turnout. Once they felt they could not control the crowd sufficiently it was an easy decision to close the house," Shepherd explained about the decision to leave students stranded in the courtyard. As the situation developed, Public Safety officers also began to appear at the DU house, which was not expected by members of the fraternity. Shepherd noted that "because Public Safety is not usually called to a party for crowd control, there was some initial confusion about what needed to be done when they first arrived. However … they acted in a manner to which they best felt accomplished that task."
By 2:00 a.m., both fraternity houses had been closed, and students who had not been let in to either house began to dissipate. Public Safety officers within Phi Psi decided that things were getting out of hand and asked the house to shut off the music for fifteen minutes, which reduced the number of people within the house. However, when those students left the fraternity, there were no other events for them to attend, and they dispersed onto the campus at large. Shepherd noted that "the lack of a Paces party" contributed to the way the night developed. In retrospect, he also thought that "this year had a higher turnout at both houses than any year I have seen in the past. I'm not sure anyone was expecting that level of attendance. We were happy to see people out and we think things would have been fine if we were better prepared for that large a crowd and had more SWAT team members. We are looking forward to continuing to provide a safe and fun space for all members of the community."
Michael Hill, administrative head of public safety, disagreed with those who connected the disorganization of Disorientation to the recent changes to alcohol policy. He also rebuffed claims that alcohol hospitalization rates were higher than usual last week.
"Those are rumors. One student was sent to the hospital this past weekend as a result of intoxication," he said.
That student, however, according to several reports, had to be restrained after initiating physical altercations with other students.
The supervision of Phi Psi on Saturday was not, he stated, part of a general shift towards greater control but instead a contextually necessary measure.
"Public Safety Officers responded to requests from SWAT Team members who were doing an outstanding job trying to manage a large crowd. Public Safety will continue to provide support to SWAT Team, fraternity leadership or any student organization planning an event where overcrowding may be a consideration," he commented.
At the same time, he admitted that the overcrowding could have been alleviated in part by having more social spaces open on campus.
"I do feel that this weekend may have been unusual because of a couple factors.  There was only one large social event planned and there was also a significant influx of Bryn Mawr and Haverford students on campus," he stated.
Goodwin said she was very aware of Public Safety's presence, and while she avoided them, she expressed relief that they were close by.
"It's definitely a good idea to have them on campus since it seemed like a lot of people were getting in trouble," she said.
Correction: An earlier version of the article mistakenly stated that students were prevented from leaving Phi Psi after the party reached maximum capacity. The Phoenix apologizes for this error.