As I made my way down to Kitao Gallery last Thursday, even from a distance I could hear music performances and lively conversation. The Staff Art Showcase was presented by Learning 4 Life, a mutual learning program seeking to create mutual respect between students and staff. The event brought students and staff together for a chance to appreciate the artists who work at the college. The room was filled visually and aurally with creative works spanning from drawings and paintings to original music.

Keyanna Ortiz-Cedeño '20 is one of the leaders of Learning 4 Life. She came up with the idea to hold the event after noticing an abundance of artistic talent in the Swarthmore community and wanted staff members to share their passions.

"I just really noticed a great wealth of talent both in the visual and performing arts from people which, even with the staff art showcase, we were only able to demonstrate a small portion of," said Ortiz-Cedeño. "So, I really wanted other people on campus to be able to really appreciate the artistic ability that exists."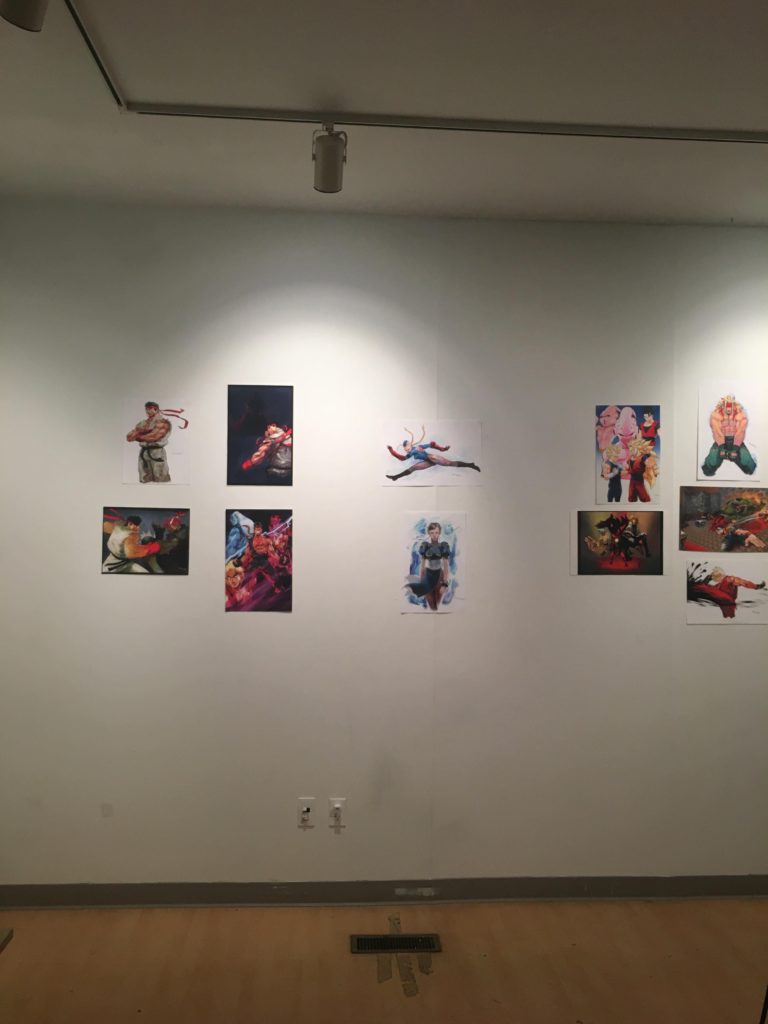 On one wall, Steve Mack, who works at Essie Mae's, displayed freehand work that nearly jumped off the wall with bold colors and dynamism. For Mack, his old work resurfaced in the showcase. The characters are what he describes as comic realism. The subjects of his paintings are fully in motion and feel like they're in a comic or an anime paused at the most dramatic moment. The drawings he digitally painted were from a portfolio he submitted to a studio last year.

"[The showcase was like a] rebirth because a lot of the stuff that I showcased was old. But my newer stuff is, I don't want to say completely different, but it's in a totally different realm from that — it's just another deck of cards," said Mack.

Mack also demonstrated his talent by creating on-sight sketches of people who attended the event. As the rest of Kitao bustled on, he took the time to sit down with people and draw portraits of them on his iPad. For Mack, it was an opportunity to continue playing with digital mediums as opposed to traditional paper.

"That was another learning experience because I [had] some mishaps when I was sketching," said Mack of the live drawings. "Traditional work versus drawing on the iPad are two completely different things. Although the iPad is very responsive, it doesn't beat the natural sketch flow. And it's one of those things where I'm still at this weird static with digital work versus traditional."

"It was an awesome opportunity to showcase my stuff and get to know everybody," said Mack about the overall experience.

On the other side of Kitao, April Deminie, who works at Sharples, shared her own work as well as art created by her friend Kelly, who recently passed away. Deminie's paintings were from a Bob Ross-inspired night she had with her friends. True to the work it was modeled after, the paintings were colorful and comforting depictions of nature.

"Me and my friends just open a bottle of wine and put [Bob Ross] up on YouTube and just find a painting that we like and try to emulate that — it was a lot of fun," said Deminie.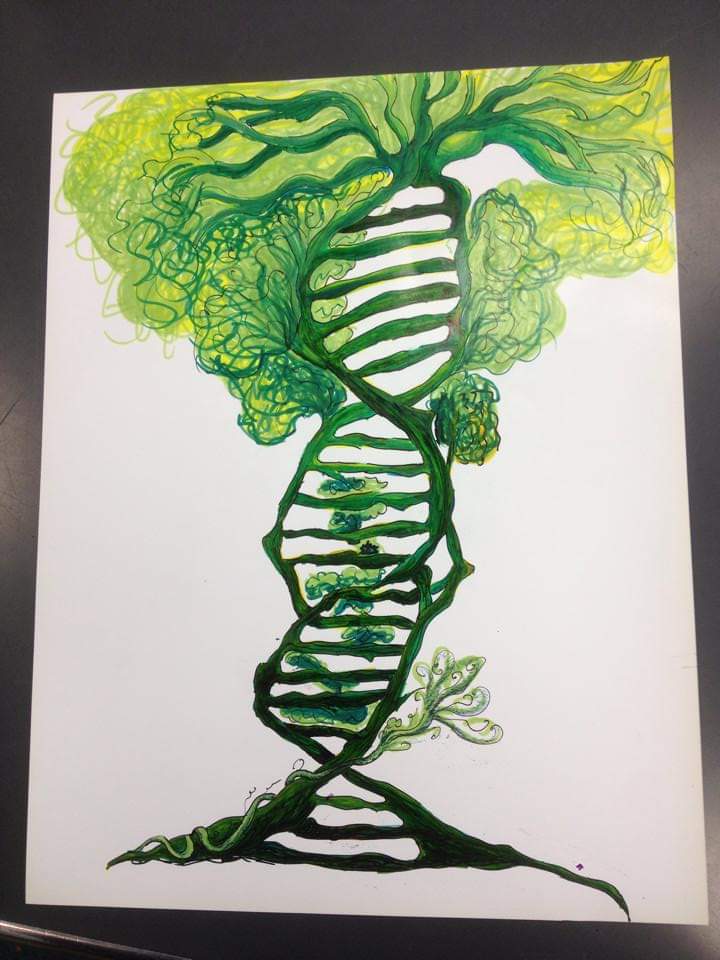 Next to the nature paintings, Deminie put up paintings inspired by and in honor of Kelly. Those pieces took place next to Kelly's own art which included a pen drawing of a DNA tree and several works with an elephant motif.

"[Kelly] was such an artist and I would love to share more of her art in any way possible," said Deminie.

Deminie also encouraged a former dining service staff member who is now at another job to submit something to the showcase. The former employee of the college submitted a drawing of a butterfly that took its place just by the doorway.

The live music part of the night brought an energetic and supportive energy to the space. Deminie sang at the beginning of the night while William Taylor, whose stage name is "Spookvocals," and Charles Shelton Jr., who goes by "KOBEEN," on stage performed original works. Taylor has worked with Chester Children's Chorus for ten years as a drummer, and Shelton started working in environmental services just about a month ago. Spookvocals and KOBEEN performed together and separately for more than an hour, showcasing their original music, some of which has yet to be released.

Spookvocals, an R&B and soul artist, performed singles already released like "Lipgloss" as well as music that has yet to be released on his EP. He performed "Incidents" before its official debut which was this past Tuesday on November 12.

"The art showcase was very interesting and unique. It was a different vibe and a different experience for me," wrote Spookvocals to The Phoenix. "I also got to meet new great people and artists — I loved it!"

"It was very exciting and different … I loved the work I was exposed to and they also loved my music — it was a great experience."

KOBEEN, a hip-hop and rap artist shared some work inspired by a period of change and chaos in his life that is scheduled to be released in January.

"I performed about ten different songs that night, most songs were from my upcoming project that I'm aiming to release in early January of 2020 entititled 'At A Time Of Chaos'."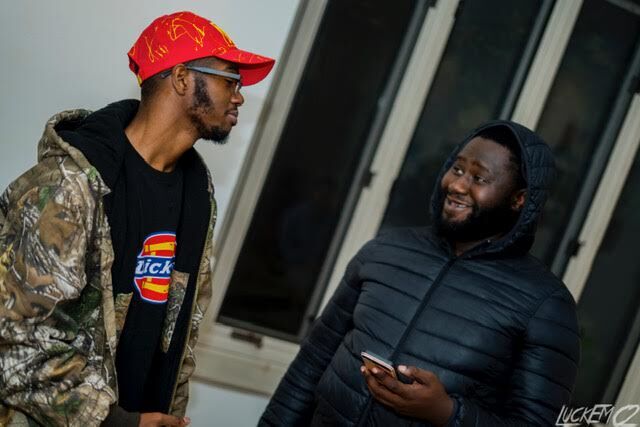 For KOBEEN, the experience of performing in Kitao was encouraging for both himself and the people who attended.

"I can't say that the experience was expected, I didn't know what to expect being a fresh face [and] fresh voice as well as an unseen face and unheard voice," wrote KOBEEN. "But from the time I grabbed the mic, I had everyone's attention … and as I rapped the lyrics to my song, it made me feel special, made me feel important, and felt like a dream come true within minutes. I was even told that I uplifted spirits that night which was needed to help them get through the rest of the week."

After such a positive, fun night for both staff and students, Learning 4 Life hopes to host another Staff Art Showcase.
Featured image: Essie's Staff Member Steve Mack, center, standing in front of his art work with students. Hussain Zaidi for The Phoenix