Punk Rock Star of Stage and Screen: An Evening with John Cameron Mitchell
As an electric guitar spits out the first chords of "America the Beautiful," a name appears on the big screen at LPAC: John Cameron Mitchell, writer, director and star. His other credits include director of the films "Shortbus" (2006), "The Rabbit Hole" (2010) and "How to Talk to Girls at Parties" (2017), creator and star of the podcast "Anthem: Homunculus," self-proclaimed Radical Faerie icon, and, most recently, guest of Swarthmore College. But his best-known work is undoubtedly "Hedwig and the Angry Inch," which began life as an off-Broadway production, was made into a film in 2001 and, later, revived on Broadway and on stages across the globe. "Hedwig" and its various incarnations have enjoyed critical success, accrued a cult following and garnered Mitchell a reputation as an LGBTQ+ icon.
The screening of "Hedwig" and subsequent Q&A, organized by the Department of Film and Media Studies, draws a sizeable crowd for 7 p.m. on September 25th — a Wednesday. I recognize a number of student musicians in the audience, as well as alumni, professors, and community members. Any doubts I might have had about being in the wrong Lang building are quashed: everywhere I look, I see people who trip off my gaydar.
As the lights dim, the buzz of conversation fades out, and the film begins. The opening title cuts to a woman wearing sunglasses as red as her lips. She marches up to the service door of a restaurant, chucks her umbrella back over her shoulder, and slams the door behind her. Seconds later, her first words to the audience are half-sneered into a microphone: "Don't you know me, Kansas City? I'm the new Berlin Wall!" This is, of course, the eponymous Hedwig. Born "a slip of a girly-boy" in communist Berlin, she is proposed to by an American soldier, who offers to bring her home with him. But there is a catch. The marriage needs to take place in East Germany, which involves a physical examination to confirm that the couple consists of a man and a woman. The solution? Put on a wig and undergo a sex change operation.
Only — the wound heals shut, leaving her with an "angry inch" of flesh between her legs. Her husband leaves her for another man. That same day, the Berlin Wall falls. The magnanimity of Hedwig's loss glistens in her eyes as she watches the news. But if she's left reeling, it isn't long before she enacts her vengeance. Amid a transforming set piece that blends stage and screen, we watch the boy Hansel become the woman who goads the audience to "tear her down." The film is a tour de force of America (quite literally — but you'll have to watch the movie to find out more), building up to a headlong collision, a performance for the ages, and, finally, the catharsis of acceptance.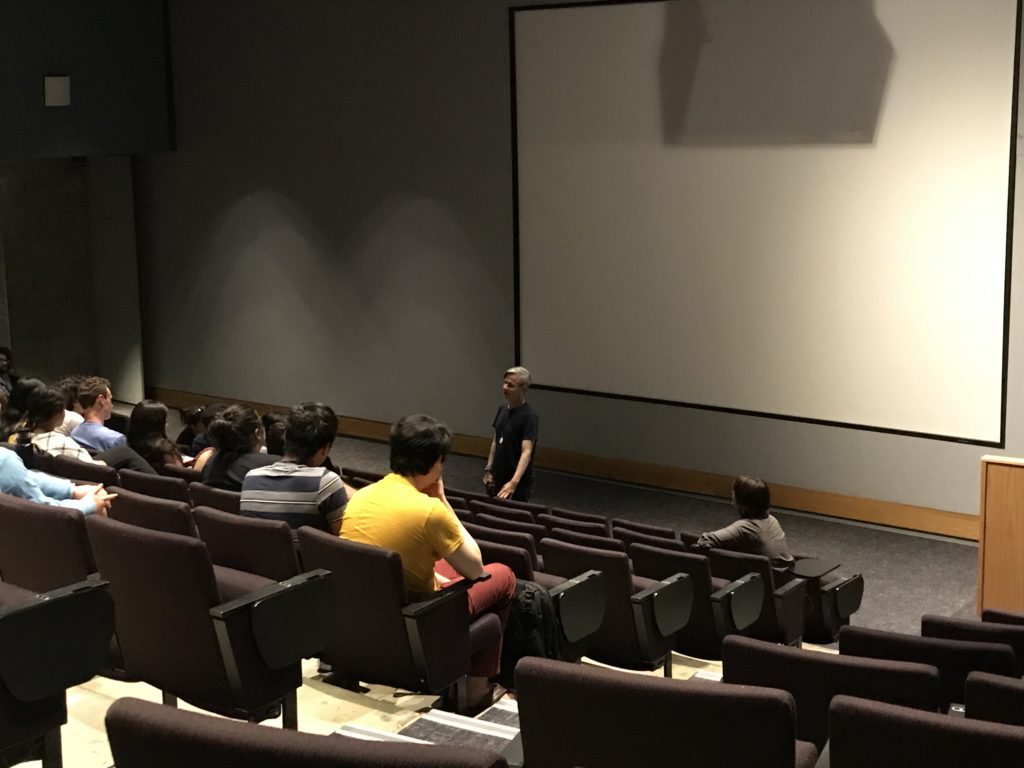 Although the alley outside the service door remains unchanged, the person who leaves the restaurant in the final shot of the film is not the same person who came in. Nor is John Cameron Mitchell the same person as either of these, a fact immediately made evident when film ends and the lights come back on. His face is unmistakably Hedwig's — but devoid of wig, makeup and heels, the disconnect between creation and creator makes them easy to separate. Distinct from Hedwig, too, is how down-to-earth Mitchell is in person. Hedwig oscillates between extremes of emotion, whereas Mitchell is calm and eloquent as he addresses us with a soft smile that Hedwig would probably never be caught dead showing.
One of the first questions asked concerns the decision to both act and direct. Mitchell reveals that multiple directors showed an interest in taking "Hedwig" from stage to screen, casually name-dropping Tim Burton (director of "Beetlejuice" and "Edward Scissorhands") and Forest Whitaker (better known as an actor, in works such as "The Last King of Scotland"). At one point, Mitchell considered co-directing. But, at the end of the day, he says, "I was just bored when I was just acting, so I thought I could do it."
Mitchell credits the head of New Line Cinema for funding his entire venture. "[He] single-handedly gave me 6 million dollars to make this movie … He helped me make this, and made it the way I wanted to." This is a gift Mitchell doesn't take for granted: he doesn't think "Hedwig" would be made today, much less in the way that it was made. Mitchell jokes, "If I pitched it at Netflix, they'd be like, 'What genre is it?'… It doesn't fit. I like to make things that don't fit."
But what about acting? Mitchell tells us that "The role [of Hedwig] was so difficult that I really stopped acting for a while … I went into writing and directing and didn't act for about 12 years." One of his more recent projects sees Mitchell return to the dual role of writer and actor. "Anthem: Homunculus," which Mitchell describes as "a podcast as dense as a film: forty characters, thirty songs," tells the story of a man with a brain tumor who is trying to fundraise his treatment through an app on his smartphone. The podcast features a star-studded cast: "Glenn Close plays my mom … Denis O'Hare plays my dad, Patti LuPone plays my aunt (who is a nun), Laurie Anderson plays my tumor," Mitchell informs us, as casually as listing the days of the week. He and his co-creators also have plans to adapt the podcast for Broadway, though Mitchell isn't sure he would want to continue starring in it.
His other recent projects include the "Origin of Love Tour," in which Mitchell and composer Stephen Trask perform songs from and tell the story behind "Hedwig." As for future work: "I'd love to make a VR film that's a really powerful narrative," one that's immersive rather than interactive.
Mitchell's ability to create in multiple forms stems from a lifetime of love for various media: novels, television, film, theatre. "To me, mixing and matching is always good," he says. "If someone is making something new, I say combine the things that you love." His own projects draw from years of notes accumulated on his phone. He says, "I think you should always be writing down thoughts, images, jokes, things that you overhear, so you always have a lot of material to look at when you're starting a new project."
When asked for more advice on the creative process, he suggests, "Don't rush it, take your time. Don't post it before it's ready." Sometimes, it's easy to tell when 'it' is ready — for "Hedwig," the deadline for the Sundance Film Festival was approaching and they were running out of budget — but, when in doubt, Mitchell advises, "A brain trust of your close friends who you share a sensibility with is really useful … not too many where you feel confused, but not too few that one person's opinion has too much weight."
The process of creating "Hedwig" was a similarly collaborative one. Stephen Trask, who Mitchell met on an airplane, composed the score for the musical. Mitchell states, "I knew I wanted to make a rock theatre piece and I knew 'The Origin of Love' was the center of it," but the final result was heavily influenced by artists both Trask and Mitchell were listening to at the time. Mitchell notes, "[Trask] was steeped in Lou Reed and John Lennon and I was a big David Bowie and Iggy Pop fan, so those people found their way into this … and so it was exciting when those people came to the show and liked it."
As for his current relationship with "Hedwig," Mitchell is happy that the show has gone on to find success without him. He quips, "I've done my own journey, but that's a character [that's] like an ex-wife, something that I don't need to live with all the time." Hedwig herself, Mitchell says, "[is] probably now an adjunct professor at a small Midwestern college, teaching German philosophy and not really caring which pronouns you use."