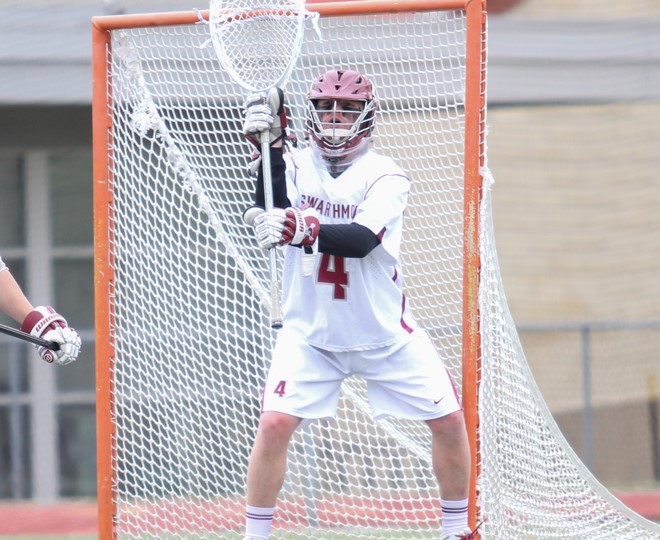 Coming off a narrow overtime loss to Franklin & Marshall two weekends ago, Swarthmore men's lacrosse was anxious to face Dickinson in last Saturday's matchup. The Garnet came to play, winning 7-5 in what was truly a hard-fought team effort. Matt Johnson '18 broke the 5-5 tie when he buried a mid-range shot to give the team the lead. The Garnet never looked back, adding on an insurance goal and putting on a defensive showcase led by goalie Cole Fox '17 – who, along with attacker Cam Marsh '18, was awarded Centennial Conference Player of the Week after recording a near-career-high 16 saves.
Not only did this game mark Swarthmore's first win over Dickinson since 2009, it placed them in a three-way tie for fourth place in Conferences: the final playoff spot. Luckily, the team is in an ideal position to control its postseason fate, as they will face off this week against the two other tied teams: Washington College and Haverford College. In the event that they win both games, Swarthmore College will solidify a playoff berth for the first time in over twenty years.
The team's close contest with Dickinson is consistent with their previous successful outcomes this season. All three conference wins this spring have ended with a difference of less than two goals, an occurrence that highlights the team's persistent focus – especially late in the game – and comprehensive understanding of each player's role on the field.
"In the past, we would always lose close games in the 4th quarter. That has changed this year," commented midfielder and captain Braeden DeWan '16
The team has been especially successful in controlling the pace of the game – maintaining discipline with the ball, executing on defense, and exhibiting a sports IQ comparable to their academic ones. Dictating the pace of the game has allowed the Garnet to make up for areas in which other teams are stronger, especially when playing opponents that are more athletic.
When asked what the driving force behind this year's success has been, the players' responses were unanimous: a diligent work ethic and positive clubhouse environment. According to midfielder Alex Scott '16, team cohesiveness is not lacking.
"This is an extremely close-knit group and I think that has been a huge part of our success. As a senior, I have a seen a huge array of different types of team atmospheres at Swarthmore in my time, and this has got to be one of the best," he said.
Marsh – the team leader in points – agrees: "I think we have been more successful this year because we have come together as a team. We have been much more focused on our collective goals rather than individual performance," stated Marsh.
This advantageous shift in team environment has been facilitated by the team's older players, who have guided the large influx of underclassmen in their transition to the collegiate level. Above any specific aspect of the game itself, Head Coach Pat Gress considers the presence of these seasoned veterans to be the team's largest impact.
"I think our senior leadership has been our biggest asset," Gress said. "All eight seniors care about contributing to the team regardless of how much playing time they are getting."
It is apparent from the team's current predicament that setting high standards from early on and building a strong clubhouse environment has paid off for the men's team thus far. Presuming they win against Washington College on Wednesday, the Garnet will have home field advantage in this Saturday's clinching game against Haverford – an opportunity they do not plan on passing up. Attackman Nate Relich '18 is not alone in his expectations for the remainder of the season:
"Our main focus at this point is to show up and play against Washington like we've done all season. It's certainly hard not to have playoffs in the back of our minds, but we won't make it there unless we take each day one at a time and focus on meeting our capabilities."
Midfielder Conor Clark '16 was a bit more direct in expressing his expectations: "Beat WAC. Beat Haverford. Centennial Conference playoffs. I'll score a g-note here or there and bust some heads too."