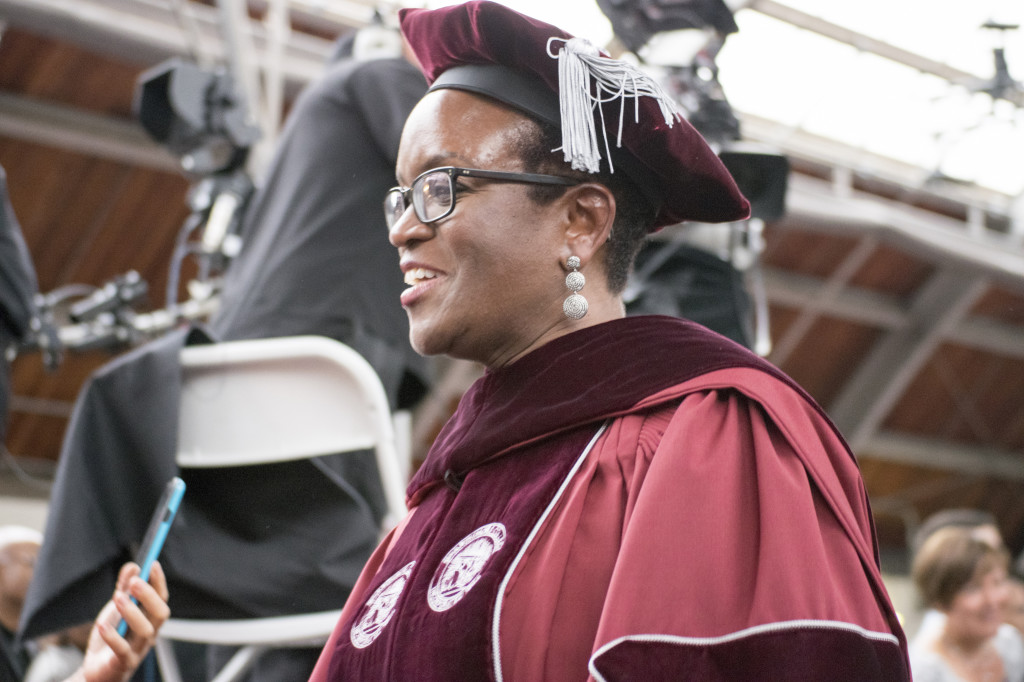 This past weekend over 1,200 people came to campus to celebrate the inauguration of President Valerie Smith. The celebrations started on Friday, October 2 with the Tree Planting Ceremony and came to a close Saturday, October 3 with the Installation Ceremony.
Smith was named the 15th president of the college last February. Previously, she was the Dean of the College at Princeton University and is a distinguished African American literature and culture scholar. Smith first came to campus last November before her interview process.
"What I saw on Parrish beach last November, and what continues to inspire me as I walk across the campus each day is the [undeniable] connection of the inner life to the world of action and expression," said President Smith. "As I walked past the rose garden I caught my first glimpse of the section of campus we call Parrish beach. … The beauty and the tranquility of that view simply took my breath away. … At that moment I had the sense that I had found my place. The college spoke to me and I had an unspeakable sense that I could be at home here."
The Installation Ceremony, originally scheduled to be in the Scott Amphitheater, was held in the Lamb-Miller Field House due to the rain. Speakers at the event included Student Government Co-Presidents Christine Kim '17 and Stephen Sekula '17.
"Val we chose you, you're at Swarthmore and you're going to have to deal with all our quirks all our opinions a bunch of enthusiasm and plenty of complaints. At times there will be a lot of hurt, and even more often a lot of passion," said Sekula.
Speakers also included people from other institutions connected to Smith or the college.
"While at Princeton, Val was a tiger who worked tirelessly to enhance the undergraduate student experience to create a more inclusive campus climate and help students develop into global citizens with a commitment to serve the needs of others in the world around them," said Christopher Eisgruber, president of Princeton University. "At Swarthmore Val is reborn not as a tiger but as a phoenix."
As Smith is the first African American president of the college, many speakers discussed matters of equality in academia.
"The long shadow of racial and gender bias still lingers in this society and will influence some of what she will experience on a day to day basis," said Ruth Simmons, former president of Smith College and Brown University. "In spite of her distinguished and unblemished career some will expect her to prove every day and everywhere her worthiness for this wanted role. Consequently I applaud Swarthmore for its sensible yet bold decision to embrace difference. A difference that by its rare inclusion at this level and in this sphere lifts, edifies, and heals us all."
Speakers also touched on the impact an African American president would have on the college.
"While I do not for one moment believe that this is what you'll be best remembered for. I am especially proud to acknowledge the historical significance of this occasion and to celebrate the naming of our first African American president," said Tom Spock '78 Chair of the Board of Managers at the Installation Ceremony.
Smith herself commented on the importance of a diverse community during her address.
"Certainly opening our institutions to students from underrepresented communities will improve their life choices and inspire others to follow in their footsteps," said Smith, "but these  students are not the only ones who will learn from these encounters. The process of change goes both ways. When we commit to diversifying our institutions we improve those institutions as well."
Speakers recognized the challenges of the job but were confident in Smith's abilities.
"Swarthmore today faces important challenges and opportunities — among them growing income inequality, the impact of the technological revolution, and questions about the value of a liberal arts education," said Eisgruber, "In your new president Val Smith you have a leader who will rise to these challenges and harness these opportunities embodying the mission of Swarthmore College."
Smith hopes to teach students to become lifelong learners and empower them to make a difference.
"Here we must encourage them to develop the practice of reflection. [And] to discover the value of observing and lingering in the present," said Smith.