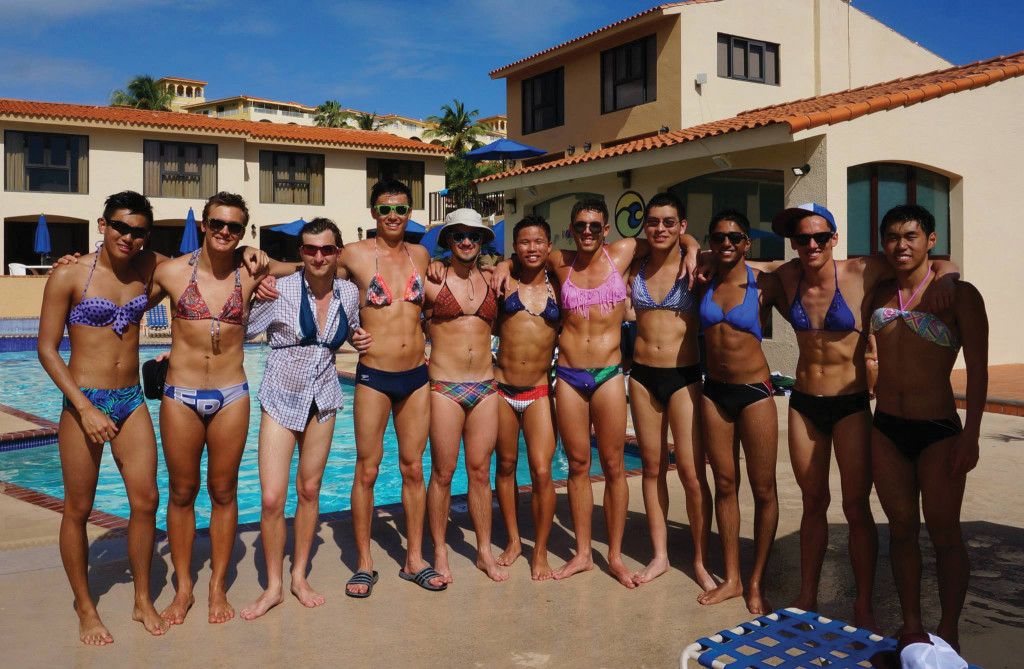 When you combine a group of women and men with charisma and charm and take them to Puerto Rico, you get stories, dancing and one well-made video. Over winter break, the men's and women's swim teams took a trip to beautiful, sunny Humacao. The team has done well this season and deserved a trip with a cool breeze, palm trees and meditative relaxation.
"We are a young team, so instead of being led by upperclassmen, we are led from below," said Jack O'Connor '17, insisting that this year's season has been a success to this point and having  only positive comments regarding the freshmen. Andrew Steele '17 had a similar view.
"We have a great group of freshmen who have changed the attitude on the team to more focus," he said.
Because of the large size of their class, the freshmen were thrown into possible positions of leadership.
"It has been a learning season for all of us," commented O'Connor. "We have a big freshman class on top of an already big sophomore class."
Besides being a young team, head coach Sue Davis has been absent on sabbatical for much of the season, making it difficult to have a solidified leadership role present.
Both the men's and women's teams interact very frequently by practicing and having all but one meet together. Although technically two separate teams, the swimmers are closely knit and view themselves as one unit. "Unlike most of the other teams, we are mostly together," said O'Connor.
The training in Puerto Rico put forth by Davis was intense. The team practiced for about five hours a day split into two intervals. They woke up at 5:30 a.m. every morning, ate a small breakfast and then proceeded to the pool. There, the teams undertook either dry land or swim drills from 6:30 a.m. until 9 a.m.. After the grueling workout, they returned to the hotel and had a second breakfast from 9:30 until 10:30. Finally, the teams were granted some free time to enjoy Puerto Rico. Some swimmers took naps, others went to the beach, or hung out around the pool. The teams then proceeded back onto the bus at 2:45 p.m. and swam again from 3:30 until 5:30 p.m.
The trip to Puerto Rico had extensive training, but more importantly, as Henry Wilson '18 pointed out, it presented the opportunity to do different activities and experience a new location. Although the training was incredibly demanding, the swimmers still found time to enjoy unique activities during their free time.
"I have been on training trips before, but they had always been more about the training and less about the trip," Wilson said.
For example, one longstanding tradition are the so-called "challenge sets." Seniors choose challenges for all swimmers to accomplish. One of the more well-known challenges includes the first-year men choreographing a dance and then performing it to the entire hotel while wearing bikinis. The freshmen men split into two teams and competed for the best-choreographed dance, while dancing to the Ariana Grande songs "Problem" and "Bang Bang."
"The choreographing was actually us sitting around, listening to the song, and thinking of cool dance moves. Everyone contributed," said Wilson. The men had a few days to sharpen their skills and create a completely original dance. Other team members had a variety of challenges they had to complete during this process.
The combination of enduring tough exercises together as well as performing dance numbers in bikinis led to an incredibly enjoyable team bonding experience. Wilson summed it up nicely.
"It was just amazing," he said. "I thought it would be just sleeping around and not doing much between practices, but we actually went to the beach every day."
The inclusion of activities throughout the rigorous training helped lessen the gloomy image of a gray cloud that many athletes assume when hearing of a training trip. "My perception of training trips was completely changed," said Wilson.
To keep the memories present, O'Connor, Steele and Liam Fitzstevens '17 created a professional-quality video containing footage from the latter half of the trip including, self-taught Zumba classes and the legendary freshmen boys bikini dance-off.
The trip overall proved to be very successful and has only added to the experience of a young group of successful swimmers. The women's team reaped immediate benefits from the training, defeating Bryn Mawr, 152-50.