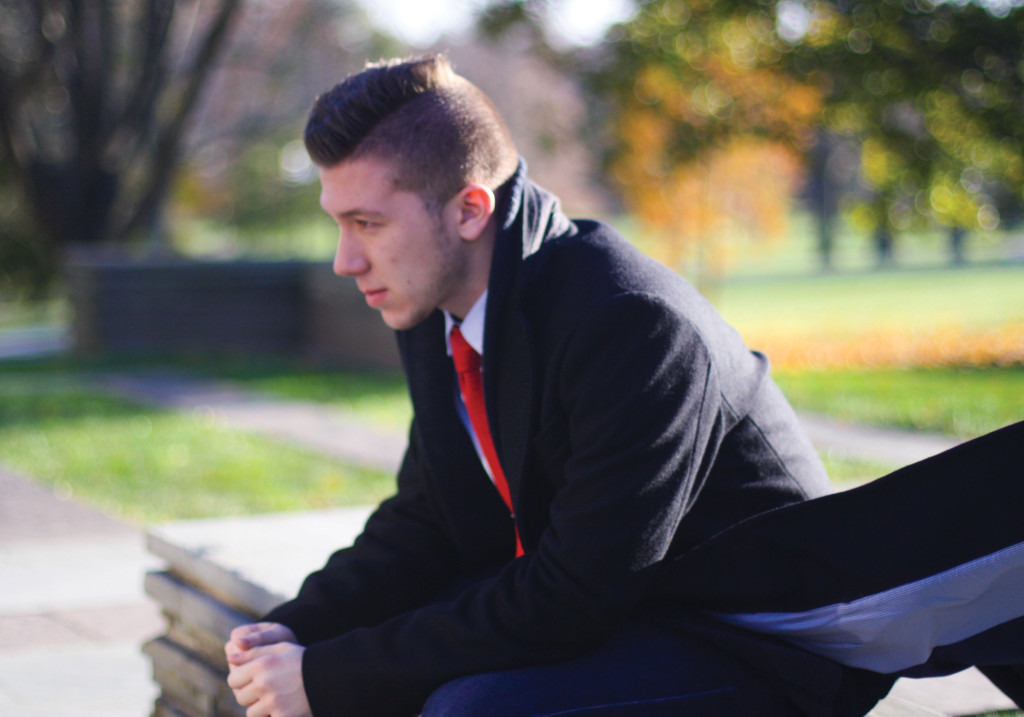 I was sitting around a Sharples dinner table avoiding the 5:00pm darkness today, seeing my friends scarfing down carbs in sweatshirts. Winter is coming. And when the cold hits, one of the first things I want to abandon when relinquishing my fluffy comforter every morning is any clothing that doesn't approximate that comforter as closely as possible. And so I gaze around campus with even more admiration than ever before for our dapper dudes.
Dapper: (typically of a man) neat and trim in dress, appearance, or bearing (OED).
This is the definition sounds boring. It reminds me of an article I read a few months ago that talks about the prevalence of pre-professional, interview-ready neatness amongst students on Ivy League campuses.
But you can read a little more there besides the neat and trim — "dapper" encompasses an entire mode of comportment. And "neat and trim" – those words have a sort of old-fashioned strangeness to them, after all. Maybe something of my personal image of dapper is captured here — it's something hidden beneath a veneer of well-prepared traditional men's style.
To be dapper is to take traditional to the verge of eccentric, especially in the context of Swarthmore, where traditional men's professional wear is a rare student dress choice. To be dapper isn't an automatic, environment-ascribed choice here; it takes concerted, conscious effort.
I was curious about that effort, which seemed to set Swat's dapper dudes apart from many other Swat dudes. And so I set out to find out what makes a dapper dude by talking to a few notables of our dapper dude contingent: Jameson Lisak '15, Louis Lainé '16 and Luke Barbano '18.
Dapper dudes are consistent. As Barbano '18 explained, "Regardless of where I am or how I feel, I dress the same. It's a standard that I have to maintain." He has set expectations for himself.
These expectations seem to be somewhat dictated by, and certainly are made so consistent by, his perfectionism: "I'm a perfectionist, so if I don't dress myself the way that I think is the best that I could be, I'll be self conscious about it the whole day, even though no one else notices – I haven't achieved full potential for the day." He takes pride in achieving something a little more controlled, and something a little more interesting, than sweatpants.
Lainé described his style as more reflective of his emotions than Barbano. But again, the consistency of a dapper dude appears here due to what he described as even-keeling emotions: "[My style] is consistent only due to the fact that I often feel the same way… I'm not a very extreme person… The clothes reflect the fact that I'm comfortable." This generally comfortable emotional state is reflected in a consistently dapper wardrobe.
Dressing consistently has an emotional imperative for Lisak: "Dressing like that makes me feel better, it makes me feel presentable, it makes me feel kind of like I have my life together." He dresses well for himself. But the way in which he has chosen to dress well is dictated by an awareness of what it means socially to dress in classic men's clothes: "Growing up I came from a pretty low income background, and so for me I always saw wearing nice clothing very much as a status symbol, and I always wanted to be able to present myself as nicely as possible. So for me that's always something in the back of my mind, of how I want to present myself."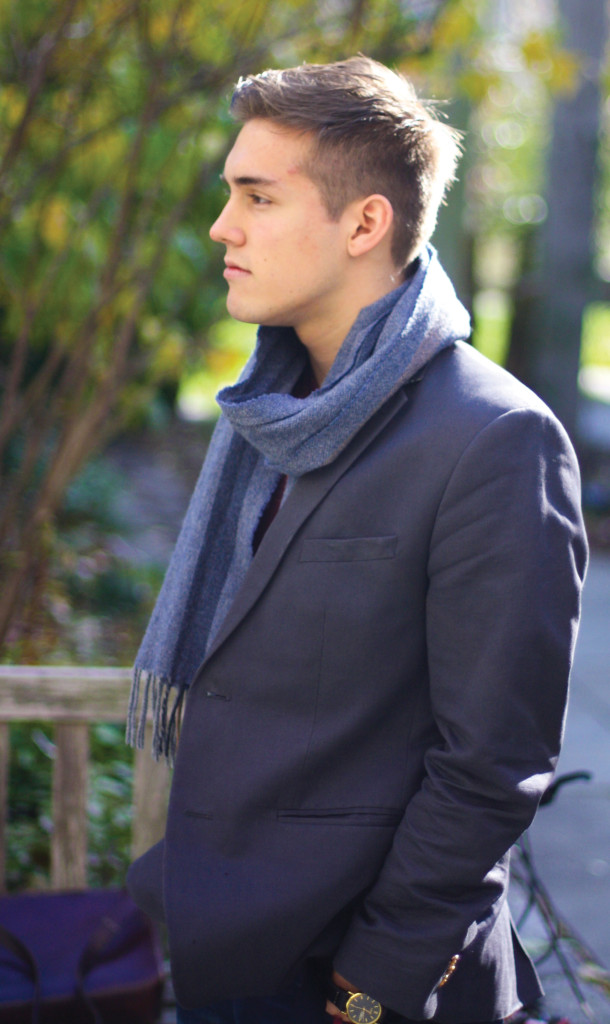 Dressing well is a privilege. "Being able to put a little extra into how I dress, and being able to dress up a little bit, is kind of a matter of pride for me, of saying I've reached a certain point in my life where I can do this," said Lisak. Meeting a specific, consistent standard of dress has an emotional and practical value for Lisak that provides him confidence.
For Lainé, too, dressing with the elegance and finesse of a dapper dude is a means of approaching the world confidently and making sure it perceives him as he intends to be perceived: "When I was growing up, I wanted to imitate my mom, who always made a point of dressing well for her, not even for the people around her, and I really wanted to emulate that same feeling of self worth to the point that I make sure that my clothes represent me in the way that I want to be represented."
He shows awareness of the way appearance is perceived, but clarified that the motivation behind this is to move through his surroundings on his own terms, not to please others: "I do it for me, not because I want to fit a certain norm… It's good for me to know that I am dressing well because I want to represent myself in a certain way."
Barbano explained a similar sentiment of valuing the outwardly-perceived effort of dressing well for his own sense of himself in the world he moves through: "If I went out dressed differently than I normally do, I would feel self conscious, because I would feel differently from who I normally am."
In keeping with this idea of consistency, all of these dapper dudes approached acquisition of clothes with restraint. Lainé explained, "I only buy a piece of clothing that I know goes with at least three things I already own." When Lisak "look[s] for what that works well within the rest of my wardrobe, 'cause I want to get something that I can get as much use out of as possible." And Barbano  "do[es]n't go out with the intention of buying new things, and I never buy things in large quantities."
So being a dapper dude doesn't mean being a dandy. The impressive impression that a "neat and trim" figure cuts across campus isn't fabricated through an elaborate or frivolous process of high-end acquisitions. It is created through a concerted, consistent effort that isn't, after all, about you. It is about the dapper man respecting himself and approaching his world with the effort and confidence that self-respect lends him.