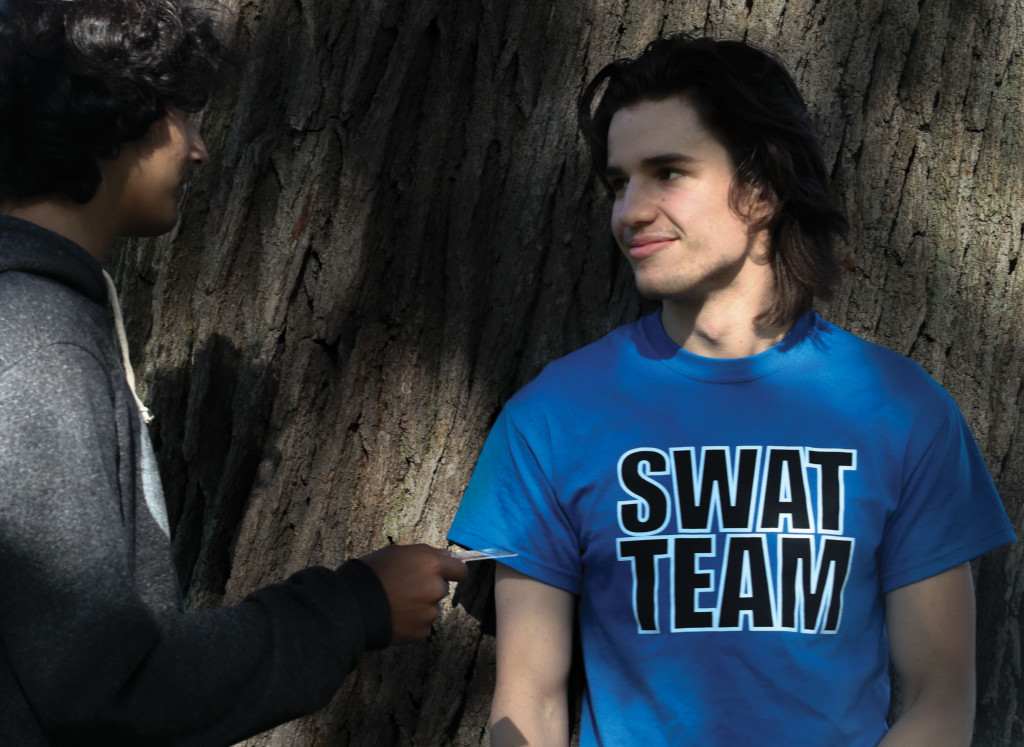 Along with changes made to the campus' alcohol policies, Swat Team has undergone its own structural and training changes.
While Swat Team — previously known as the Party Associates (PAs)—has been in the process of transforming its policies and image since the last academic school year (ID scanner, a name change, wristbands), the current fall semester has witnessed additional changes to their alcohol and safety awareness training.
Swat Team is a student safety resource and bystander intervention team present at all campus parties serving alcohol. According to Mike Elias, assistant director of student activities, leadership, and greek life, Swat Team has received training from campus resources such as Public Safety, Violence Prevention Educator Nina Harris, Drug and Alcohol Educator Josh Ellow, Title IX Coordinator Kaaren Williamsen and Elias himself.
"The vision of the program is to create a team of students who are empowered and equipped at addressing student safety concerns/issues within party spaces," said Elias in an e-mail to the Phoenix.
A new component to the team's training included a condensed version of Training Intervention Procedures (TIPS), a program that aims at developing skills designed to prevent intoxication, underage drinking and drunk driving.
Elias elaborates, "Both Josh Ellow and myself are Certified TIPS-Trainers and have provided a condensed version of the training to the entire SwatTeam in order to improve the team's ability to identify and respond to situations where intoxication presents a safety risk to students at all-campus parties and events."
Veda Khadka '16, this year's Swat Team student director, said she was glad to have received the new training.
"TiPs training is great because it helps debunk a lot of common myths around drinking that we often fall subject to without realizing, with more accurate knowledge on how to identify and aid (to some extent) a sick individual, Swat Team staff members can do their jobs better," she said in an e-mail to the Phoenix.
Swat Team consists of student director Khadka, six managers, and a team of Swat Team staff members. The managers oversee team members working at parties, interact with Public Safety, and coordinate with team members at different campus parties in order to anticipate potential overcrowding at a particular party.
"The structure of the program allows for leadership development as students gain experience working in various positions on the team," said Elias.
Swat Team members have expressed frustration regarding the campus's perception of the organization. Kaitlyn Ramirez '17, a Swat Team staff member, felt that the student body was ill-informed on Swat Team's role at campus parties.
"We're not Public Safety, we're not the Swarthmore police," she said.
Chris Capron '15, a Swat Team manager, agreed.
"We all do this job because we care about the well-being of students, and sometimes that means enforcing rules that are frustrating or don't make immediate sense, so we ask for patience," said Capron.
Capron further affirmed that "if someone at a party wants something, a walk home, help with a friend, or if they don't feel 100 percent comfortable, I really encourage anyone in that situation to ask a [Swat Team] member for help."
Khadka expressed a similar need to establish Swat Team's role as an ally and safety resource that the campus should trust.
"We're also just students doing our jobs," she said. "It's hard to separate the shirt and the student."