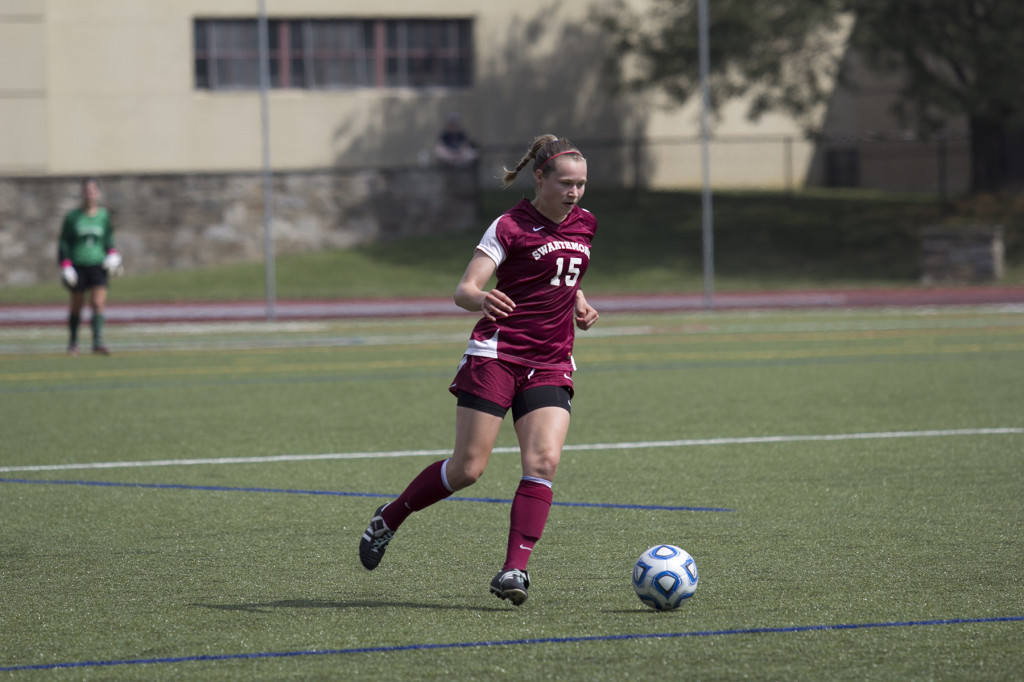 With a superb start to their season, the women's soccer team shows no signs of slowing down. The Garnet won four of its five opening non-conference matches and has tacked on two consecutive Centennial Conference wins.
After a 7-0 drubbing of Immaculata last Tuesday, in which the team carried a 44-7 shot advantage, the women turned their attention to the upcoming conference schedule.
While the games are bigger and the outcomes significantly more important, the team didn't feel that it had to change much before playing its first conference game. In fact, the team members felt confident that if they continued to play the way they had in their non-conference games, they would meet with success despite the higher stakes.
Mele Johnson '17 emphasized, "Heading into conference play, we will continue to play our game. We have the talent to play possession and outsmart our opponents, which is something we'll need to maintain in order to secure a top spot in the conference. As long as the ball keeps finding the back of the net, as it has been, we will continue to extend our winning streak."
It wasn't long before these sentiments proved to be correct. In Swarthmore's conference home opener against Franklin & Marshall Saturday night, the team wasted no time putting points on the board.
Elyse Tierney '15 netted a goal just two minutes into the match on an assist from Emma Sindelar '15. Later, in the 20th minute, Sindelar scored a goal of her own, putting the Garnet up 2-0. This score held going into the half and remained so until Rebecca Mayeda '17 tacked one on in the 81st minute.
Complimenting the offensive attack was the stout defense. The Garnet allowed four shots, only one of which was on goal.
Aside from the conference win, the big story of the night was Sindelar. Her 16th assist and 76th point early in the first half, placing her alone at the top of the Swarthmore record books for these two categories.
As excited as Sindelar was to have set new school records, she was equally relieved.
"It was obviously exciting, but it was also a relief. I've known I've been coming up on [these records] since the end of last season, so I was relieved to get it out of the way," Sindelar said.
While these remarkable feats are a testament to her personal soccer talent, Sindelar gives part of the credit to her teammates. She made references to the on-field chemistry between teammates and their ability to get her the ball.
Sindelar went on to say, "My team has always been behind me and knows where I want the ball [and] knows where I am dangerous."
She also joked that her speed doesn't hurt.
New records may spotlight Sindelar, but also provide an opportunity to highlight the entire senior class. The seniors have been integral to the program's success over the past four years, and are making just as big of an impact off the field as they are on it.
Hannah Lichtenstein '17 described the impact of this group on the team, saying, "I cannot imagine any group of people more prepared and more deserving to lead a team than these seniors. They all have prominent, influential personalities that mesh so well together. They are super energetic, excited and hugely motivating no matter what. I think I speak for the rest of the team when I say I am honored to be on the field with them every day."
With F&M behind them, the Garnet travelled to Washington D.C. on Tuesday for its second conference game. Again, the defense played well, allowing only two shots. The offense kept rolling as Johnson and Katie Dougherty '18 both netted goals. The offense had a combined 33 shots, 18 of which were on target.
Currently the women stand at 6-1-0 (2-0-0 CC) and have now won three matches in a row. They have outscored their opponents 20-5 and have only given up one goal in the matches that they've won.
When asked about what she thought made the team successful, Johnson said, "I think we can attribute our success so far to both the talent and heart of this team. Every day that we step on the field, we're giving 100 percent … Our motto for this season is UBUNTU, "I am because we are," and I think playing with this mentality has set the tone for a successful season."
Additionally, several members of the team mentioned positivity.  The team members try to keep their practices upbeat and are constantly encouraging one another.
As Lichtenstein said, "Our two big themes have been positivity and competitiveness. We try to emphasize these things in practice on and off the field as much as we can and it has really translated into games."
The emphasis on positivity helps players pick one another up during tough moments in games and gives them the ability to move past mistakes quicker. Positivity is such a big part of the team dynamic that the members celebrate a team-made event called Compliment Wednesdays, in which teammates leave compliments for one another on sticky notes inside of their lockers.
Armed with talented players and great mental attitudes, the team has done well thus far. It will be exciting to see what this team can accomplish as it continues its season.