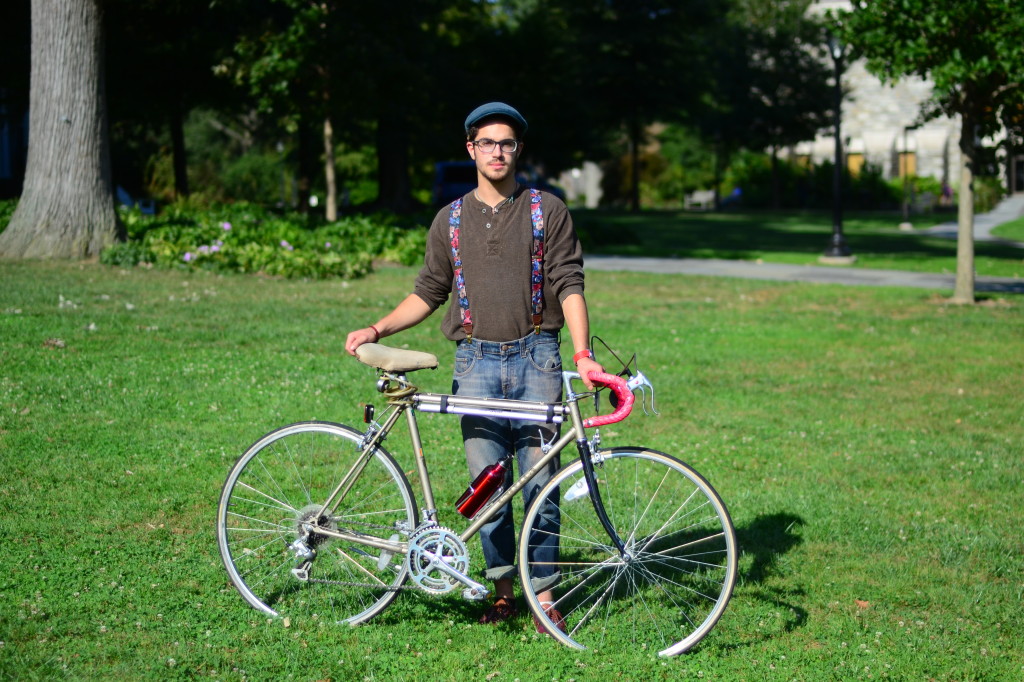 Jackson Hart '17 arrived 20 minutes early to our interview, but had disappeared by the time I was set up for the meeting. He wanted to be interviewed outside in the sun, where the pink stone in his ear glittered impishly. Tucked into the band of his blue boiled wool tam o' shanter — a traditional 19th-century Scottish men's bonnet, was a feather he had scavenged on his walk from PPR.
Looking at Hart is always visually arresting. He frequently sports a hat atop his sets of mismatched layers and colors that are all snapped into cohesive place by a pair of large black-framed glasses. The champagne-colored bike that wheels him around campus, a hand-me-down from his dad, also contributes to the rapid-motion images that compose Hart's presence on campus.
Hart is from Reno, Nev. where the arid climate sets his wardrobe there somewhat apart from his wardrobe at Swat. "At Swarthmore, I have to worry about looking like a sweaty mess." His comment was obviously informed by the past few weeks here, but in moving forward through fall fashion, Hart was more optimistic about upcoming sartorial possibilities.
He is most interested in color, he explained. As a kid, he had historically been drawn to bright colors and patterns. Now, "I like colors that could be on a mushroom … earth tones, but deeper bright colors too."
Nature seemed to be a theme running through Hart's clothing choices. Fall is full of mushroom tones, and he even associates the bright colors he still tends to wear in summer with those bright polka-dots on a mushroom top. But Hart isn't the nature spirit this makes him appear.
He also draws fashion inspiration and pure sartorial pleasure from the heart of the fashion academy – Vogue. Admittedly, he got his subscription for free from his frequent flyer rewards. But the end result is that Vogue is delivered monthly into his Swat mailbox. He likes to read through the issues, but he also cuts out the things he likes best. Back in Reno, they go into a carefully curated collage bedecking one of his walls. He chooses his swatches, returning to his favorite earthy, mushroom tones, based mostly on color, but also on texture and pattern.
Fashion, for Hart, is a world of play and creation. But on a daily basis, fashion also acts as a deliberately-dosed medication – opposite cures opposite. Last Friday night, I peered over a Palmer balcony and there he was, flying across the pavement on his bike, in a collared white button-down and a pair of crisp black suspenders. He paused to chat, and said no, it wasn't a special occasion – he had been feeling a little down, a little sloppy, a little lost in messy mental mires, and so he had dressed to counteract that, quirkily but classically orderly.
Hart is taking sculpture here at Swarthmore this semester. I asked him about the connection between his fashion and his art. He explained that they weren't explicitly connected. They are both undoubtedly creative outlets, but one is private, relegated to its own space within his studio and whose products are only seen when sought out. Fashion is an everyday experience that is inherently, necessarily constant and shared.
While his observations about the ways in which art and fashion are communicated and operate on a public versus private basis are certainly valid, there may be more connection between Hart's art and fashion than he suggested. His current sculpture project is, after all, a mushroom lamp.
Hart never mentioned what he foresees for his winter style. It will be, like many of the faces he presents to the world, a surprise. For now, we will venture with him into the autumn cascades of brown and gold leaves. The only hint I can give you of the coming cold with Jackson is scarves — he loves scarves, all kinds of scarves. Woolen, silk — they are a novelty item, a special feature dedicated to the cold months. We get to pull them close about our throats in defiance of the winter frost. So remember Hart when you pull on your mushroom toned sweater, and remember him later, when you sink into your wooly snood.