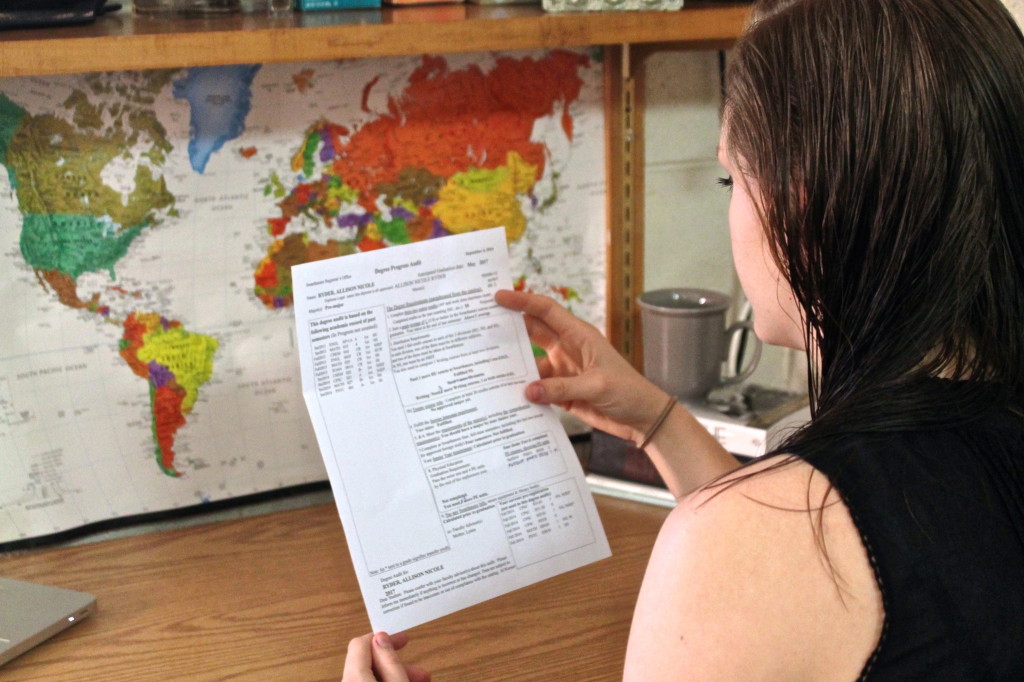 Nestled behind clusters of flowers, the college's quaint Off-Campus Study Office is a hive of activity this time of year. Director Pat Martin and Assistant Director Rosa Bernard, who have over fifty years of combined experience, have their hands full not only with recently departed juniors, but with transcripts and syllabi from returning seniors seeking credit for their time overseas.
Whereas some colleges and universities follow automatic accreditation policies, Swarthmore's unique departmental approach allows students to choose from a selection of over 300 approved programs of study when they choose to head abroad. Department heads are asked to look at not just reading lists and notes, but logs of day trips and reflective journals to evaluate a student's learning outcome when they return. According to Martin, the process demonstrates the college's commitment to diversified educational experiences.
"One of the advantages to this system is that getting credit is based on student work and student outcome," Martin said. "That allows students to do things that at many other schools they might not be able to do."
According to Martin, departmental evaluation of work for credit also provides a degree of "quality assurance" — assumptions that students won't be challenged intellectually can be combated with proof of academic engagement. But in some students' opinions, Swarthmore's standards of academic excellence are taken too far when evaluating semesters abroad. Stuart Russell '14 directly enrolled in the University of Bordeaux through a program run out of Middlebury College in 2013; despite completing coursework for which Middlebury students received 5 credits, he was only awarded 4.5 after departmental evaluation.
"At the end of the semester, the most frustrating thing was that I got a Middlebury transcript, saying 'oh, Middlebury would give you x amount of credit for these classes,'" Russell said. "And I feel like Swarthmore should just look at that and take it, especially since the college was of comparable stature and quality."
"I feel like Swarthmore tries to hold itself to this intellectual rigor and excellence, which is great, but it just makes things more complicated than it needs to be," Russell added. "When other peer institutions are approving these classes, it just makes things more stressful for the students."
Sarah* '15, who returned from France this semester, says she felt "snubbed" when a department head suggested she complete a supplemental reading after reviewing a course syllabus — all to earn .75 credit. Although she hasn't yet had her semester evaluated, Sarah, who is also a tour guide, says she's nervous that departments won't necessarily put a point value on learning experiences that took place beyond the classroom.
"On tours, we're told that it's really cool to tell people that 50 percent of the junior class goes abroad at some point," Sarah said. "And that's something that Swat's really proud of. But then there's this sort of disconnect. They encourage us to go abroad and they want us to go abroad but then we can't necessarily get all the credit we require and so we just have to buck up and take five credits our senior year or find a way to make it work."
While returning students may feel that credit approval is left largely to their own initiative, the faculty advisor — this year, Carina Yervasi from the French department — plays the wizard behind the curtain: as students take their materials to department heads, she sends out emails with credit recommendations and weighting, translating foreign intellectual experiences into Swarthmore standards. While it is ultimately up to individual departments to accept coursework, the off-campus study office has a few tricks up its sleeve in cases of accreditation conflict: Martin said that the Provost could be enlisted to advise departments on issues of concern, and intercultural credit can be awarded by the office for coursework that doesn't fit within any of the college's academic divisions.
According to Bernard, only in exceptional cases does a student get denied credit. Failure to complete the pre-estimation process or changing course selection abroad, presenting an inadequate amount of work, receiving below a C or not completing course requirements can all result in zero credit.
Both Bernard and Martin emphasized the importance of the pre-estimation process; however, not all students are able to procure syllabi and reading lists before arriving in their host country. After going through a frustrating pre-estimation process in which he could only present possible plans of study, Russell found he had to repeat the ordeal over email when he arrived in Bordeaux in the fall of his junior year.
Ximena Violante '14, who completed Hamilton College's program in Madrid, found that the art department was unwilling to honor its pre-estimation upon return. Needing all credits from her overseas experience to transfer in order to fulfill the twenty-course rule, Violante resubmitted materials for only .5 credit — which the art department only agreed to award if she needed it for graduation.
"I applied to this program specifically because I thought Swarthmore had a long history with it and that it was very easy to get credits from it," Violante said. "Swarthmore professors have taught there, it's through Hamilton, so that felt like a good choice for me because I really needed credits outside my major to fulfill the twenty-credit rule."
Timeliness was an additional problem for Violante. While two departments approved her credits quickly, she was forced to enlist Registrar Martin Warner for help in pressuring the remaining two departments to award credit as she went into her senior spring — a full year after leaving for her program — to determine if she needed an additional course to fulfill the twenty-course rule.
Warner also stepped in when Emma* '15, who returned from Australia last spring, left her debriefing meeting with the then-faculty advisor in tears after being told that a misunderstanding over grading policy would ruin her GPA. With a strong average going into her final exam, Emma decided to play the numbers game and not prepare, not realizing that receiving below a certain mark would result in automatic failure of the class.
"I asked if there was any way for the class not to show up on my transcript, or for my transcript to just say I took three classes," Emma said. "And [my faculty advisor] said, 'No, absolutely not. It will show up on your transcript and you probably won't get into medical school.'"
Although the course was eventually removed, the experience made her feel like not everyone in the office was rooting for student success. She says she's had conversations with friends in different years who described their faculty advisors' attitude with the same word she and Russell used: "cold."
While Bernard and Martin have pinpointed places to improve student experience both pre- and post-departure, including the establishment of a database with courses taken for credit abroad and a greater degree of departmental automatic accreditation with popular programs, they believe the freedom offered by the college's current process is one of the best models available. Bernard described the process like building a house: while the regulations present provide the floorboards and rough frame, it's up to the students to develop their own learning experience.
She also believes that for returning students, credit evaluation can provide a rare and valuable space for intellectual reflection.
"When you're putting together your study abroad work and looking through it, I think it's such a wonderful experience to kind of relive the academic experience," Bernard said. "Because conversations stop after a while. You come home, you've had the summer, people are not listening, you're not talking as much and here you are, at Swarthmore, putting the work together, and it continues the study abroad experience."