Alexis Metoyer '23 started ballet accidentally at four years old when her mom put her in a class to help burn some excess energy. The choice to stick with it, though, has been Alexis's every year since. A decade and a half later, she dances ballet five days a week.
"I started elementary school, and I kind of just kept up with it. [Ballet] was something that … was a creative way to express myself that wasn't writing or speaking, and I stuck with it through high school. I tried different sports, like gymnastics, I tried to do swimming, I thought maybe I'd be better at theater, but I actually wasn't very good at any of them. And so I stuck with [ballet]."
Though she eventually determined that she wanted to keep growing and learning through dance, Alexis initially had some hesitations. During our interview, Alexis told me that she almost stopped dancing twice. The first time was when her family moved to Indiana from Oregon before her freshman year of high school.
"I thought about quitting dance because I was adjusting a lot to a new environment."
Alexis's love of artistic communication won out over her initial hesitation. For her, dance brought a new depth of connection with herself and others.
"I think the main inspiration for continuing to dance is just because it's a form of expression [that's] … kind of a release from my other stressors … when I walk into a dance class, or when I think about completing my dance major, it's … something that comes naturally to me and it's easy for me to dance … it's like a free stress relief …. and so I think that was the main reason I didn't stop was because I felt like I would lose an outlet if I did. And because I think I just like being on stage too. I like talking to a large group of people without actually saying anything."
When she moved to college, Alexis again considered giving up dance. Ultimately, she decided to keep going, making dance the constant across her life. Though ballet is something Alexis never gave up, her ballet journey hasn't been easy on her physical body.
Long hours of rehearsal and injury follow ballet dancers across their careers. As is the case with Alexis, they often suffer leg and foot injuries.
"Usually if [the injuries] are not severe, they're long term. I've been struggling recently with bursitis … in my ankle. And the only way for that to get better is rest, ice, recovery, which I can't really do because I dance five days a week."
Most of Alexis's teachers throughout her youth sought a specific image of what a ballet dancer was "supposed" to look like, and there was a lack of privacy when it came to maintaining a certain body shape. Alexis also did ballet from a young age, surrounded by girls who didn't look like her; there were no women of color in ballet for her to look up to.
"I grew up in Oregon until I was like 15 … the area I was in was a college town. And you know, all the little girls there were … little white girls, not like me, and I don't say that like that's bad, but it was just hard not seeing any role models."
Despite the obstacles in ballet, Alexis spoke passionately about how she sees beauty in diversity, especially in ballet. According to Alexis, Chandra Moss-Thorne, one of her professors, has helped a lot with breaking down diversity barriers in dance at Swarthmore. Tights, something that seems so simple to most people, are extremely important in ballet and often cater only to light-skinned dancers.
"Flesh tone tights are something that we are actively working on now because traditionally ballet is all pink tights. Now when we say flesh tone tights, we actually mean your specific skin tone, your specific flesh tone. So I wore non-pink tights for the first time my freshman year here. It was just amazing. It felt really good, but it was sad that it happened at age eighteen," said Alexis.
When Alexis speaks about diversity, she means more than skin color. Dance is another way of communicating, and not everyone communicates the same way, so why should all dancers need to move the same?
"Diversity in a ballet company is never a bad thing. And I say diversity meaning skin color, but also body size and type. Just because you're not the 'perfect' ballet dancer … or just because you're not a 'perfect' ballet body … doesn't mean you can't be one. It just might look different, and that's not bad," she explained.
As we talked, it was clear that there is a uniqueness in dancing at Swarthmore that Alexis hadn't previously experienced. Not only does it allow her to be creative in dance, but there's also more flexibility in respecting dancers' limits, a practice not common in many dance spaces.
"I think [dancing at Swarthmore] has also given me more of a [route for] creative expression … for the first time in a long time — I seriously can't remember the last time I did this — I choreographed my own piece in dance lab I and II my freshman year. What was nice about that was that I wasn't required to make a ballet piece. I could have done Modern if I felt like it. I could have done a tap piece even though I had never taken that class in my life … I think dance to me here means creative expression. Seriously, there are almost no boundaries."
While there may be no creative boundaries, the dance professors acknowledge and respect people's personal boundaries. Dancers are allowed to dance using the capacity that they have day to day; perfection is not expected every time someone walks into the studio.
"If you're not feeling good today, that's okay, be gentle on yourself. You know, not everybody has to jump super high. Not everybody has to turn 1000 times. Not everybody needs to have their splits or hold their leg over their head. I can be comfortable with the level that I'm at, and so can everybody else."
Though Alexis primarily specializes in ballet, she also has an appreciation for Modern dance. She hasn't taken Modern dance at Swarthmore, but nonetheless appreciates the maneuverability of the style. Modern dance's adaptability allows for flexibility in both participation and movement.
"My appreciation for ballet has been growing since I was little. But as I grew up, I also began to see that there were some problems and some shortcomings. I like the structure. I like how there's a term for almost every move, and almost every bodily position. And there's a lot of history and background that comes with it, but … there's certain ways that things are done … if I want to go outside of that then it's not classical ballet. So that's kind of where Modern comes in."
Alexis also appreciates that in Modern dance classes, there are people at all different levels of dance skill, from dancers with years of experience to people taking the class for PE credit, which leaves room for different movements and interpretations.
"Modern is so nice … because there's not a specific technique that you have to have. It can kind of be whatever you want it to be, which is super nice. It's a very malleable art form."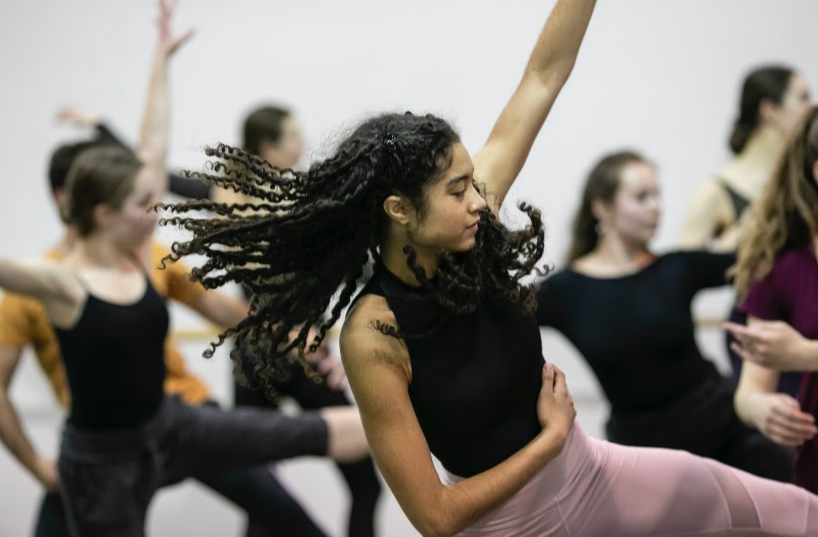 Alexis hopes to get to Modern dance next semester, before she graduates in the spring. She is a biology and dance double major, on a pre-med track. Once she graduates, though, Alexis wants to keep dancing, even in medical school.
"I really, really want to keep dancing in my life because I think it balances me as a person and sort of forces me to get away from all the other things that are stressing me out … I also have to figure out how I'm going to stay active [in medical school] and I would love to do that through dance."
Alexis has given a lot of thought to how she might keep dancing in her life.
"I'm going to school in Philly, so I'm not moving far, and Philly is a great place for the arts. It's got plenty of dance opportunities. It's not like all doors are closed to me. I do plan on seeking out opportunities in Philadelphia to try and get some dancing in."
As hard as she may try, Alexis knows that carving time out for dance will be more of a challenge once there's no time specifically blocked out in her schedule for it. Despite that, she is determined not to let dance slip through the cracks of another life transition.
"It's not going to be as frequent as it was in high school or as it is now. [But] I think dance is something that's going to be a part of my life for a really long time. And I really hope that next semester is not the last time that I ever step foot in a studio. I would just have to let go, and I don't think I can do that," she said.
When I asked Alexis if there was anything else she wanted me to know, she again emphasized the fact that there is no standard a person has to achieve in order to start dancing.
"Dance is for everybody … I think that if you take the right class, with the right teacher, it's something that can speak to a lot of people, even if you've never taken a dance class before and you're twenty or 21 or 22 or whatever. It's never too late."
If you want to see Alexis dance, she will be performing her senior project, a fifteen-minute original ballet piece in collaboration with Greg Boatman '23, on Dec. 3 and 4, 2022, in the Troy Studio of LPAC. She will also be a part of the Fall dance concert on Dec. 2 and 3, 2022, on the LPAC mainstage.