After touring the country for the past ten years, the "30 Americans" exhibit finally arrived at the city of Philadelphia following its recent showing in Kansas City. The Barnes Foundation hosted the important artworks, which were originally part of the Rubell family's private collection. "30 Americans" features works by 30 Americans of African descent who have achieved global renown in the past decade and touches on subjects like race, class, gender, and dichotomies that exist in the world. All of these elements pertain to America's complex history, as well as to the world's. In this provocative, but dazzling and compelling exhibit, the artists explore collective and individual identity against a backdrop of pervasive stereotyping by employing dynamic visual languages: from painting to sculpture and installations.
Art with a compelling message will always come first in my eyes. I adore pieces created with the intention of communicating an idea or a meaning, whether in a direct or more subtle way. I especially appreciate pieces that are drawn from the creator's own past and aim to instill subjective emotion. Luckily enough, "30 Americans" is just that. No artworks in "30 Americans" have been created unintentionally. Whether it is Kara Walker's horrific life-size installation titled "Camptown Ladies" that suggest the absurdity of racism, or Mickalene Thomas' empowering self-portrait "Baby I am Ready Now" dazzling in afro chic, or Nina Chanel's "Class of 2007" that demonstrates racial inequalities, specifically in the incarceration system and the art world — all these pieces are "meaningful."
Because there were so many great things to see (and write about), and because I have limited space here, I have decided to share with you, the five pieces that I liked the most in 30 Americans: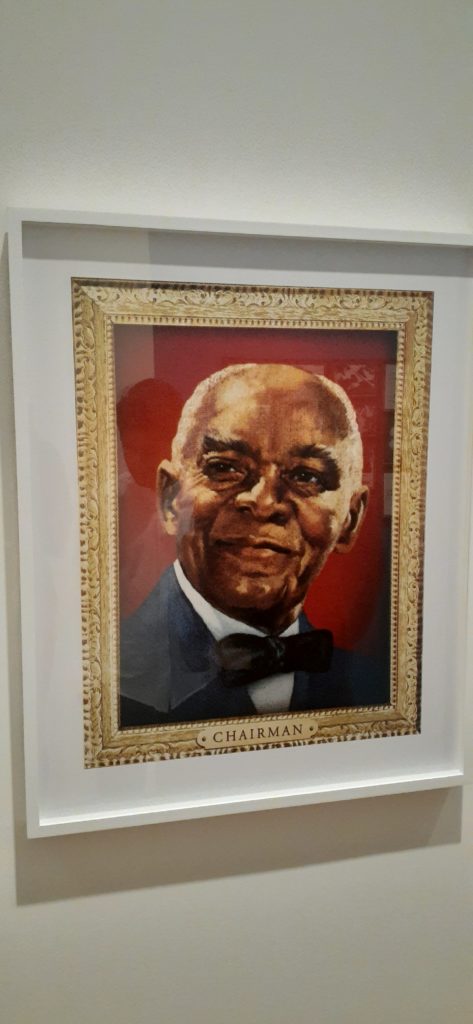 Hank Willis Thomas (b. 1976)
After 61 Years of Service, I Ben, Promoted. 2007/2007
2008
Lambda Photograph, ed. ⅕
Not only was I surprised to see this famous figure of the rice label Uncle Ben, but I was even more surprised to understand why the artist reuse the logo in his piece. In the 19th and early 20th century, "Uncle" was a pejorative term used to describe a Black person who was subservient to white authority figures. In its earlier days, the packaging of Uncle Ben rice showed a Black man dressed as a servant wearing a bowtie. Today, a white collared shirt has replaced the bowtie, a minimalistically impractical editing in response to claims of implicit racism that, however, doesn't erase the "Uncle" and its derogatory past. Furthermore, changing the logo altogether will have shown the brand's efforts to break off its suspicious past.
In his piece, Hank Willis Thomas takes a satirical approach and reuses the 20th century, bowtie-wearing logo and puts it in a golden frame labeled "Chairman." Not only does Thomas empower the figure of "Uncle Ben" by reclaiming a logo born of racist motivation, but also he opens my eyes on advertising conventions that sometimes rely on the obliviousness of consumers and the nostalgic fantasies of some white Americans for an era where Black servants tended to their needs. He was able to bend the history of a brand and offer a conclusion to a character that lived among us for so long, but of whom we knew little. His approach is so smart, and offers a captivating result, but only when you see it.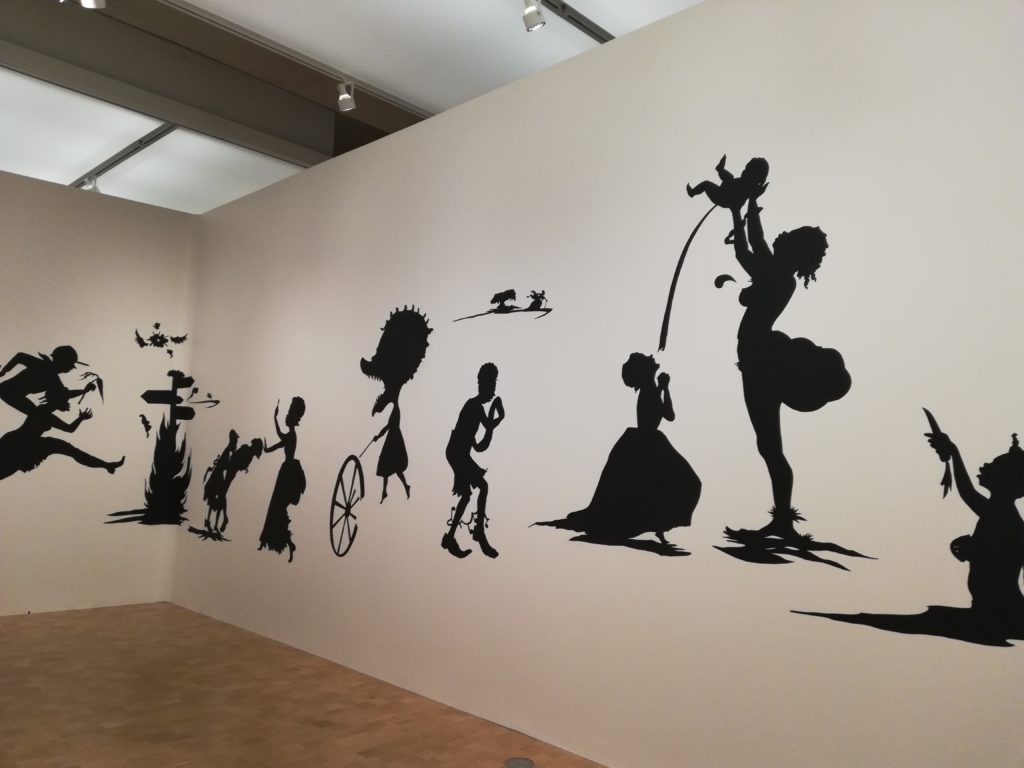 Kara Walker (b. 1969)
Camptown Ladies
1998
Paper
This life size installation features horrific cartoonish cutout images of black silhouettes pasted on a white wall. The stark yet simplistic contrast posed by the black and white mix aims at introducing the main theme behind the piece in an obvious way. For "Camptown Ladies," Kara Walker took inspiration from an old 19th century folk song titled "Camptown Races" by Stephen Foster (you probably know it from the famous "Doo-dah! Doo-dah" from Looney Tunes and various other cartoons), which is believed to have racist origins. Some believe the song was a minstrels song sung by American minstrels (an American form of racist entertainment developed in the early 19th century, where white individuals disguised themselves in blackface to mock Black people). Camptown Races mimicked Black speech with the intention of making the singer sound unsophisticated. "Camptown Ladies" invokes the toxic blend of fear and admiration mainstream America has for Black bodies and culture, blending narratives from the South at the time of slavery. "Camptown Ladies" is seemingly simplistic in its cartoonish style, but clever in its unseen complexity, just like the history it depicts.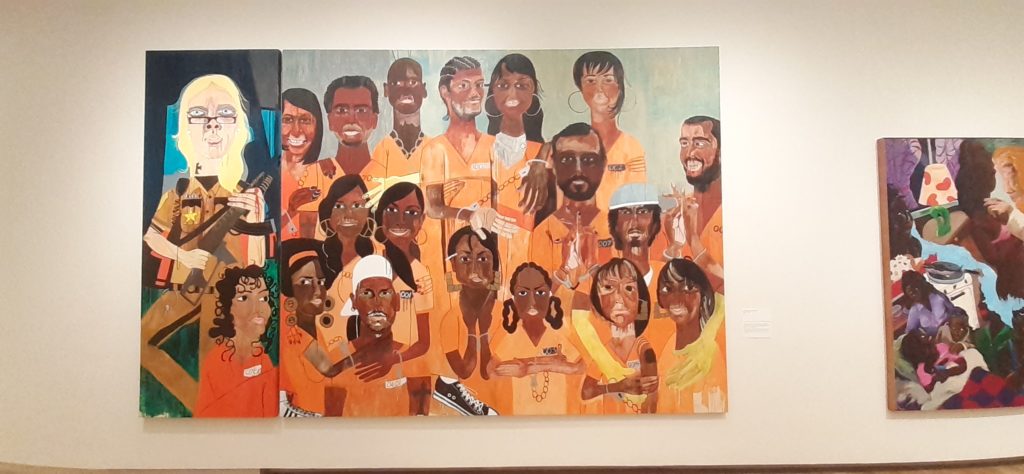 Nina Chanel Abney (b. 1982)
Class of 2007
2007
Acrylic on canvas
Racial inequalities affect most if not all sectors of the American society. Nina Chanel Abney takes a satirical approach, using a cartoonish style to address the issue. In this portrait, Nina depicts herself as a white prison guard holding a rifle, standing next to her all-white classmates who are portrayed as dark-skinned prisoners dressed in the infamous orange jumpsuits. This piece, created for her MFA at Parsons School of Design in New York, not only critiques the high number of Black individuals in the incarceration system, but also criticizes the aberrantly low number of African Americans in art schools. This is a very intelligent metaphor that speaks to the challenge of being an emerging artist of color in an art world largely disconnected from issues affecting contemporary African American life.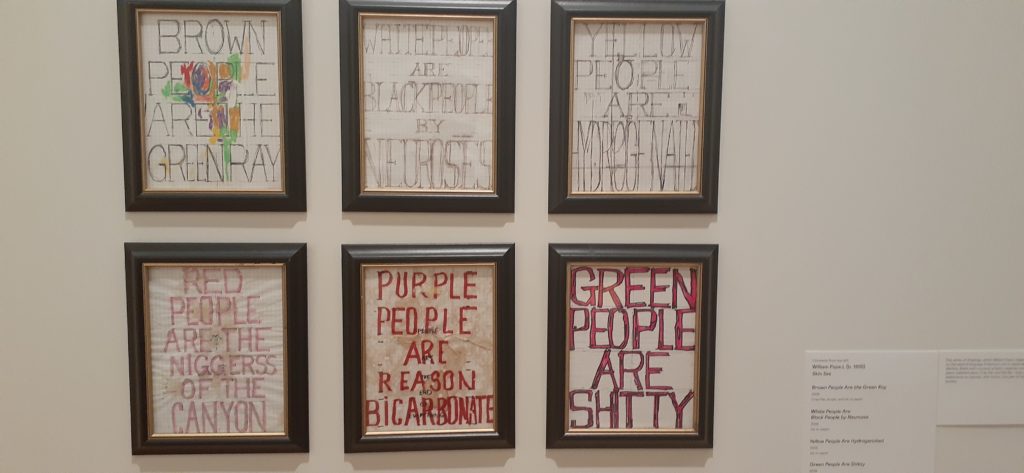 William Pope.L (b. 1955)
Skin Set
2008
Skin Set is a series of sketches and critical texts made by William Pope.L from 1997 to 2011. Made with humble materials like ink and paper but also surprising and unusual ones like coffee and hair, Pope.L aimed at presenting the ridiculousness associated with racist language, as well as language associated with categorizing and naming colors. "Brown People Are the Green Ray," White People Are Black People by Neuroses," and "Yellow People Are Hydrogenated" are among the humoristic texts that can be found on the caricatural series.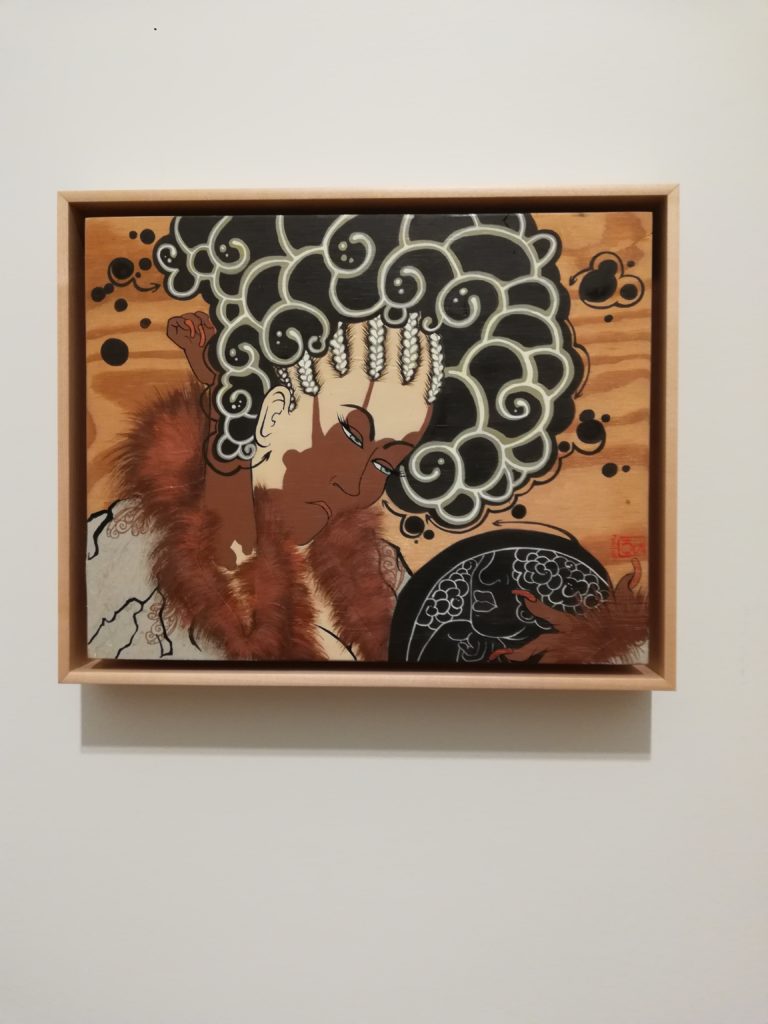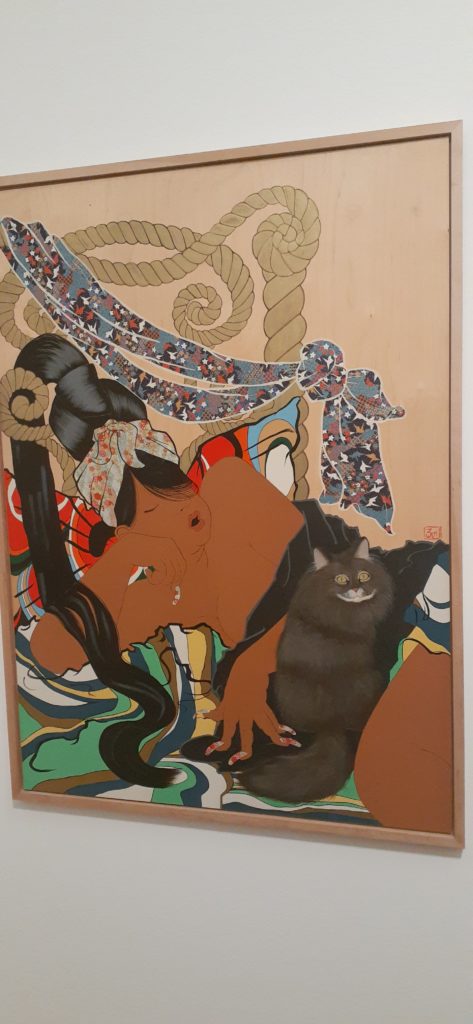 Rozeal (b. 1966)
Sacrifice #2: It Has to Last (after Yoshitoshi's Drowsy: the appearance of a harlot of the Meiji era")
Enamel, acrylic, and paper on panel
Untitled (after Kikugawa Eizan's "Furyu nana Komachi" [The Modern Seven Komashi])
Acrylic, and paper on panel, 2007
Consisting of two pieces, these originally diverse artworks that narrate a mix of cultural identities really stood out. In Japan in the 1990s, ganguro ("black face") was a fashion phenomenon that emerged among teens in the districts of Shibuya and Ikebukuro in rebellion to the traditional Japanese concept of beauty: pale skin, dark hair and neutral makeup tones. In contrast, youths aspiring to ganguro instead tanned their skin, bleached their hair and used a lot of colorful makeup in unusual ways. This is similar to hip-hop culture that arose in resistance to legal institutions' impact on minorities, and as Rozeal explains: "What's really interesting is being in another country and seeing how hip-hop is worn." How thrilling that blackface, which is considered a racist act in Euro-American countries, has been used in Japan as an act of subversion and empowerment. Rozeal's portrait significantly draws attention to the different ways identity and protest intertwine, and how familiar cultural symbols and taboos are transformed in different cultures.
For her artworks, Rozeal takes inspiration from the artistic style of traditional Japanese woodblock printing known as Ukiyo-e. She depicts nude pictures of dark-skinned women in sensual positions communicating pleasure, thereby contrasting the aesthetics of Japanese folklore and American hip-hop.
In "30 Americans," the various artists have managed to offer new narratives to what was and has been told, but in a fresh, original, and timelessly relevant fashion. They reuse what was once pejorative and transformed it into something positive and empowering. They opened our eyes to the underlying and more subtle bias, and challenged us think about the preposterousness of discrimination, last but not least, they invite us to think about our identities in a much broader sense.
The exhibition will be hosted at the Barnes Foundation till January 12, 2020. Tickets for students with school ID are $5.