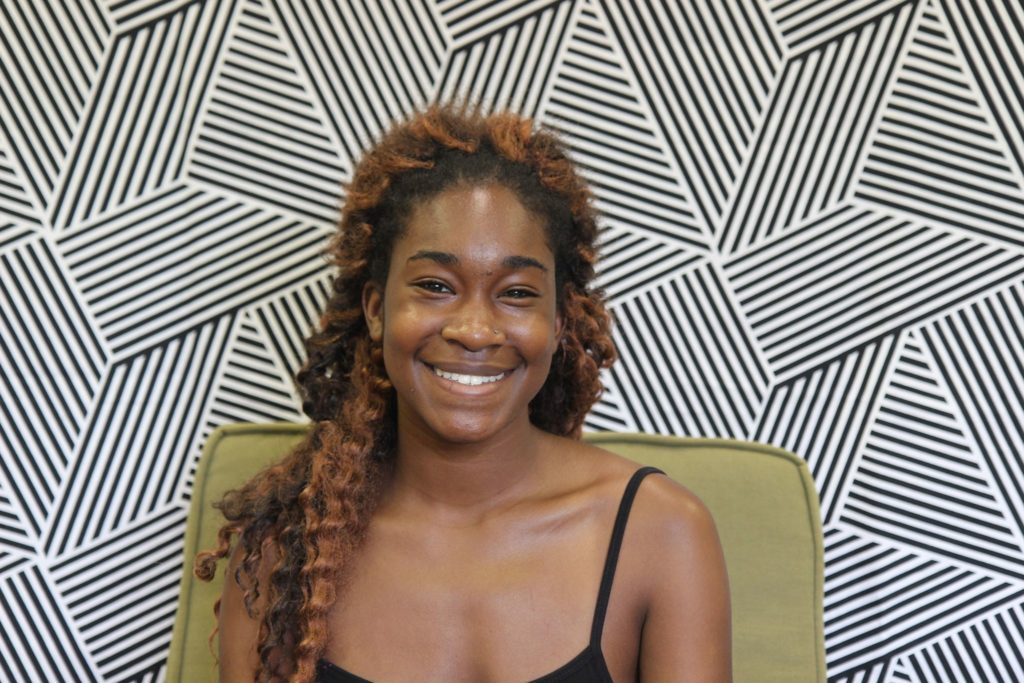 Bria Dinkins '21 is an anthropology major with a double minor in art history and film and media studies. She is treasurer of Rhythm N Motion, a tour guide, and a member of the women's cross country and track teams. Dinkins, in her experiences at the college, has found that Blackness can be powerful and excellent in many different forms and contexts.
For Dinkins, RnM has provided an inclusive space that highlights dance styles from the African diaspora which its founders thought were underrepresented at the college.
"Being a part of a group that is centering marginalized, underrepresented dancing is great and because of that most of the people in RnM are not white and [there are] a lot of Black people … and brown people," said Dinkins. "It's nice having an outlet that connects very specifically a thing I like to do — dance — with a larger mission about representation and having a voice."
As a tour guide on campus, Dinkins contends with her experiences in spaces like RnM and with being at a primarily white institution.
"I felt like as a tour guide, I have to grapple with [being at a school that's primarily white]," Dinkins said. "I feel like specifically as a Black woman who has been affected by Swat in not-so-positive ways and positive ways, it's definitely one of those things where I come to work and some days I feel great about it and some days it's hard."
Dinkins feels that representing the college and her own identity in this way is something she's been able to balance.
"I think that my position overall as a tour guide and as a Black woman on campus is one that's really delicate, because I have to balance these really disparate things. Between being an extension of the school as I was hired … but I also have a voice and have autonomy. So, I use that to be honest when people ask me about diversity and what's happening on campus" said Dinkins.
As Dinkins navigates the many spaces and commitments she has on campus, she notices that her Black identity changes.
"My identity as a Black woman definitely is not stagnant in those positions, it changes depending on what group I'm in or what activity I'm doing," Dinkins said.
While she recognizes that Blackness feels different in her different positions on campus, Dinkins doesn't think it's code-switching or deviation from her identity.
"In RnM, when there's multiple Black women and it's about dancing for the African diaspora, my blackness feels different than when I'm in the locker room, it feels different than when I was on the board of Swarthmore African-American Student Society … and it feels different when I am a tour guide," said Dinkins. "And I don't see it as any kind of code-switching or change in identity, but the truth is just the context makes me more aware of me being Black."
Dinkins also recognizes that while institutions like Swarthmore are difficult to reconcile with especially in terms of thinking about support for the Black community, she has hope that President Valerie Smith is doing her best to advocate for the Black community.
"I was reading Paul's [feature] the other day and I was thinking about the role of Val Smith and I honestly have a lot more empathy for her than a lot of people," said Dinkins. "I think because [she's] a Black woman at this institution, I don't know what the fuck she's doing, I don't know what she's had to go through to be here, and I don't know how she's advocating for us and I have hope and faith she is. I also know that institutions aren't run by their presidents; they're run by the board of managers and other people. She does have power but there's always something else going on behind the scenes. I have to believe that."
Black excellence to Dinkins is informed largely by her experiences before coming to the college.
"I think that personally I've had to struggle with identity a lot and I can't talk about Black excellence and being Black at Swarthmore without talking about my personal experiences outside of Swarthmore," Dinkins said.
Dinkins' self-conception of Blackness and Black excellence is not about compartmentalizing her different identities but dealing with them together and in relation to the spaces of which she is a part.
"I don't think I could talk about being Black without talking about being queer, and I don't think I can talk about being Black without being talking about being a woman," said Dinkins. "I don't think I can talk about being Black without talking about the very privileged position I'm in to not only go to this school, but to have parents that are both in education [who both went here and can send me here]."
Dinkins feels that Black excellence can be many different things depending on the individual and context while at its core can be something positive and uplifting.
"On the very essence of it, I think Black excellence is doing you, being powerful, and spreading really good energy," Dinkins said.
In Dinkins' experience, Black excellence portrayed on social media is often associated with educational and occupational success. Dinkins, however, found it difficult to relate to this particular depiction of Black excellence.
"I think I previously had a hard time feeling like I was ever going to be able to be described in that way because, one I feel like I don't really have a sense of what to do with my life and there's this sense of Black excellence being about seizing the opportunity and making mountains out of molehills … and I just don't feel like that. I think it's something to aspire to, but it's hard to think about, " said Dinkins.
For Dinkins, Black excellence is individualized and based on one's own experiences and internalizations.
"I think Black excellence is about self-definition and self-actualization," Dinkins said.
At Swarthmore, Dinkins enjoys seeing her peers demonstrate Black excellence both in and out of the classroom.
"I just see all these people doing amazing things … working hard, challenging Swarthmore, and in the classroom is actually brilliant," said Dinkins. "I'm really inspired to be in the academic and intellectual spaces with these people … and have an impact on the school and their community."
Coming to terms with her identity and relationship to Blackness is a continuing, layered process for Dinkins.
"I think I'm still trying to figure out what Black excellence is … but I also feel like that's okay and I really hope that I can keep doing me, figuring that out, and making it for myself," said Dinkins. "I've seen the ways that Black excellence has previously been essentialized to look like certain things and I know this from my family… I think we need to make sure Black excellence means a lot for different people and that it is achievable."
"I love the people here … The school's an institution, I don't know if you can love an institution, but I love the community here and I feel very strongly about that and so I want to protect it," said Dinkins. "Because I love it so much I need to change it in some and if I can't do it myself then I have to support the people who can."