In order to walk from Sharples to the Matchbox, students must pass through a tunnel underneath the train station. The gray, rippled "Duck Tunnel" is a bit of an eyesore at the day and turns spooky at night — something to walk past quickly. Two years ago, however, Oliver Steinglass '20 had the inspiration to turn the passageway into a work of art.
While the paint has faded now, the piece in its heyday was a dramatic display of the power of perspective. When looking straight on, the combination of masking tape and green paint appears to line up into perfectly even squares. Looking on a few steps to the right, however, reveals the visual illusion — the piece isn't divided into squares at all, but carefully calculated to appear so from a certain angle.

"My art focuses on iterating off a series of constraints," Steinglass commented. "All of the work is based on simple geometric shapes, circles and squares, which overlap, combine, and form more complicated shapes. I experiment with thickness of line, colored acrylic, and overall composition."

The bold geometric shapes at play are classic Steinglass motifs.

Much of the artwork we encounter is two-dimensional — photographs, drawings, paintings, etc — clearly defined to fit into rectangular frames. For Steinglass, art isn't limited to such strict boundaries.

"I also play with the shadows and colors that come from shining light on my objects, so much so that the shadows become their own drawings. I also explore space with some of the works which are more three-dimensional."
In filling up these dimensions, his creations function not just as art, but as artifacts, inventions, and architectural feats of their own.
"I've always really enjoyed making things," Steinglass remarked.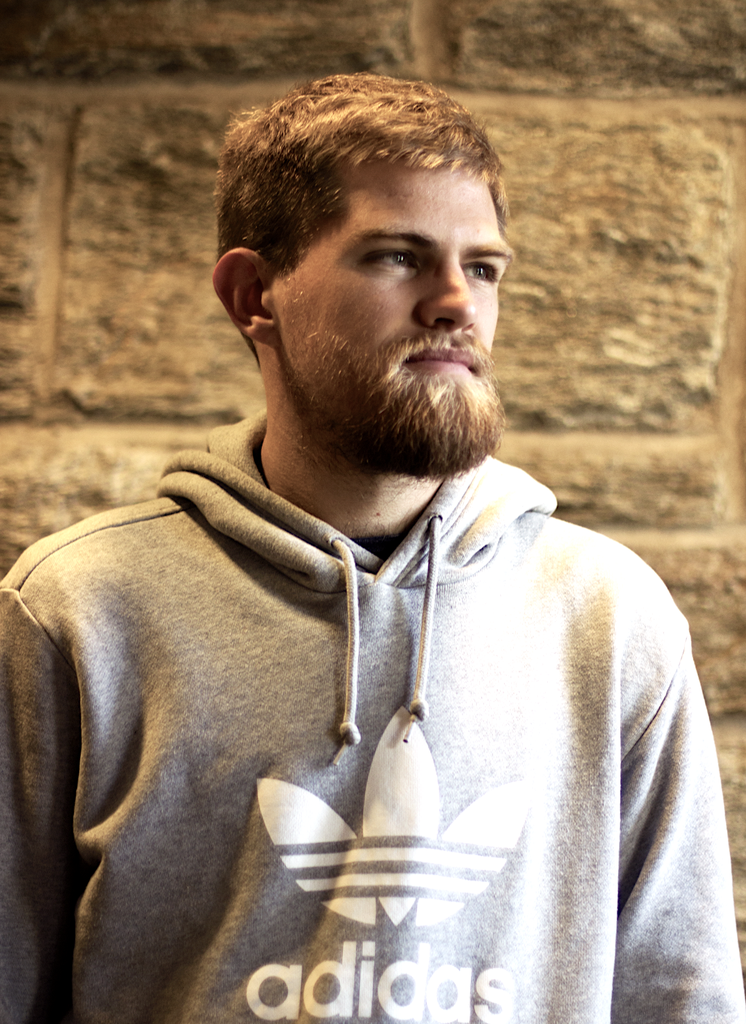 Steinglass has found ways of fulfilling this inventive drive at Swarthmore. Before college, he knew that he wanted to pursue art in some capacity, and decided to be an art major after taking some studio art classes his first year. Furthermore, Steinglass has worked in the Swarthmore Makerspace as a student technician for the last two years.

"Having access and gaining experience using the different technology available has definitely influenced my work," Steinglass said of his time in the Makerspace. "I've always been interested in the intersection between art and technology."
This past summer, Steinglass received a grant from Swarthmore to explore making art with laser cutters.

"I spent 10 weeks experimenting with different forms and iterations on the same simple geometric shapes. Some of the pieces were kinetic and incorporated motors and gears. My final piece featured a large gear system and four rotating layers. My recent sculptures have all been inspired by drawings and small sketches which explore similar themes of symmetry, form and movement. Lately I've been exploring scaling my sculptures up (most of them are less than a foot tall), and incorporating new materials such as wire, aluminum and rice paper."
Steinglass plans on continuing to pursue art after graduation through residencies, art shows, and potentially attending graduate school.

You can see more of Steinglass's work at @oliversteinglassart or https://www.oliversteinglass.com/. Images courtesy of Oliver Steinglass.