Do you ever walk past a photograph just to come back, read the description, and exclaim to yourself: "Oh my God, is this a drawing?!" Well, that was the reaction I had when I saw the work of Alexandra Malcombe '23 on Friday, Sept. 20. The First-Year Art Show is an exhibit hosted by the Kitao Gallery that unveils the artistic abilities of the freshman class. This year, seven artists from class of 2023 were able to pull a show which demonstrated their inquisitiveness, cleverness, craftsmanship, and versatility.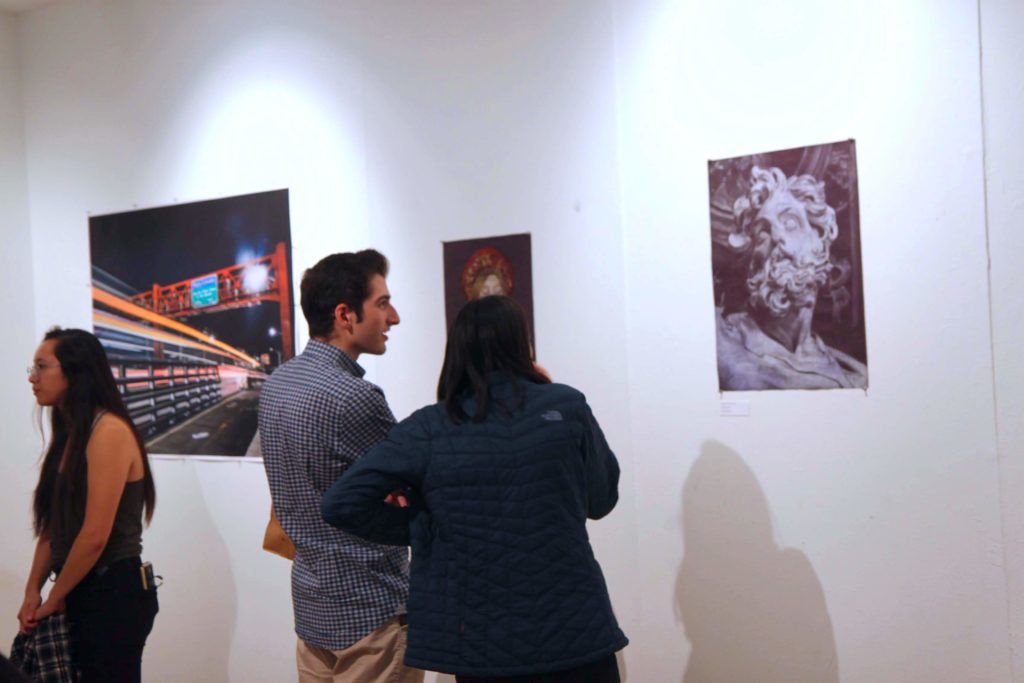 By isolating and highlighting shapes using white graphite on black paper through a process known as negative drawing, Malcombe is able to create a photo-realistic portrait of Saint Longinus — the Roman soldier who pierced the side of Jesus with a lance. Next to it is another of her drawing titled "The Lady." This time, using colour pencils, Malcombe again demonstrates her proficiency with shapes, light, and color. The drawing features a lady in white, wearing a red headdress and striking red lipstick. Her closed eyes and peaceful complexion exudes an air of serendipity.

Neil Steinglass '23 also uses color pencils, while Sophia Engels '23 uses graphite to produce beauty. These mediums inevitably bring me back to the art of our childhood, but these two artists' works are much more polished. In her piece, "Love is the Answer," Engels uses graphite to draw on watercolor paper, and creates this smooth and appreciative finish on her depiction of a man with glasses. Steinglass, on the other hand, opts for drawing paper to create a piece of striking beauty: using colour pencils, he accurately produces all the facial details of his titular subject "Nazia". The skin colour and the different way light and shadow falls on her features, the hair strands, the eyes and their contours…everything is just there to convince you of the realness of the smiling Pakistani lady. Next to "Nazia" is Steinglass' "Self Portrait #1," which depicts a hand with an  eye growing in the middle of its palm — an homage to the organs that help support his art.

Next in line is Ramiro A. Hernandez '23 and his piece "The Butterfly Paradox."  By using acrylic paint to depict butterfly wings on both sides of the canvas, and filling the space left between the two wings with a photo collage of black and white photographs, Hernandez mixes mediums to heighten his work and adds more meaning to it. The pictures are that of his twin sisters, which he described as being opposite versions of each other, despite people's expectations of similarity between them. But as time goes by, these people's original perceptions nevertheless "shed" away and evolve into a truer understanding of his sisters' characters — hence the Butterfly Paradox.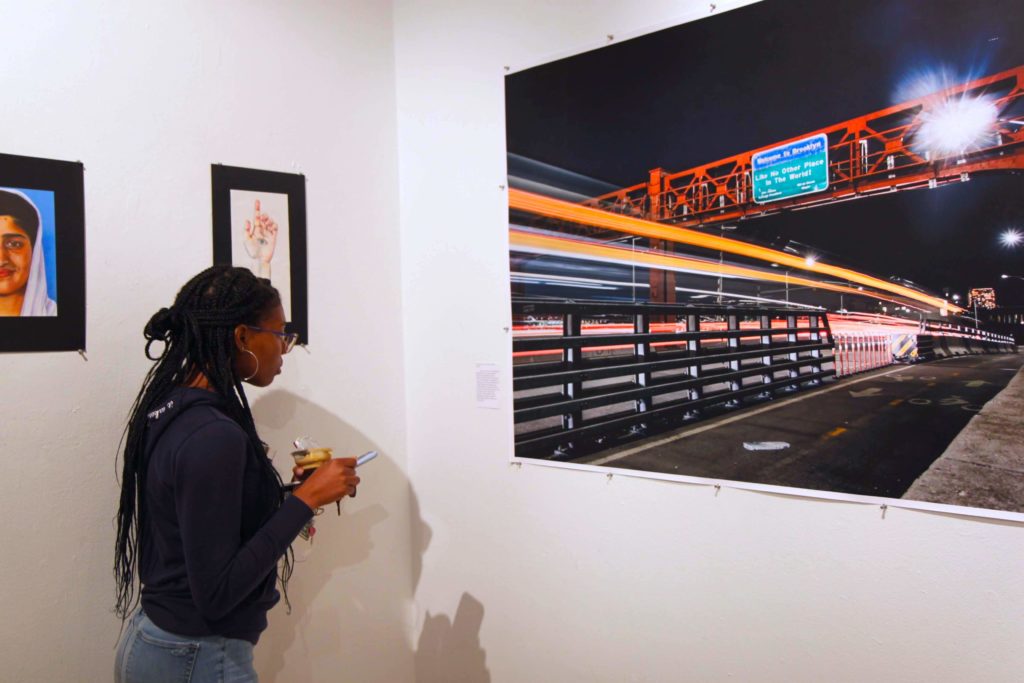 Rebecca Putman '23 sees more in less, as she transported us in time with her minimalistic, vintage-style black and white photographs. One, titled "Bunny Love"features a burly, bearded man holding two tiny bunnies in his hands. His proud smile and delicate way of holding the two creatures contrasts with his hulking physique. Another, titled "Feeding Time", presents a gentleman wearing a hat standing next to a horse, both of whom are looking down to pigeons on the street. Nothing more, nothing less, it is just an appreciation of the present moment. But Princeton J. Huang '23 probably thinks less is a bore as he experiments with perspectives and various techniques to faithfully represent the vibrancy (in the literal sense) of the world we live in. His works are an explosion of vivid colours. Whether it is the long exposure light trails at the Pulaski Bridge in Brooklyn, NY in "Life in the Fast Lane", or psychedelic effect produced by the reflection of light on Christmas balls, his works are boisterously eye-catching.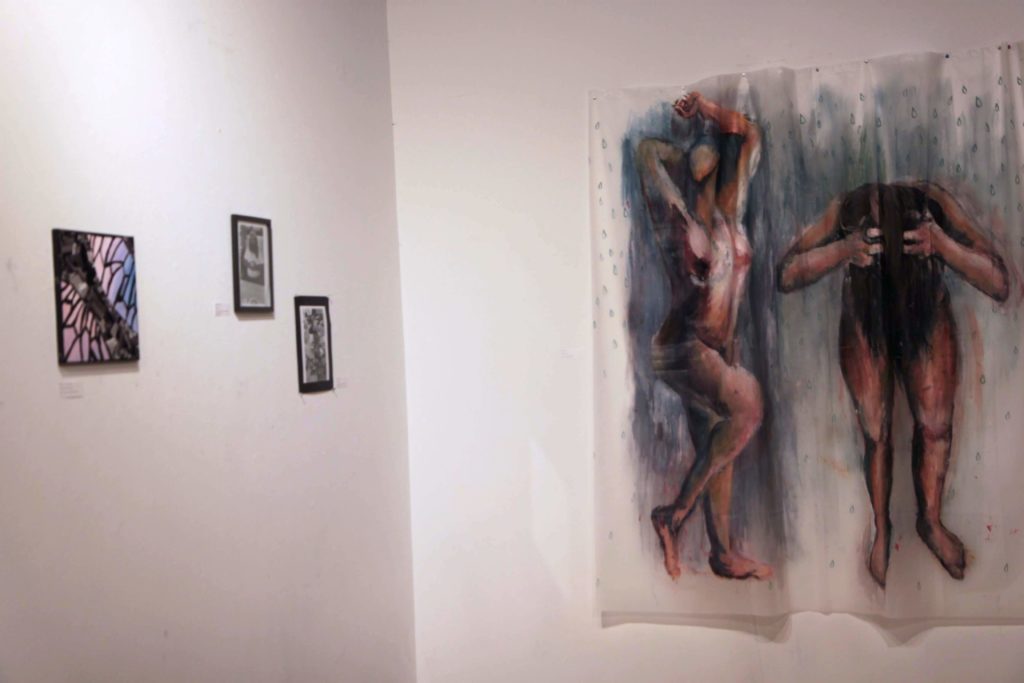 Finally, Sara Yun '23 brings experimentation to the next level in this exhibit by painting on a shower curtain. "Body Peel" is an acrylic and oil painting that features two girls taking a shower. In her artist statement, she explains she was interested in painting the human body. Therefore, the choice of a curtain as a medium was not a random one, but a conscious one, as the material ties well with the concept of privacy and intimacy. 

Not only did these seven talented artists demonstrate a deep curiosity of their worlds , but they also show a mastery of their craft. Their abilities were already great, but they were able to make something even greater by making it meaningful. They reminded me of the reason why I fell for arts — the ability to tell a story or to show your perspective visually in the most abstract of manners — and that, I stan.
All images used in this article are provided by the Kitao Gallery Board