As we zoom into December and temperatures drop, it is time to transition to a winter wardrobe. As a Southern Californian and someone who never lived anywhere below 60 degrees, I realized that I knew little about winter fashion. What is clear: the key article of clothing is a coat. After interviewing Swarthmore's winter veterans, including friends in great frocks as well as students whose style I admire, I feel informed on coats in a way I never had.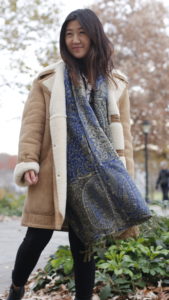 To Gloria Kim '19, the perfect winter coat is "cozy, warm, cute, and presentable," which sums up why I am attracted to her style, as she looks dressy while remaining comfortable. She has been sporting a beautiful caramel-tan leather coat with a cream wool inside. The nude-tan color of the coat is versatile, allowing it to be worn with almost anything and making her coat both a statement and an everyday piece. In addition, even though coats are generally toppers to any outfit, Kim's coat makes each outfit feel complete instead of something she just tossed on to keep warm.  
Kim says she enjoys dressing up because it allows her to feel ready for class with "mind and body."  She cites her fashion icons as Jenna Lyons, former creative director of J. Crew (now launching her own lifestyle brand), Environmental Economics Professor Jen Peck, and her mother.  In Kim's style, you can see the influence of J. Crew's dressy, business-inspired, yet trendy and relaxed fashion vision and her coat totally fits this profile.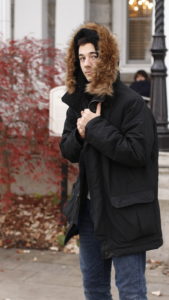 One of the most popular coats is the mid-length puffy jacket, which is like a contemporary trench coat.  It keeps the wearer's body both dry and toasty. This is a great length for mid-Atlantic winters because it does not swallow you up like a sleeping bag or swaddle you like a baby blanket.  These coats are versatile and can be worn with denim and sneakers or velvet and heals.Both Tori Knox '21 and Kai Petkov '22 have been wearing mid-length puffy jackets with fur-lined hoods.  Hoods are great accessories because they keep the head warm and dry which keeps heat in the body.  Further shout outs for hoods: they do wonders on bad hair days and can't be easily lost, like a beanie. Fur trim gives coats a soft, warm accent.
Petkov and Knox's coats differ in color. Petkov's is a traditional black which he likes since it's easy to pair with any outfit. His look is cool and sophisticated. Knox's is an army green. She is still able to pair it with any outfit, showing that bolder colors can be fabulous in winter. Knox makes distinct colors fit together naturally – which is something I struggle with in my personal style. A bright coat against the bleak winter landscape is a great statement. Knox draws fashion inspiration from movies, TV shows, catalogues, and Instagram, showing that you can gather inspiration anywhere. Currently, she is following Yara Shahidi and Zendaya on Instagram.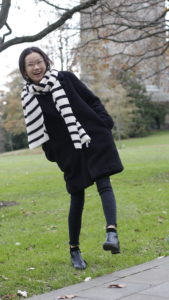 In class, it is nice to feel as if you are wrapped in a cozy blanket. The teddy coat, which has been trending on campus and in stores this season, is perfect for this. Li Dong '22's go-to coat has been a black trench coat-style teddy coat from Uniqlo. I admire Dong's ability to look put together for class whether she is wearing a fancy blouse and trousers or sweatshirt and jeans.  No matter the outfit, Dong sports her teddy coat on top. She explains, "I never feel like I have to take it off because I'm wearing something better underneath." While most teddy coats have an oversized look, Dong's has a fitted silhouette with a collar. Dong decided to get the coat in black because it felt sleeker and would not show dirt. Although the coat was a perfect weight for the fall, Dong now layers. A thin down coat underneath provides additional warmth without changing the coat's clean lines.  Dong often turns to the Olsen twins for style inspiration: "They wear a lot of oversized things that have a very flattering silhouette even though it does not hug their frame." To Dong, being cozy in the winter months is most important.
While it is great to have versatile coats, sometimes a sentimental statement piece is necessary.  Daisy Lee '22 wears a vintage Navy coat, which used to belong to her Professor Randall Exon, head of the Studio Art department.  The coat is full-length, navy blue wool with real metal buttons. The wool makes it heavy and warm as well as waterproof, making it ideal for rain and snow. Lee adores this coat because of its durability – it feels bullet proof.  She says, "I could wear that thing in a blizzard and come out unscathed." A large part of the coat's appeal to Lee is its sentimental value, she describes that receiving this coat is "like a surrogate uncle lending me his hand-me-downs." While the coat is a fantastic statement piece and great to layer under because of its size, it is hard to dress with because it is so large. Lee expects to wear it with a black hoodie, jeans, and sneakers.
Before buying new winter coats, however, please consider the energy and expense that goes into fashion production.  Embracing the pre-worn coat, this California Girl will be nabbing her mother's old, hip length, black Patagonia coat and hunting through her grandmothers' closets over the winter break. You may also stumble on the perfect winter coat at Worthmore or the upcoming Students for Zero Waste clothing swap.
Images courtesy of Atziri Marquez for The Phoenix