Editor's note: This article was initially published in The Daily Gazette, Swarthmore's online, daily newspaper founded in Fall 1996. As of Fall 2018, the DG has merged with The Phoenix. See the about page to read more about the DG.
WrestleMania. In the realm of professional wrestling, that term means everything. WrestleMania is the one time of year the world pauses, and rests the spotlight right on the squared circle. It's the grandest, biggest stage of all, where every storyline, rivalry and championship pursuit come to a head. But even beyond that, 'Mania is the place where legends are born. Hulk Hogan, Bret Hart, Steve Austin, Shawn Michaels—some of wrestling's top icons—were all immortalized for their feats at WrestleMania, as were moments like the Undertaker's streak and Ric Flair's last stand. It's the place where performers go from entertainers to heroes, and where matches go from ordinary tangle-ups to titanic clashes between good and evil. If you'd like to tune in to this year's WrestleMania (34, from New Orleans), here are some of the top stories heading into the Showcase of Immortals.
The GOAT is Back.
Daniel Bryan.
The Goat-Man. The scrappy NXT rookie from Washington. The World's Strongest Vegan. No matter which nickname you use for him, one word sums up Daniel Bryan—"legend."
He was the Magic Johnson of wrestling. An indie wrestling darling that joined WWE in the early 2000s, Bryan gradually worked his way to the top, riding both comedic and compelling storylines to grow a massive fan base. He was the stubborn, unrelenting underdog that never knew when to quit, and the crowd easily got behind someone who was just like them. Getting cheers rivaling those of Hulk Hogan, the Rock and Steve Austin (probably the most popular wrestlers of all time), he capped off his meteoric rise at WrestleMania 30, where he took part in not one, but two matches. After knocking off corporate figurehead Triple H, Bryan earned a spot at that 'Mania's main event, facing off against company-groomed top stars Batista and Randy Orton for the undisputed WWE World Championship. Despite the best efforts of Batista and Orton, and a pre-match beatdown by a seething Triple H, Bryan refused to fail, and blew the roof off the house when he defeated both to capture the undisputed championship. Standing tall over the Authority (the corporate stable featuring Orton, Triple H and Bryan's former partner Kane), undisputed title in hand, Bryan was on top of the world, positioned to be the company's leader for years to come. But the injury bug hit Bryan hard, with a neck injury forcing him to relinquish the WWE World Championship in 2014, and concussion-related issues forcing him to surrender the WWE Intercontinental Championship soon after winning it in 2015. With the injuries piling up, and his future in WWE looking bleak, Bryan shocked the world by announcing his retirement in February 2016, stepping away from the ring for good.
Now, he's back.
On March 20th, WWE announced that Daniel Bryan had finally been cleared to return to the ring, an announcement that shook the wrestling community to the core. The injury-sidelined hero had made his triumphant return, and the fans were more than ready to welcome him back. They showed as much on that night's edition of WWE SmackDown Live, when Bryan received thunderous cheers on his way to the ring. But the return appeared to be short-lived, as disgruntled superstars Kevin Owens and Sami Zayn ambushed Bryan during his segment, ending with a brutal powerbomb on the ring apron. After such a long hiatus, is Bryan still ready to compete at the top level, especially after Zayn and Owens' heinous attack?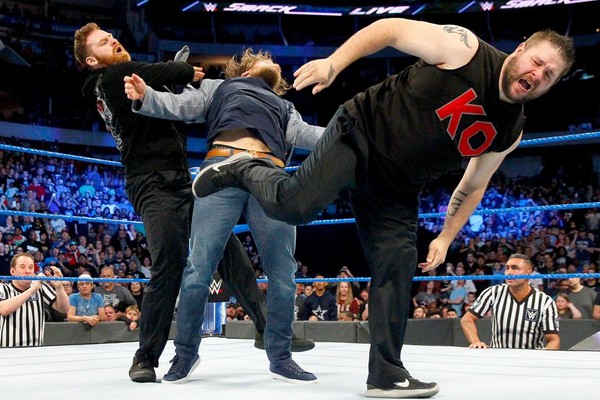 A Hero's Fall From Grace
For years, John Cena was wrestling's equivalent of Superman. Everyone knows his catchphrases: Hustle, Loyalty, Respect. Never Give Up. Cena didn't just advertise the gimmick, though—he lived it. No matter who the opponents, the leader of the Cenation refused to ever back down. Sometimes he lost his fights—against Brock Lesnar in 2014, for instance, where he barely managed to get in any shots before getting steamrolled. But he never gave up, or lost his drive for success. He became a role model and idol for kids: an upbeat, unyielding fighter who never relented and inevitably triumphs. In the ring, that translated into incredible championship successes (including a record-tying 16 world championships, 5 United States championships, and 4 tag team championships, among others). Outside the ring, it meant taking part in countless charity events, including over six hundred Make-A-Wish wishes granted. Patriotic, optimistic, charitable and talented—in terms of a real-life superhero, John Cena was as close as it gets.
So people were understandably puzzled when, recently, Cena started acting more, well, selfish. After getting eliminated from the Royal Rumble, Cena started trying to maneuver his way into a spot at WrestleMania, throwing around his weight as a top star to secure a match at the Show of Shows. Using his status, Cena slotted himself into a match for the right to face Brock Lesnar at 'Mania; when that didn't work out, he jammed himself into another six-person match for the WWE Championship. After falling short once again, John started pursuing the one opponent he had formerly claimed couldn't and shouldn't face—the Undertaker. After two straight major losses, the self-proclaimed Franchise Player spurned the modesty and humility he had preached for so long, daring the Undertaker to come out and face him. Challenging, belittling and insulting the Deadman, Cena looked nothing like his old self. Instead of the confident icon, he's more like a self-deluded man trying to fight Father Time; his challenge, a desperate attempt to turn back the clock before fading into obscurity.
Undertaker's response—doing absolutely nothing, no matter what barbs Cena throws at him—summarizes the conflict perfectly: a falling star in denial, trying to provoke a legend of yesteryear for one last big fight. Will Cena end up getting his big fight? Or will the in-ring life of WWE's fallen Superman sputter and die with a whimper?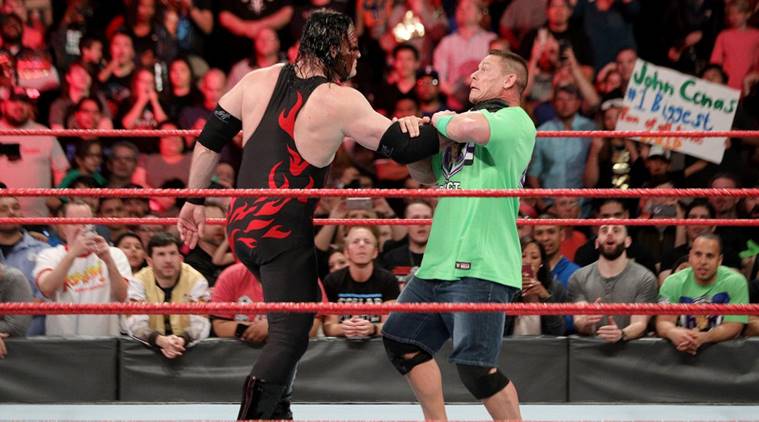 A Monster walks into a Bar.
We've all had those times—playing a video game, getting bored of playing it fair, and either grinding through lower levels tirelessly or tinkering with the game's settings. Regardless, the end result is the same—becoming ridiculously OP ("overpowered," too powerful), so that the rest of the game is more or less a breeze. Unfortunately, there isn't a way to sweep aside everything as easily in real life, destroying everything in your way—that is, unless you're Braun Strowman.
Strowman's the reality equivalent of a video game character whose strength stat, speed stat, athleticism stat, and, well, everything stats are MAXED OUT. No matter how strong, revered, or cunning an opponent might be, one massive powerslam from the so-called Monster Among Men is usually all that's needed to put an opponent away, generally in under a minute or so. Getting thrown into a trash compactor, crushed in the back of an ambulance (in real life)—he's survived it all, and come back even stronger to obliterate his opponents. He's the character that would leave you screaming "BULLSHIT!" in a game and throwing the controller across the room—except he's real, and it is his victims on the mat who are wondering how in the world someone could be so ridiculously OP.
Even the strongest of competitors in the WWE normally can't handle two or more opponents at the same time. Strowman, however, shattered that mold two weeks ago, when he took part in a battle royal to determine who would face the tag team champions The Bar (Sheamus and Cesaro) at WrestleMania. With 5 other tag teams in the ring, Strowman still prevailed, outmuscling everyone else to chuck them over the top rope—and made it look easy. With the unexpected win, Strowman became the number one contender to the tag championships—by himself. The Bar isn't a shabby tag team itself—Sheamus and Cesaro, put together after feuding with one another for months, have become the premier tag team on WWE's RAW brand, expert at both brawling and technical wrestling. But for Strowman (and whoever he decides to choose as his partner come WrestleMania), it's not a question of if he can reach, or even overcome the bar. It's more of how much he'll obliterate his opponents, and how ridiculous it'll be.
A Beast Faces An Empire.
Brock Lesnar.
If you follow UFC, wrestling, or know about the Undertaker's streak, you probably know all about Brock Lesnar. If you don't know who Brock is, here's a quick visualization. Imagine a block of pure muscle. Then add other blocks of identical pure muscle, and put it together so it looks roughly half-human, half-tank. Then trim the rest of the non-existent fat from the block, and make it even more muscle-y somehow. Now give it in-depth MMA and football skills. Double that, and you'll have approximately what Brock Lesnar is. The (as his advocate, Paul Heyman, announces him to be) reigning, fighting, undisputed, Beast Incarnate, current Universal Champion is about as close as one can get to a final boss in wrestling. He's beaten them all—the Undertaker, John Cena, Hulk Hogan, The Rock, and so forth—the list of people Brock Lesnar has obliterated would make a lengthy "who's who" of wrestling greats. Even Goldberg, the '90s version of Brock Lesnar with white hair and a goatee, only managed to stun the Beast before Lesnar defeated him as well at WrestleMania 33. Unfortunately, he doesn't seem to be too attached to WWE long-term, and his sparse title defenses have made him rather disliked to the population. Only one person in recent memory has appeared like a believable challenger to Brock, though, and his name is…
Roman Reigns. His official nicknames, as per WWE, are The Big Dog, and the leader of the "Roman Empire." But if you paid more attention to the crowd rather than the announcers, you might have mistaken Roman's moniker for a more unpopular version of Lesnar's—the Boos Incarnate. Especially after defeating the Undertaker once again at WrestleMania 33, Roman has been one of the least popular stars in wrestling history. (Don't believe me? Check his segment on the night following WrestleMania, when the crowd reaction to his simply being in the ring was borderline riotous.)
Roman's unpopularity is a case of someone being pushed (i.e. slated to win and succeed) too hard at the wrong time. Most notably, in the 2015 Royal Rumble (a match where wrestlers try to throw each other over the top rope), fans were cheering for Daniel Bryan, who had just returned from neck surgery at that point, to win it all and challenge Brock at 'Mania. So when Bryan was unceremoniously eliminated less than halfway through, and Roman was made to look unbeatable en route to a win, fans rejected him. Defeating Bryan at Fastlane (the pay-per-view preceding WrestleMania) didn't do him any favors, and when the company decided to continue pushing him as the champion and top star anyway, fans went from begrudged acceptance to abject disapproval. Of course, that didn't stop WWE from continuing to push him—making him WWE champion, headlining three consecutive WrestleManias (possibly a fourth), and slotting him to win over everyone, even Braun Strowman. In the most heinous case, at the Elimination Chamber event a few weeks ago, after Strowman had eliminated all five other competitors, Roman simply hit him twice with the Spear (his finishing move) and pinned him to win the match. So when WrestleMania rolls around, the crowd's support might not be for the fighter they truly want to win, but the one they just hate less.
With a card as stacked as WrestleMania's, it wouldn't be possible to give every match the attention and time each deserves (without making it an unsightly mess). So, with several weeks to go until the Showcase of Immortals, I've broken down the event into thirds, with Parts II and III coming over the following weeks. For now, though, I hope your interest has been piqued, hopefully enough to learn about the rest of the card, but at the very least to check out WrestleMania in a few weeks.
One last thing – welcome to 'Mania season.
Featured Image courtesy of sportingnews.com