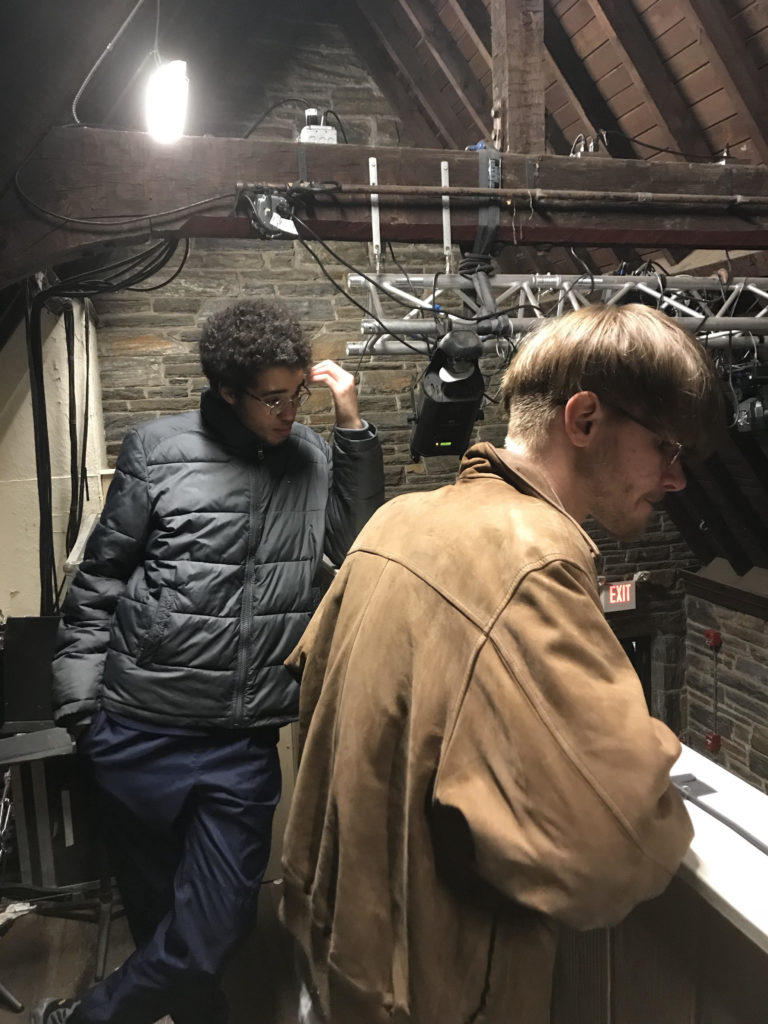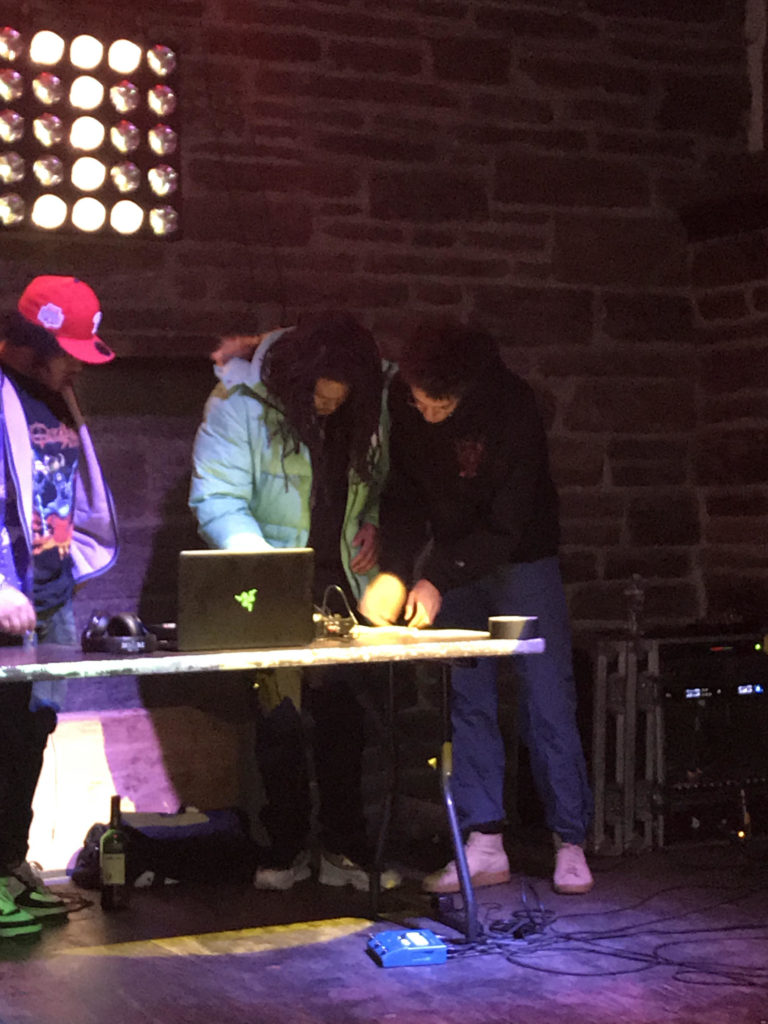 Olde Club is a popular student space for dancing and for watching musical performances, often at the same time. Nov. 17th, a Friday night, was no exception, when music collective Working on Dying and artist The Khan came to perform. The performance marked a semester of performances by artists brought to campus by the students managing Olde Club this semester, Julian Turner '18 and Gabriel Meyer-Lee '19. Turner and Meyer-Lee are both music aficionados and have closely followed hip-hop music by independent artists for years, gaining a significant knowledge of the scene. Both have been big fans of Working on Dying and The Khan for about two years, and Turner has seen Working on Dying perform in Philadelphia.
Working on Dying is a production collective of musicians and producers from North Philly. The composition is not fixed, but their signature is a sample of a woman eerily saying "I'm working on dying" that appears at the beginning of many of the songs they make or collaborate with others to produce. Working on Dying members Lil Zubin, F1lthy Forza, F1LTHY., OOGIEMANE, The Loosie Man, and Dizzy Santana all preformed at the Olde Club show.
The Khan, whose SoundCloud profile states that he is from 14th & Wild, Washington D.C., had worked with Working on Dying before. The Khan's track "VICES" featured Lil Tracy and was produced by OOGIEMANE.
Both Working on Dying and The Khan make music that can be classified as underground hip-hop. Underground hip-hop artists typically are not signed to labels, publish their music on platforms like SoundCloud, and perform at small but hip venues like Olde Club. Their lyrics, music, and personal style are usually innovative and outside the mainstream, though many underground artists have gone on to become some of the most prominent musicians in the country. Artists Aesop Rock and Homeboy Sandman both started out in the underground rap scene before achieving wider prominence. Like all musicians these days, underground hip-hop artists promote themselves on social media, especially Twitter. It was over the latter platform that Turner found out how to contact The Khan and Working on Dying.
"The Khan's manager's email was in his twitter bio. For Working on Dying, I just had to [direct message] F1LTHY," said Turner.
Working on Dying travels to Los Angeles frequently, which Turner said is a major hub for up and coming hip-hop artists.
"They go out there a lot to meet with record labels or just to play shows. L.A. has a huge population that just consumes this underground hip-hop music and has the infrastructure to support it," said Turner.
No Jumper, an LA-area DJ, who regularly does long-form interviews with underground hip-hop artists ,had Working on Dying on his show a year ago. While L.A. is a major part of the underground hip-hop scene, Turner pointed out that both Working on Dying and the Khan have continued to live and work in their respective hometowns.
"They still stay here in Philadelphia; they haven't moved to L.A.. I think it speaks to what is going on in Philadelphia and its cool of Working on Dying that they want to help build the scene up and represent their city that way," said Turner.
Turner and Meyer-Lee have been to several Working on Dying performances in Philadelphia, and they noted the unique atmosphere of the shows.
"It's a really great environment. The crowd was always young, super energetic , but also really very positive and inclusive," said Meyer-Lee.
Meyer-Lee thought the show was a great way to bring local artists to the attention of college students. He added that Working on Dying and the Khan had an appeal to Swarthmore students not just because of their music but their overall style too.
"With this show we wanted to bring Swarthmore and this underground philly rap scene together. We thought this was a good idea because of Swarthmore students ability to fully commit to something, fully embrace something especially if it's unusual or different or strange, and just really get into it," said Meyer-Lee.
Turner gave a specific example of Swarthmore students embracing something they were not familiar with.
"Boozy [Mohammad Boozarjomehri '19] was there, and he was just entirely embracing it, turning up to the sound," said Turner.
Turner and Meyer-Lee showed up at Olde Club at around 7:30 p.m. to set up. After preparing the Olde Club green room for that night's performers and setting up, they went to Wharton to hang out before the show. In addition to booking the artists, Turner and Meyer-Lee have to coordinate with them the night of the performance. The Khan's only request for the green room was a "Philly Cheesesteak with all the works." Meyer-Lee and Turner had to get the Khan to sign some paperwork the day of the performance, but they noted that that had happened before with other artists. They also had to call all the performers ubers after the show.
When asked how he stays on top of the dynamic underground hip-hop scene, Turner describe it as being like exercise, but with a lot of social media involved instead of gym equipment.
"It's definitely a muscle that develops over time. You have to be excited about the music.
If you go one my Twitter or Instagram, it's honestly just a lot of rappers and they're always posting music. I also follow a handful of people on SoundCloud and
my feed on there is actually pretty fire and that's pretty much curated for me," said Turner.
Turner also said his interest in DJing leads him to find new music.
"I like DJing and making a mix … putting together tracks I like in a way I find pleasing. I listen to a lot of other DJs and find good tracks from that as well."
The tight-knit nature of the artistic community that Working on Dying and the Khan inhabit was exhibited in a sad but poignant  way at the show.  Both members of Working on Dying and the Khan had known the rapper Lil Peep, who had tragically passed away just a couple of days before the show. Turner and Meyer-Lee were both aware of Lil Peep's death but did not know how well the Khan and Working on Dying had known the artist. The Khan talked about his grief over Lil Peep's death during the performance but also noted his excitement to perform. The show was supposed to end at 1:00 a.m., but the music did not finish playing until around 1:30 a.m..
Swarthmore students probably have not heard the last from The Khan and Working on Dying, even if they never come back to Swat.
"Probably a year from now they're going to be producing hit songs  They already have worked with big artists … it just has not come out yet," said Turner.