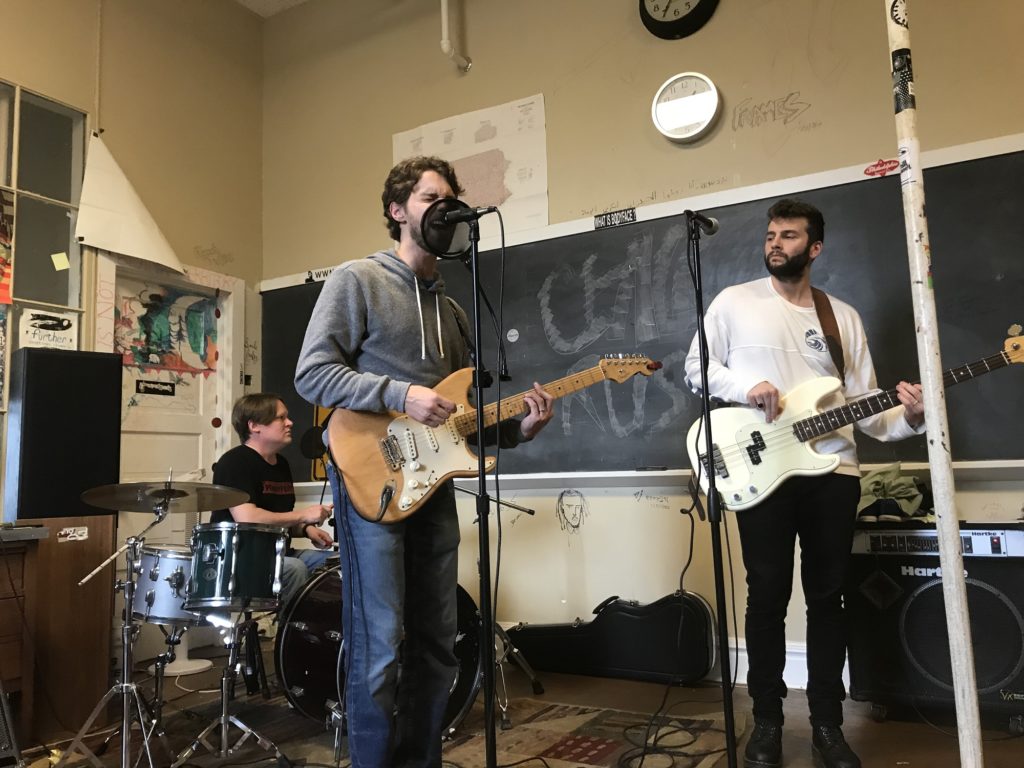 On the morning of Sunday Oct. 15th, the alternative rock band Chill Russell stopped by WSRN studios to perform a set that included their latest tracks and to chat with Swarthmore students. Chill Russell formed in Austin, Texas in 2015. They came to Swarthmore on the final leg of a two week tour across the U.S., playing WSRN after performing several times in New York City.
Chase Matkin plays guitar and is the band's lead singer, Daniel Ducloux strokes the bass, and tousled-headed Patrick Barrow bangs on the drums.
A fan of Chill Russell at Swarthmore who is also involved with WSRN saw that the band would be in the area on Oct. 15th and invited them to perform at WSRN. They agreed, and they arrived at our leafy campus with the foggy Sunday morning. A gaggle of students came to watch Chill Russell preform. The band was conversational before, during and after performing their set.
Each member of the band became interested in music at an early age and they all have already performed and worked as a musicians for several years, in addition to holding down day jobs like working in a record store and working for Apple.
Matkin started playing guitar fifteen years ago and started playing on electric rather than acoustic  guitar. 1960s psychedelic rock was a major influence on Matkin's musical tastes, as it continues to influence the band's sound. Matkin mentioned specifically Jimi Hendrix, Led Zepplin, and the Beatles. After deciding to become a musician when he was 18, Matkin preformed in his hometown of Dallas for a couple of years before moving to Austin and forming the band. The city vibrant musical scene drew all the band members to the town.
"If you grow up anywhere in Texas, then you know Austin the place to go to start a music career," Matkin said during his performance at WSRN.
While Matkin admitted to admiring the great psychedelic rock musicians of the 1960s, he noted that in a dynamic music scene like the one in Austin, people were looking for innovation more than imitation from new musical groups.
"At the end of the day, people wanna see some originality," Matkin noted.
Asked by several Swarthmore students for advice about becoming professional musicians, the band's lead singer advised elbow grease.
"Prepare to work harder than any job you ever imagined. It's really about putting in the work, love what you do, and dedicate yourself to it," said Matkin.
Daniel Ducloux, the band's swarthy-haired bassist and newest member, mentioned working as a Session player for country music bands in Texas as a way he trained to be a professional musician.
"For me I would like to have more of the encouragement 'don't worry about what the radio wants to hear, just try to make it' ," said Ducloux
Reflecting on their tour, the band believed it had brought them closer together.
"We just spend a few nights in New York City, and we three shared a double bed. The only way we could all fit was if we layed on our sides. But what are you gonna do pay $300 a night for a hotel room and fit three guys in a bed?," said Matkin.
"You kinda hate the way the person breathes but you gotta embrace it," added Bratton
"Literally!", interjected director of WSRN Tobin Feldman-Fitzthum, '19.
OVRLD, a prominent music blog in Austin, referred to the band's sound as having a "laid-back beach flare with a side of psychedelics, as if Brian Wilson himself had taken Pet Sounds and added some mescaline for a very chilled beach side hang."
Personally, my favorite song the band preformed was "Know What I Need." Matkin's voice and his lyrics give a sense of a downtrodden young man who's had his heart broken, is hurt, but is resolved to move on even as he confronts his former lover. The guitar, bass, and drums beep and pop and they makes me want to bounce and dance. Matkin wrote the song after a take-out food order got his order wrong.
Chill Russell's new seven-inch vinyl will be released on Friday, with two new songs, "Know What I Need" and "Answers," both of which they preformed at WSRN. They will begin work on their debut full length later this year.