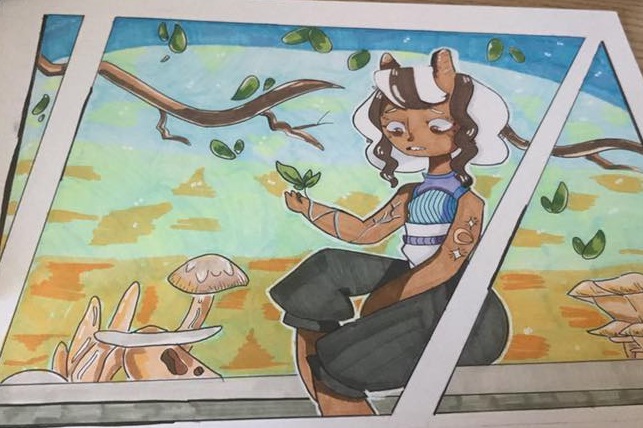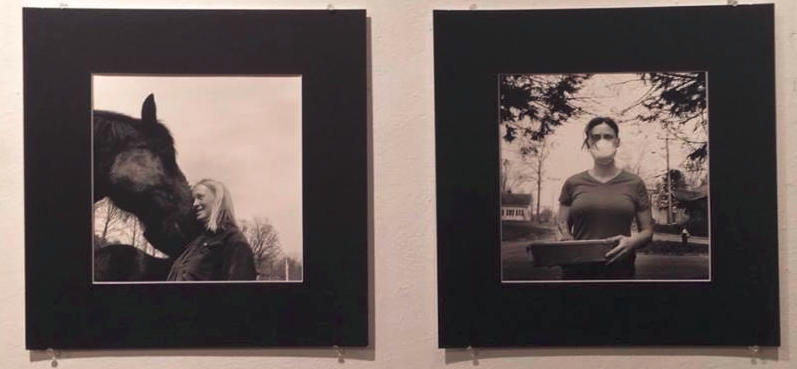 Freshman cannot live in Worth, cannot be Residential Assistants, and they cannot even declare their majors. However, last Friday's show at Kitao proved that they can be artists, and quite good ones at that. Kitao, Swarthmore's student run arts space, held their first ever first year student showcase.
Maral Gaeeni '18, an Art History major one of the students organizing Kitao this year, said the idea for the first-year student showcase came from a brainstorming session about how create more opportunities for first years to engage with arts scene on campus. The showcase was announced in a mass email to the class of 2021 and featured the work of seven first year students, some of whom are already involved with organizing Kitao.
Gaeeni said that the show was a success and that the enthusiastic response of artists from the new class bodes well for the future of the Swarthmore arts community. Gaeeni noted that that the artwork reflected experiences students had before coming to Swarthmore.
"A lot of the pieces reflected the lives and experiences students had before coming to  Swarthmore. We got to see the things and friends people left behind when they came here," she said.
Sophia Moore '20, an Art History and Studio Art double major, who is also involved in Kitao, attended the show and was really impressed with the artist's' work.
"The pieces in the show were really good. Personally, I especially liked the photography and the drawings of ballerinas," said Moore.
Liya Harris-Harrell '21, one of the first year students whose work was featured in the show, enjoyed the show as well.
"I really liked the kitao gallery. I thought it was really cool how they asked for any freshman art all of the art there was so original," she said.
Harris-Harrell used the show as an opportunity to work on one of her larger creative projects.
"The work that I submitted was something I made for a webcomic that I'm in the process of working on. It was mainly to like help me to figure out some character design elements for one of the main characters," explained Harris-Harrell.
Another artist who made their Swarthmore artistic debut on Friday, Emma Ricci '21, said that the art scene at the college had so far exceeded her expectations.
"In high school I was very actively engaged in the art scene and coming to college I was afraid that I would not have that opportunity. However, I was completely wrong," she said. "As soon as I got to Swarthmore, I saw that there were many ways to get involved with the arts and I am very grateful for the warm welcome that was extended to me from the entire community."
Ricci believes Kitao allows students at Swarthmore to manifest their creative works within the campus community.
"I believe Kitao is truly making an impact on the community by offering artists the opportunity to establish their own voices and providing a creative outlet for students to showcase their work," she said.
Ricci used her work to express her own feelings about her identity and background growing up as the adopted daughter of Italian-Americans.
"I was born in China, I was adopted by an Italian-American family, and every year I travel to Italy to visit my family. This doubling is portrayed throughout my pictures, as about half of them depict my experiences in Italy and half of them depict my life in the US. The series of pictures I chose to display are multifaceted also in terms of their colors, subjects, sceneries, and tones. The message that I hope to impart to the public is to embrace diversity and to see beauty not just within ourselves, but also in other people's differences," she explained.
First year students just arrived at Swarthmore but they are already impacting the arts scene here, and not just at Kitao. The first ever bi-weekly poetry contest the Phoenix arts section conducted earlier this semester was won by a first year student. When I arrived as a bushy tailed high school graduate way back in the fall of 2015, I happened to know several student artists and they were nearly all somewhat disappointed in the arts scene here. This is anecdotal evidence to be sure, but the positive developments at Kitao seem to suggest that the arts scene had improved at the college. Additionally, the Loud and Underground music collective, which seeks to give a performance platform to people of color and women, has probably also contributed to this.
Time will tell if these flowers of a vibrant arts scene that are beginning to grow will blossom into a critical mass of garnet virtuosos with great aesthetic senses.