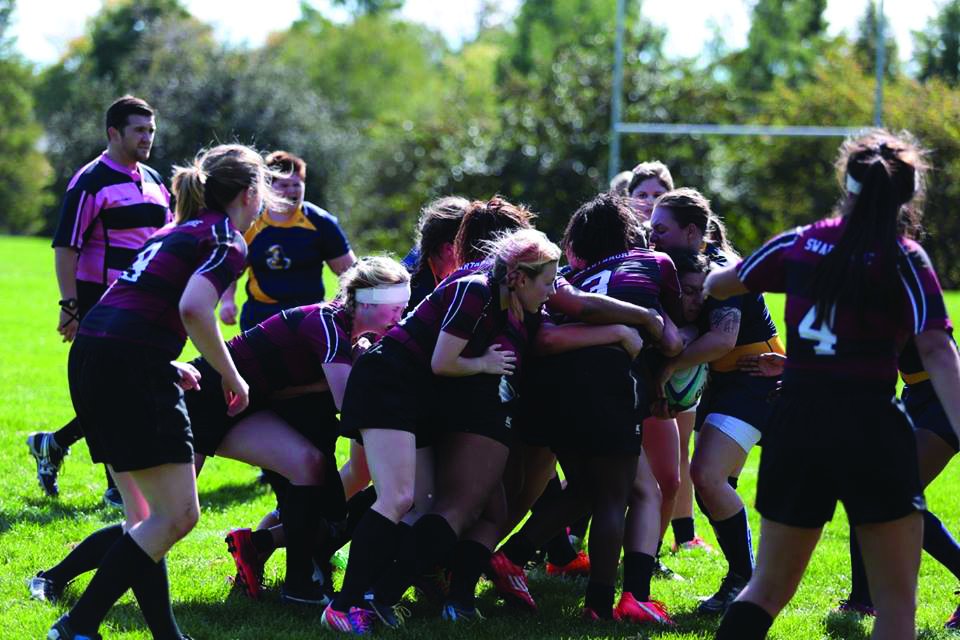 After an exciting fall season, the Swarthmore women's rugby team is gearing up for another promising season. The Swarthmore community seems particularly excited for the season opener against the University of Pennsylvania women's rugby team this Saturday at Cunningham field. Opening games are generally nerve-wracking and pressure-packed as they set the tone for the rest of the season. Moreover, for the ten rookies who recently joined the rugby team this semester, this game will be their introduction to formal rugby exhibitions at the collegiate level.
It seems that the first game is heavily on the mind of the women of rugby team. Eliza Henneberry '19 said, "Personally, I'm really excited for the first game because I think that's when the game clicks for a lot of new players, and I think it's going to be really great to see that happen for our players."
With 10 first-years on the squad, it seems as if many of the other rookies share Henneberry's opinion. Certainly, they are excited to apply the things they learned in practice to an actual game.
Offseason preparation is the key to any successful season, and the Swarthmore women's rugby team certainly seems confident in their preparation.
"We've been strength training all throughout the winter, which has been amazing, and I think it is going to really pay off," Henneberry said. "So, even though we haven't had quite as much time outside as we would've liked, I think that [strength training] combined with our skills from last semester is going to make this a really sick semester."
Expressing similar sentiments, Zara Williams-Nicolas '19 said, "Last season, I really learned how to keep myself fit over breaks and prepare for upcoming games with the help of our captains and fitness captains. They kept me on point so that when I came back in the spring, I wasn't behind."
A newfound confidence in their preparation abilities seems to be the common feeling amongst the players on the team for this semester.
Speaking about the transition between last semester and this semester, Lisa Kato '19 said, "Rugby has a lot of complicated rules that I didn't really understand my freshman fall, so now that I've practiced more I've learned the gist of it, and I'm very excited to use my new acquired skills to beat people up."
Rugby is a rough sport, so you can rest assured that Kato only meant tackling individuals when she mentions beating people up.
In addition to learning the rules, Kato and her teammates also underwent other training methods, which have instilled a strong conviction in the team that this season will be a solid one. Leah Brumgard '19, especially appreciated one offseason activity.
She said, "There was a professional Philly rugby team clinic that we went to. That was optional, but I went there in February. They showed us a bunch of drills, and that was really helpful." Receiving instruction from a professional rugby team is bound to help the team succeed in the long run.
        Aside from confidence in their preparation, the athletes have marked certain dates on their calendars in anticipation of the games they are most excited for. First, the season opener against UPenn takes place this Saturday at Cunningham field. The women head into the year with a tremendous amount of confidence, so they should be revved up for this game. Perhaps their most anticipated game is their last game of the season, where they will face off against Ursinus College. In that contest, rather than wearing their typical uniforms, the Garnet will wear prom dresses during the game. Though that game will certainly be a spectacle, the team will hopefully be able to forge a myriad of other memories during this spring season as well.