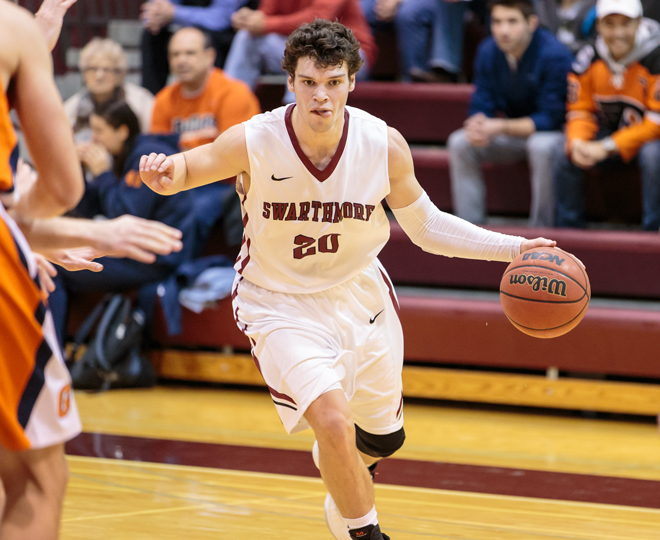 Although the average student here can usually get away with being uninformed about Swarthmore's  sports teams, it would be very hard to remain unaware of the groundbreaking season that the men's basketball team (12-3, 8-2 in conference play) has been having.
What has made the Garnet's dominance particularly notable is that it has been a culmination of seasons of gradual team-building under fourth-year head coach Landry Kosmalski. In his first two years, the team went a combined 15-35. Just last season, the team put together their first 10+ win season since 2006-2007 en route to an 11-14 record.
Despite the team's losing record, Coach Kosmalski changed very little about his methods.
"We have tweaked some details and learned some valuable lessons over the last four years, but for the most part we have had the same strategies in place," he noted. "Our young team has gained valuable experience through failure and have built confidence because of it."
The story of this memorable season began appropriately with a 76-68 win at Widener. Although the result doesn't seem particularly impressive at first glance, the Garnet put on display many of the qualities that would come to define their season. Four players put up double-digit points that night, laying the groundwork for a team oriented style in which players help each other perform to the best of their abilities.
Co-captain Chris Bourne '17 explained how this shift has come about: "Part of the reason we are having success this season is because we really emphasize holding each other accountable for mistakes. This helps our team because it causes us to hold ourselves to a high standard."
From that first game onwards, the Garnet were able to establish this higher standard and defy those put in place by others. In preseason polls, they were ranked a paltry seventh in the Centennial Conference. They proceeded to start the season with nine consecutive wins, which included their first 100-point game since 2004, before finally losing to Delaware Valley on January 3rd.
The sheer number of wins that the Garnet have put together is indeed remarkable. Surprisingly, though, one of the season's most stunning performances came in one of their few losses of the season on January 9th against current conference leaders Franklin & Marshall, who were ranked 17th nationally at the time. Against an accomplished opponent led by legendary coach Glenn Robinson, the Garnet nonetheless took the game down to the wire before losing by the narrow margin of 54-57.
Despite losing, the Garnet proved to the country that they could very much stick with the best of the best. As a result, they have now garnered both local and national attention from media outlets such as CBS Philadelphia and d3hoops.com.
The team appreciates how far they've gotten, but is nowhere close to complacency according to co-captain Shane Loeffler '16. "The team has handled the success very well so far because we are taking the season one game at a time," Loeffler said. "Our focus is on the present, whether that means pushing each other to our best in practice, learning the scouting report of the team we will play next, or taking the game one play at a time."
Bourne added that this mindset has helped them with their consistency during both good and bad moments throughout the season. "Having this mentality helps us bounce back from exciting victories or upsetting losses, because we don't dwell on the past."
That resilience is why, despite a disconcerting stretch of games in January where the Garnet went 1-4, they've since put together four consecutive victories. The team were just one game behind F&M in the conference going into last night's game against Haverford.
Now, they are poised to have their first winning season since 1996-1997. However, they've had their sights set higher than that from the very beginning.
"Before the season, we set long term goals to win the conference and to win every game," said Loeffler. "Our players are very hungry to build lasting success," Coach Kosmalski added. "They believe we can be one of the best teams in the country and they are going to keep working and doing things the right way until we get there."
Looking ahead for this season, the Garnet still have plenty of basketball to get through. There are seven games left in the regular season, all of which are against Centennial Conference opponents. Two of these, against Johns Hopkins on Saturday and F&M on February 6th, will provide the Garnet with a chance at redemption against two of the few teams who managed to defeat them.
Furthermore, one benefit of Coach Kosmalski's long-term vision is that the excitement the team has managed to generate this year is only the beginning. The team is young, with most of the current players returning next year. That sets the stage for continued success in the immediate future. Bourne, however, believes that something even greater has been put in place with the men's basketball program.
"I think we will continue our success not only for the rest of the season, but for seasons to come long after any of us has graduated," Bourne said. "In the past four years, we've established a team-oriented culture that has lead to our success thus far and will lead to the success of future teams."