Alex Anderson '13 gives back to Swarthmore campus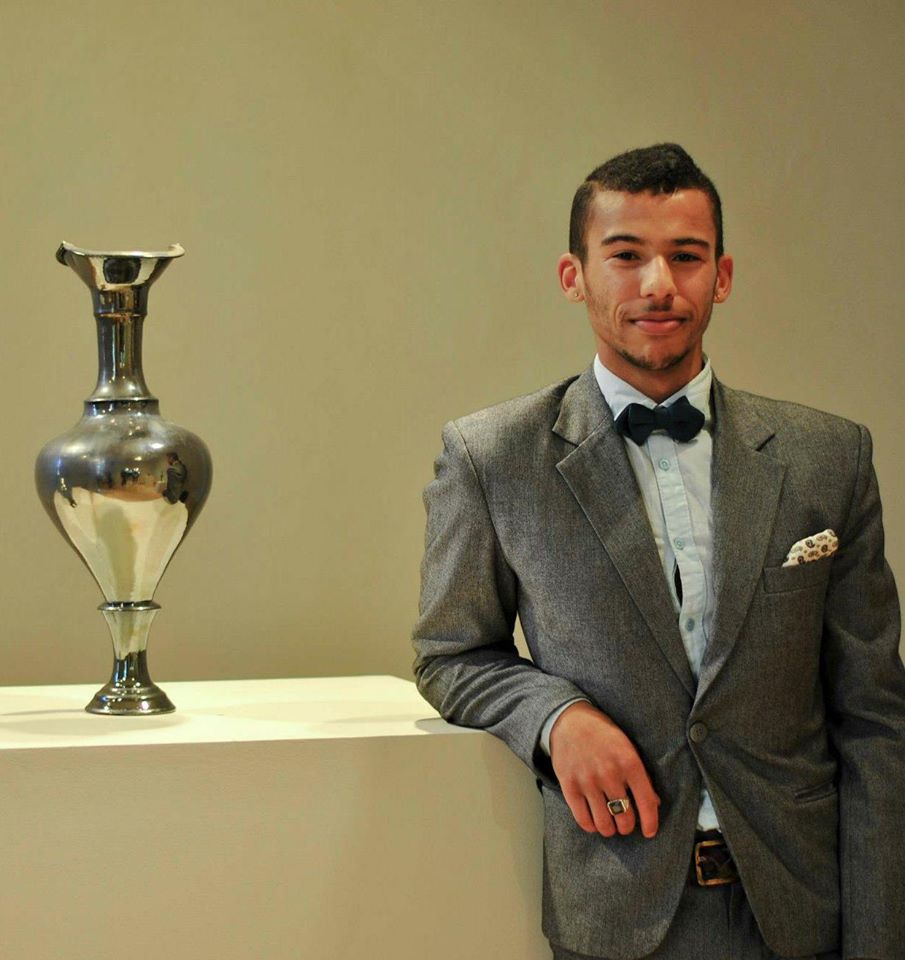 It has only been two years since Alex Anderson '13 walked through this campus as a Swarthmore student, and yet, his career has already taken off. Anderson graduated from Swarthmore in 2013 a Fulbright scholar with a B.A. in Studio Art and Chinese. At this point, he had already spent a semester abroad at the Jingdezhen Ceramic Institute in Jingdezhen, China studying Studio Ceramics, Chinese Ceramic Art History, and Chinese Language. The year after his matriculation, Anderson returned to China to study ceramic art and ink painting at the prestigious post-graduate institution China Academy of Art in Hangzhou. Currently, Anderson lives in Los Angeles, where he is attending the University of California, Los Angeles.
Recently, Swarthmore commissioned a piece from Anderson with the intention to display it at the Swarthmore College Inn currently under construction. His final product is a deep-green-colored vessel with intricate branches and magnolia flowers entwined around it and emerging from within.
"I wanted to make something specific that still aligned with my aesthetics. I looked a lot at flower symbology and plant symbology; I wanted something to give the piece a sense of place within the Swarthmore community. The magnolia is a native flower to the east coast and much of Pennsylvania. The one I chose to do was the Swarthmore species of magnolia because it was site specific and went along with my aesthetic," Anderson said.
Anderson's piece is a combination of delicate beauty and sentimental context. Looking at the vessel summons to the mind a strong sense of belonging in our community at Swarthmore.
"It makes Swarthmore that much more home for me. I loved being [at Swarthmore] and I love having my work there, having the Art Department at the school continue to be interested when they don't have to be. Swarthmore doesn't have to care about me anymore, so knowing that Swarthmore still cares and that they're interested in my work, that it has value to a place like that…it's significant, especially to an emerging artist," Anderson said.
Anderson's vessels often feature a network of complex organic forms with surfaces varying from smooth and glazed to matte. The notion of ostensible organic beauty suspended in states of both perfection and decay characterize Anderson's works. When working on a piece, he adheres to no particular timeline. His work is done only when the piece conveys what he intends it to. As one can imagine, this approach to working with ceramics requires him to be meticulous and persistent.
"The intentionality of the practice makes it such that you don't include things that aren't necessary. The editing process is something that I engage very heavily with because I always try to find what is the most important thing," Anderson said.
Although Anderson's career is off to a prolific and successful start, he continues to hone and expand his artistic skills. After his first experience at Jingdezhen Ceramic Institute, he felt a return to China was necessary to further engage with what he could learn there about ceramics.
"[The program] changed my approach to visual representation of art; it made it more bold, more intentional. What I liked about it was that it focused on a lot of the things I like to look at and need to see, in a way: a lot of lovely nature forms rendered in a stylized format and the composition was also really exciting for me," Anderson said. "I started to approach my sculptural practice significantly more intentionally and with bolder forms. I was thinking of lines and form as brushstrokes, essentially."
At the China Academy of Art, Anderson experienced a pedagogical style markedly different from his experience at Swarthmore. Whereas his former Swarthmore professors were conversational and highly invested in his individual development as an artist, his new professors were less interactive. Even at the China Academy of Art, his Swarthmore professors' previous guidance played an integral role in his education.
"[At the Academy], there's this professorial hierarchy. As soon as the professor walks in the room, someone pours him a cup of tea…someone else puts a cigarette in his mouth and lights it for him. It sounds like I'm making this up but it's actually like that! And you don't really ask questions; if you do, you'll be interrupting. It's very monological. It's certainly an interesting approach. I didn't see it as a negative although I know I'm making it sound like 'Whoa! What was that?' Professors had no problem with coming up and just changing your work. This one professor threw this guy's work on the floor," Anderson said.
Traditional though it may seem, the ceramics medium reserves an ability to transcend established notions of antiquated glazed bowls. Anderson's work is a contemporary reminder to audiences, and now to our community, that such is the power of ceramics.
"In ceramics there are a lot of folks on the traditional. Some people make those beautiful porcelain vessels that look familiar to an extent. You've probably come across those at the MET. Any collection has those things. So there's a lot of replication that sets a certain standard and says, 'This is what art is and how art should be. This is what ceramics is and what ceramics should be," Anderson said. "It's an endless endeavor and that's what I like about ceramics."