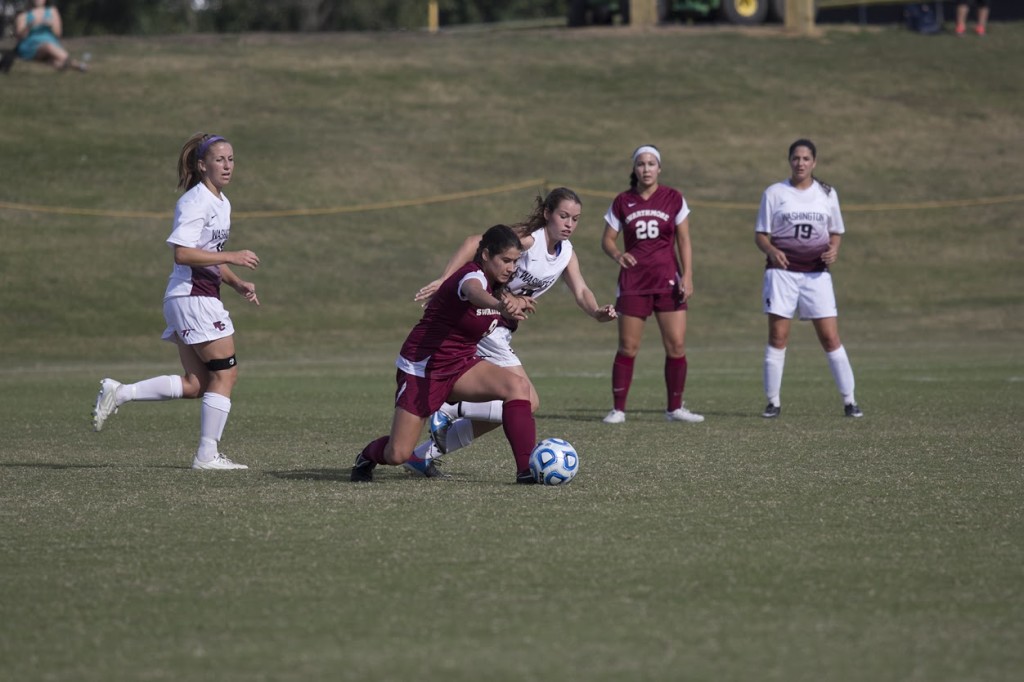 In a year that featured many championship runs and a few last place finishes, 2015 certainly had no shortage of individual Garnet accomplishments. From Wesley Fishburn '17 shattering the Centennial Conference single season hit record (59 hits) to Osazenoriuwa Ebose '15 cementing her place as the number one ranked shot-putter in Division III sports, individual efforts increased ten-fold.
 Naturally, with certain individuals elevating their play, the teams are the main beneficiaries. One team in particular that capitalized on individual performances was the women's soccer team, which won its first Centennial Conference championship. Led by midfielder, Emma Sindelar '15, the school's record holder in goals (38), assists (21) and points (97), the team won three playoff games including an exciting final match where they defeated rival Johns Hopkins in a nerve-wracking penalty shootout.
 Though Sindelar, a four-time member of the All-Centennial Conference First Team, might have been the most decorated member of the team, Ellen Bachmannhuff '15, Miranda Saldivar '17 and Caroline Khanna '17 played key roles in the championship run. In fact, they were all named to the All-Centennial Conference Honorable Mention squad. However, Sindelar was not alone on the First Team – center forward Hannah Lichtenstein '17, the Centennial Conference Rookie of the Year, joined her.
 In addition to garnering those two accolades, Lichtenstein was awarded the Eleanor Kay Hess award as the best Swarthmore sophomore female athlete. Lichtenstein was shocked when she found out she won the award. But, she quickly acknowledged that her individual success would not have been possible without a strong supporting cast.
 "I could not have done it without [my teammates]," she said. "When it comes to being a forward and scoring goals, you need people giving you the ball in the right spaces and at the right times. We had an incredible midfield that did that. Their work last year made everything possible."
 Though the soccer team will lose Bachmanhuff and Sindelar to graduation, the team expects new faces to step up and, ultimately, take home another conference title.
 However, the soccer team isn't the only one attempting to go back to back. This year, Liam Fitzstevens '17 will be trying to do that in more ways than one. By the conclusion of the 2015 swimming season, the backstroke specialist etched his name into the Swarthmore record books: not one, not two, but eight times. In addition to establishing school records, Fitzstevens broke the Centennial Conference record in the 200 m backstroke (1:48.74) and earned a trip to the DIII National tournament.
 Although Fitzstevens was the only team member to qualify and had to make the trip to Texas alone he managed to tie his personal best and school records in the 200 m backstroke.
 "Being able to represent Swarthmore at the national level was really exciting for me and also really humbling," Fitzstevens said. "But, I think it's a good stepping-stone for what I want to do and what other people want to do on the team."
 With a new coach and many returning contributors, Fitzstevens is hopeful that this year some of his teammates will make the trip with him. However, for Fitzstevens, this year is a little different. First, he is a captain, second he has a target on his back, and third, he won the 2015 Robert Dunn award as Swarthmore's best male sophomore. Having earned the respect of his teammates, the conference and the members of the Swarthmore community, we should all eagerly await what type of campaign Fitzstevens and the swim team will have this season.
 Although Fitzstevens and Lichtenstein are returning, the eight other student-athletes who won Swarthmore awards graduated with the class of 2015. Those students are Sindelar, Ebose, Chastity Hopkins (volleyball/basketball), Amanda Beebe (golf), Jonas Oppenheimer (cross country/track and field), Michael Superdock (soccer), Chris Thompson (lacrosse) and Karl Barkley (basketball).
 Of the list, one of the most integral players to his team's success was Karl Barkley, his team's only senior. Not only did Barkley provide invaluable leadership, but he (and Coach Landry Kosmalski) helped turn the basketball program around from one of the worst in the league to a budding playoff contender. Even though Barkley's void may be a large one to fill, this year the team has four returning starters and remains a very tight knit group.
 Similar to the men's team, the women's team also graduated two key components: Hopkins and Elle Larsen. This year, Larsen's void has the potential to be a gaping hole for the team. Larsen finished her career fifth in Swarthmore history in points (1,627) and tied for first in field goal percentage (.498). Not to mention, she averaged 21.0 ppg. That being said, it's not to say the team will not recover from losing Larsen. Point guard Jessica Jowdy '16, who will be team captain for the second year in a row, put up big numbers last year and is primed for another stellar season.