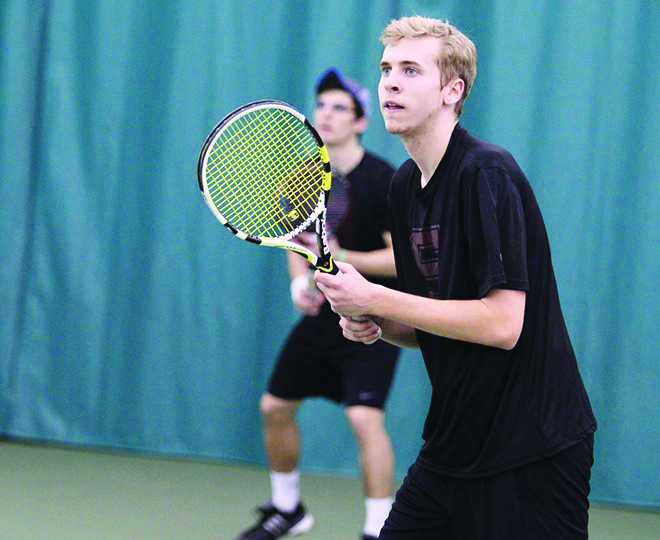 In the world of college tennis, it's rare for an elite team to start one freshman. This year, the 29th-ranked Swarthmore tennis team consistently starts five.
After graduating its first, second, fourth, fifth and sixth singles players, the Garnet looked like it was due for a rough season. John Larkin '17, the current number one singles player, was the only returning player with a singles spot set in stone. This year, because of the lack of upperclassmen teammates, Larkin and Thomas Vernier '17 were thrust into leadership roles. Larkin, Vernier, and Harrison Lands '15 captain this year's young team.
"Overall, we try to give off the same vibe we got from the seniors last year," Vernier said. "John and I really looked up big time to those guys who graduated last year. We just try to anchor the team emotionally and give some of the guys a few mental tricks."
Whatever the captains have been doing has been working. The team, which opened the season ranked 39th in the nation, defeated 30th-ranked NYU, 37th-ranked Washington & Lee and 25th-ranked DePauw. All of these wins carried even more weight because of the team's youth.
One of the main reasons for Swarthmore's success has been the reliable play of the freshman class. Mark Fallati '18, Ari Cepelewicz '18, and Blake Oetting '18 have proved to be stalwarts at second, third and fourth singles respectively. While the fifth and sixth singles spots haven't been claimed by anyone yet, Michael Song '18, Josh Powell '18 and Yosuke Higashi '18 have all played good tennis and helped contribute to the team's success.
Though freshmen comprise the majority of the team, all of them realize the important role the upperclassmen and, more specifically, their captains play.
"They do a really good job of getting us match-ready mentally and I also think they are really important for team chemistry," Fallati said. "They love being with the team and they are really big on everyone being close and doing a lot of things together."
While Fallati gives a lot of the credit to the upperclassmen, Vernier and Larkin have noted the tremendous strides the freshmen have made on an individual level since the beginning of the year.
"We can't emphasize enough how much the freshmen have learned from themselves," Vernier said. "They just have been doing well."
Two weekends ago, the team took a trip to Ohio to face DePauw and eighth-ranked Kenyon. The Garnet defeated DePauw 6-3 behind strong singles performances from Larkin, Fallati, Cepelewicz, and Oetting. Fallati/Cepelewicz and Powell/Vernier also won their doubles matches. However, the Garnet fell to Kenyon 0-9. Though the Garnet didn't win any of the matches, they pushed Kenyon to the limit. Larkin, Fallati, and Oetting all went three sets and challenged their opponents for all they had.
Larkin recalled, "I know the Kenyon coach was worried [about our youth and the threat it could pose to Kenyon in the future]. He was like, 'You're one of two sophomores on the team? The rest are freshmen? Oh my gosh.'"
The coach had good reason to be worried since his team didn't start one freshman. Typically, elite programs give freshmen a year to acclimate to the college game because it's so different from high school tennis and even juniors (USTA tournaments). But, this year, Swarthmore could not afford that luxury.
"I've definitely seen that the older guys I've played have come in with a certain confidence from being a junior or a senior," Fallati said. "They go in with the same mindset every single match. They know they can win and how to play their game and win. I feel like for me, going into every match, [I'm] unsure of the level that I am going to see when I go out there."
Like Fallati, the other freshmen don't know what to expect from other teams. All they know is what Coach Mike Mullan and the older players tell them. For instance, many of them had no idea how Claremont, the number one team in the nation, would stack up to teams like Kenyon, DePauw, or even Ursinus (a team Swarthmore defeated 9-0). Ultimately, Swarthmore lost to Claremont 9-0.  Through that match, however, the players gained invaluable modes of comparison.
"I think it's a really good experience for us to play these teams as freshmen because in the next couple years, we will be used to playing against those teams," Song said.
Not only will the Garnet be used to facing off against those teams, but next year and especially in two years, the tables will turn. Since few of the top teams play their own freshmen, in these matchups, the Swarthmore players will be the veterans. But right now, they are still trying to figure out their own styles of playing.
"What I like about playing older guys is that I can see the mindset they bring to every match. And I want to learn how to bring that and to see the level that everybody's at," Fallati said. "For me, every match that I get to play is a great way to learn and improve for the future."
Having already played ten matches and accumulated a 6-4 record, the Garnet and Fallati should maybe spend less time looking at the future and more time at the present because it, along with the future, is sure looking bright.