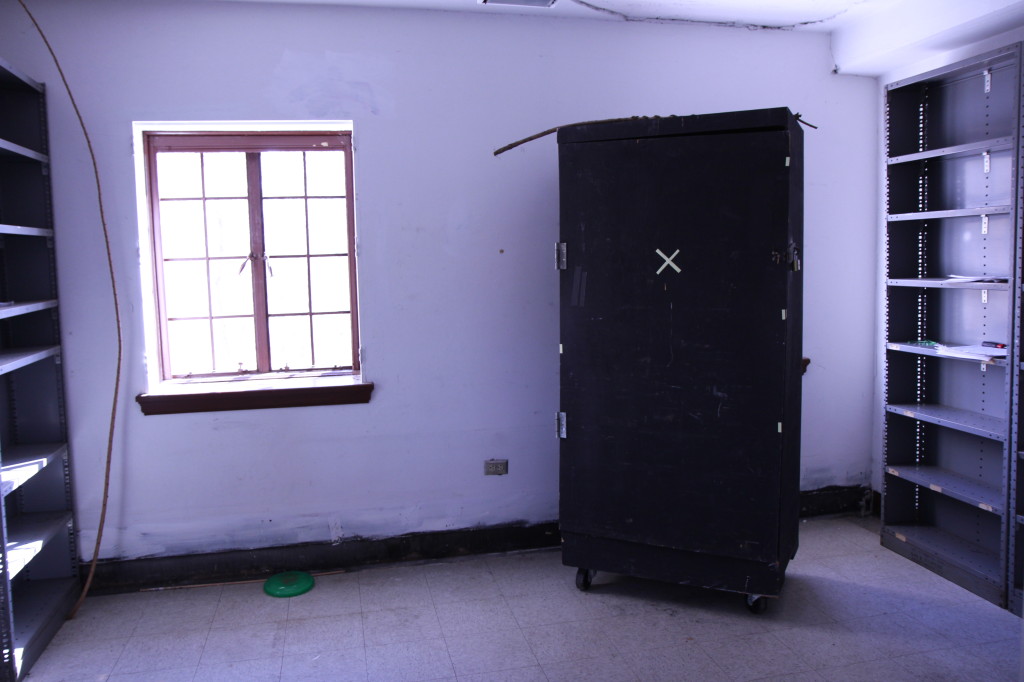 At seven minutes to seven tonight, many of us will be daydreaming about Pub Nite, enjoying Caribbean bar at Sharples, or settling in for another long night at McCabe. Had we attended Swarthmore in the first half of the 20th century, though, seven of us might don dark suits and garnet ties, and walk side by side down Whittier Place to the Egyptian-style temple housing the college's very own secret society, Book and Key.
From 1906 to 1957, the members of Book and Key met every Thursday evening in the temple. The society was closed to all but distinguished senior men, who were chosen at a gathering of the junior class men on the first Thursday of each May by the previous members. Crowds of students, alumni, and residents of the Borough massed to witness the event. One student was tapped every seven minutes, until the seven new members had been selected. The following Thursday, the new members would make their first trip to the temple on Elm Avenue, presenting themselves at the door to the building. There, the members would wait for a single ghostly hand to emerge and pull them inside, one by one, every three minutes, accompanied by the ringing of a gong on the roof. No one would emerge until morning.
Book and Key styled itself after Yale's secret societies — perhaps an impulse of what may have been the beginning of a long tradition of Swarthmore students who "applied early to Yale, actually," but are "really happy" they're here now. Morris Clothier, class of 1890, and Howard Johnson, class of 1896, founded the society after graduating from Swarthmore. Shortly after the turn of the century, the two men discussed the possibility of establishing a society modeled on Yale's groups. Clothier and Johnson visited, among others, Skull and Bones, Scroll and Key, and Book and Snake's buildings to find inspiration for the Swarthmore temple. The clubhouse was a nearly windowless building with four stained glass windows that pictured a book, a key, the scales of justice, and the number 232. The windows, to be illuminated from behind, were completed in 1906, when the first class of members was initiated.
Members were chosen on the basis of their involvement at the college. Many captained sports teams, participated in student government, served as fraternity officers, or led other student organizations. Membership in Book and Key seems to have either conferred on its recipients positions of power at the college, or to have consolidated and strengthened pre-existing connections. Many alumni of the society became members of the college's administration after graduating.
A 1957 article in the Phoenix speculated that this pipeline from the society to the administration stemmed from a lack of a functional student government. "The significant undergraduate decisions were worked out in the secrecy of the Temple, then presented tactfully but emphatically to the College through the members of the Society. It was inevitable that, through the feeling of shared responsibility for the community, there evolved a group solidarity among members unequalled by any other ties on campus," the article read. In other words, Book and Key members seemed to have been accustomed to making decisions about everything from the establishment of an honor system to the publishing of a picture directory of the freshman class, and simply continued this exertion of control over everyday college life upon graduation.
Alumni played an active role in selecting current students for initiation and exerted control over Book and Key through the Temple Trust Association, a group founded by Clothier that consisted of the group's founders and its alumni.
Many members also eventually served on the Board of Managers. For instance, J. Lawrence Shane '56, who chaired the Board from 1997 to 2003 and became an emeritus member in 2008 after serving on the Board since 1970, was tapped for Book and Key in the spring of 1955. Book and Key's members typically achieved post-graduate success in the financial sector as well — Shane went on to earn his master's in business administration from Wharton and climb the corporate ladder to a top administrative position at a paper company, for instance.
But what did the society do, exactly, besides perpetuate the pre-existing dominance of white men in leadership positions at the college and beyond, like any good secret society? One clue lies in the text of the society's elaborate rituals available at the Friends Historical Library. From the initiation rites, it appears that the new members were told, "Do you realize that our action in choosing you has changed your standing from one of the rank and file of the Junior class of Swarthmore College to that of a distinguished member of the Senior class? For we consider that no honor which has been conferred upon you in your college career equals that of being one of the chosen … we have watched you carefully during the past year; have studied your character, noted your actions, and weighed you carefully …"
Members worshipped the society's Book of Knowledge, a huge, heavy Bible — also available at the Friends Library. During initiation, members were told to "cherish it and revere it, not only during your senior year, but throughout your life." Much of the society's initiation rites seem also to have focused on devotion to the college: the members bound themselves through initiation not only to one another but "above all to your and our dear Alma Mater, Swarthmore College, for whose best interests you will ever strive, whose fair name shall ever be as dear to you as your own, and whose escutcheon you will never suffer to be tarnished by word or deed, if it is within your power to prevent it."
The temple itself was a sacred space, according to the society's records of its initiation rites. "Within these walls, all is brightness, and our hearts warm with feelings of brotherly love and affection borne of our … compact. Without, Night spread her sable mantle over the campus and college halls … May love of your Alma Mater increase as the night wears on, and may the morning found you bound to each other, to us, and to your Alma Mater, with ties of deathless affection." However the members were "bound to each other" throughout that long first night remains a secret, though one might wonder if other exclusive campus groups might draw inspiration for their own intimate and secretive bonding rituals from these historic rites.
In its early years, the group remained committed to secrecy, refusing, for instance, to publicize its contributions to the college. Beginning in the 1930s, however, Book and Key dropped several rituals, including Tap Night and its members' Thursday evening procession to the temple. In 1945, the current member class was expanded beyond just seven. From 1942 to 1955, the society conducted freshman orientation on campus, ushered at commencement ceremonies, toured high schools to promote the college, co-sponsored a one-act play contest, and organized a number of community service projects.
The society's secrecy and exclusivity reached an all-time low point in the spring of 1957. Most of the group's senior members at that point favored eliminating the selection process entirely, but those in the Temple Trust Association preferred that the society dissolve completely rather than undergo such a radical change. None of the 1957 members of Book and Key were inducted to the Trust, and no new members were tapped that spring. Until 1965, society alumni attempted to restart Book and Key, but in May of that year, the organization was formally dissolved. The Trust handed the deed to the temple over to the college, and turned its investment fund into a scholarship for a graduating senior man. In 1966, the temple was demolished. Notwithstanding a few Board members and a handful of documents on file at the Friends Library, no memory of Book and Key remains on campus.
Swarthmore's Book and Key was never quite as secret as the University of Virginia's infamously impenetrable Seven Society, which only reveals its members after their death, as publicly mischievous as UVA's IMP Society, whose members tend to march the university grounds carrying pitchforks, wearing horned hoods, and occasionally pouring gasoline for the purposes of bonfire-starting, or as much of an elite factory as Skull and Bones, which counts among its members three U.S. presidents. So perhaps the conditions of our student body — its smaller-than-average size, its purported distaste for elitism, its definite lack of a taste for creative troublemaking, unless that troublemaking consists of figuring out ways to cover dorm room smoke alarms for weed-smoking purposes — preclude the existence of a secret society today.
But maybe, the rumors about a handful of upperclassmen — not just white men, supposedly — who meet weekly on a certain rooftop in the dead of night and select for their ranks a combination of the most powerful and most intriguing students on campus, are true. Perhaps we should look more closely for their sign around campus and for evidence of their power. After all, we go to Swarthmore, where nothing can stay secret for long.