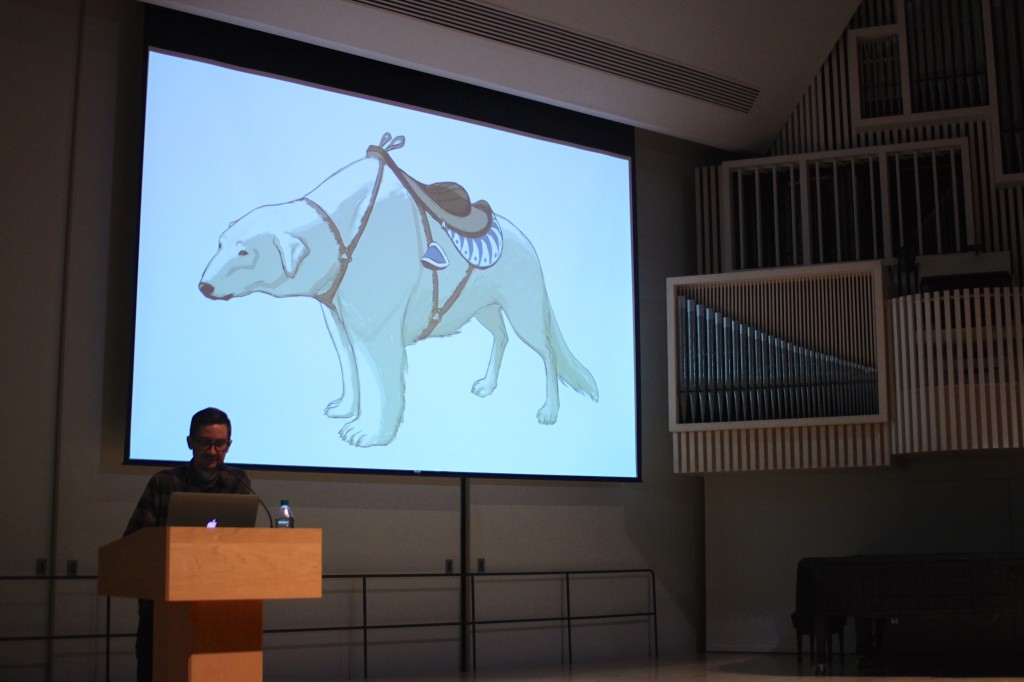 Last Saturday night, Bryan Konietzko, the co-creator of "Avatar: The Last Airbender" and "The Legend of Korra," lectured on the artwork and development that went into the production of the series. Korra is an animated TV series that aired on Nickelodeon from 2012-2014. It was commercially successful, acclaimed for its artistic production and its overstepping of the typical youth entertainment boundaries with regards to its presentation of race, gender, sociopolitical problems, and sexual identity. Tri-Co students filled up the entire Lang Concert Hall in anticipation of Konietzko's presentation, during which he brought to light the arduous art production, as well as the importance of imagination and teamwork behind Korra's five-year production. This event was organized primarily by Alison King '15, with support from Wendy Xu '15, Karl Sadueste '15, Michelle Yang '15, and Steven Gu '15.
"I knew Bryan was teaching at the Rhode Island School of Design this winter session, so I thought I would try to reach out to him while he was still on the East Coast," King said. "Avatar and Korra have also traditionally been pretty progressive shows, so I thought that would appeal to Swarthmore students as well. A lot of people our age grew up watching Avatar — Aang and I were both 12 when the show started and Korra and I were both 21 when the show ended, so the series has really felt like a friend through life."
As King introduced Konietzko, the crowd chanted the opening sequence: "Water. Earth. Fire. Air. Long ago, the four nations lived together in harmony …"
Konietzko began his presentation by explaining that he and the other co-creator of the series, Michael DiMartino, had landed their second TV show with Nickelodeon rather effortlessly.
"In 2009, Mike and I had stepped away from Nickelodeon for a bit. We had been away long enough, we had kind of recharged the batteries a little bit, and we were getting the itch to do something again," Konietzko said.
Nickelodeon reached out to Konietzko and DiMartino and gave them the liberty to chose a storyline of their own. Konietzko explained that he and his team were excited by the prospect of creating a whole new story after Avatar.
"We loved those characters, but we had finished that story," Konietzko said. "So from then on, it was about how different we could make [Korra] from Aang. The more differences we thought of the more excited we got, because it was fresh."
As Konietzko revealed sketch after sketch on his PowerPoint presentation, he discussed his inspiration for various landscapes and characters in the show. For example, Naga, the polar bear dog, was inspired by Konietzko's own dog, Gunther, who was on stage with him.
"He sits up elegant and upright but lets his hips flop out," Konietzko said about Gunther, as he showed Naga in the same position.
Konietzko always credited the artist of whichever work was on the screen, highlighting the behind-the-scenes teamwork required to put the show together. For Sadueste, this was one of the highlights of the presentation.
"If you were to buy the art book, you would be awed by the amazing artwork, but you wouldn't really get a sense of the amount of work that goes into each picture and even more importantly, the people behind it all," he said.
Gu agreed, saying that he appreciated how much Konietzko recognized the different talents and works of his team members.
Konietzko also talked about the importance of detail and the specificity of his art.
"The goal was to make it feel like a city that was lived in — not generic. I loved how tactile everything was. I want everything to be specific … I'll draw a specific tree, not just geometry going to one vanishing point."
One of the drawings of a battleship from the show exemplified the amount of detail that goes into each art piece, regardless of its relative screen time. There was so much detail put into the ship — which was only on screen for 15 seconds — that it actually put Konietzko behind in his production schedule.
"You can slice it like an onion, and see all the detail inside," said Konietzko. "I felt like I could walk around in these backgrounds. When I built Legos as a kid, I wanted to shrink down and walk around in it — it's the same feeling with backgrounds."
Konietzko's attention to detail captivated the audience.
"My favorite part was him talking about how for each painting, he wanted specificity and uniqueness and hated generic-ness, like when he was talking about the time of day and weather. And this really shows in the final work," said John Sun '16. "How many other cartoons are really all that interested in capturing things like the hazy afternoon right before dusk, or the sun peeking behind storm clouds?"
Konietzko's presentation also provoked conversation about Korra as a TV show and an art form.
"I think it's kind of like a niche art in a way, it's not as popular as film and that sort of thing," said Aiden Greer '18.
At one point, referring to a background, even Konietzko himself exclaimed: "It's just incredible that this stuff is done for TV."
"Here he is making and commissioning beautiful and moving art for … a cartoon … originally marketed towards 12-year-olds. In America, there has always been an interesting phenomenon that some call the Animation Age Ghetto, where people do not take animated works as seriously as other mediums and are generally more dismissive of it," explained Sun.
Students seemed to enjoyed Konietzko's talk on many levels.
"You could tell how charismatic of a speaker he was by how often the crowd erupted in laughter," said Xu.